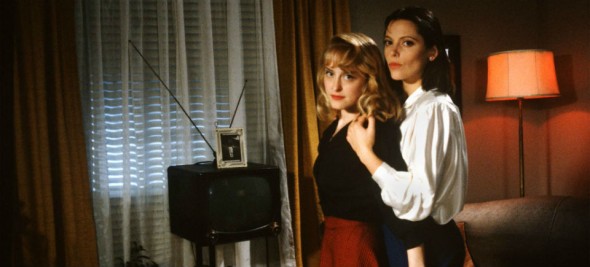 Forbidden Love: FREE for a limited time—plus an LGBTQ films playlist
Films
From November 20th to 30th, Montreal hosts the annual Image+Nation LGBTQ film festival. To celebrate, we've got a full playlist of LGBTQ films from the NFB collection, including a free online stream of  Forbidden Love: The Unashamed Stories of Lesbian Lives for a limited time only.
Forbidden Love: The Unashamed Stories of Lesbian Lives, Lynne Fernie & Aerlyn Weissman, provided by the National Film Board of Canada
Produced by the NFB's acclaimed Studio D, which specialized in films for, by, and about women, Forbidden Love features the alternately inspiring, charming, and thought-provoking stories of women who sought same-sex relationships at a time when such a thing was denounced. Funny and heartbreaking, the film offers a valuable portrait of the history of an embattled community.
LGBTQ playlist: the triumphs, struggles, and stories of the queer community
The rest of our LGBTQ playlist is full of some equally compelling films. Particularly fascinating is Cure for Love, a documentary about the controversial evangelical ex-gay movement that purports to be able to "cure" homosexuality.
"You come out of ex-gay therapy worse than you went into it. And there's no place to go," says Mel White, founder of SoulForce, a support and advocacy group for survivors of the controversial ex-gay movement. The organization also aims to "change the hearts and minds of religious leaders who engage in anti-homosexual campaigns." The survivors of this type of therapy, who often call themselves "ex-ex-gays" come together to create a supportive community in which Christianity and homosexuality can co-exist.
In 2014, the NFB and the image+nation: Montreal LGBTQ Film Festival partnered to create a playlist that was culled from the NFB's rich LGBTQ film collection and made available for online streaming to festival audiences. Both organizations are proud to move forward in this collaboration with the launch of the image+nation@NFB project, adding textured Québécois LGBTQ voices from i+n's Queerment Québec program to this online selection, which allows all audiences to discover and share Canadian LGBTQ cinematic history and storytelling. Free access to these stories is first and foremost, so that all are able to see themselves on screen, big or small.
image+nation@NFB is the fusion of missions that value the elevation of all Canadian voices. The NFB offers its unique content while image+nation introduces contemporary perspectives to the historical landscape of being LGBTQ in Canada.
image+nation@NFB is also the realization of the longtime hope of creating an opportunity for LGBTQ stories to be told and heard—in all regions of the country and around the world. Too often, such works are only available at events held in urban centres, denying much of the population access. This crucial project is about democratizing LGBTQ voices and lives for all to witness and to share.
Charlie Boudreau
director image+nation
Other films in the playlist include documentaries about the gay scene in Montreal in the 1980s (When Love Is Gay) and the Canadian military's approach to homosexuality during the Second World War (Open Secrets).
There's also a fascinating film about the work of AIDS researchers in the 1990s (Doctors With Heart) and John and Michael, a film about two friends with Down syndrome who fall in love.
We hope you enjoy these informative and inspiring films about the queer community! Share your faves as much as you like. 🙂