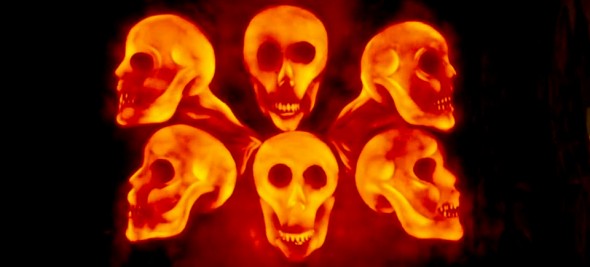 Day of the Dead | 10 Vital NFB Films on Death and Dying
Films
One symptom of our tremendous disconnection from nature, its cycles and ourselves is our relationship to death. Or to be more precise, our absence of a relationship to death.
In contemporary Western culture, death is taboo. From our reckless worship of youth to our steady reliance on euphemisms (we don't die, we "pass away"), death is a reality we seek to elude at all costs.
And yet, death – the great equalizer – is the only certainty we can have in life! Everyone does it, in the end.
In honour of the Day of the Dead today, watch 10 powerful NFB films that skillfully tackle the eternal topic of death and dying.
Mixing documentary and animation, this selection lifts the veil on this most mysterious of transitions, while affirming the necessity of living life fully… while you still can.
1. The Street
The Street, Caroline Leaf, Office national du film du Canada
This award-winning animation by Caroline Leaf brings us back to a time, not so distant, when people still died at home. Based on a story by Mordecai Richler and poignantly illustrated in fluid inks and watercolours, The Street captures a family's feelings and reactions to a dying grandmother.
2. Farewell Touch
Farewell Touch, France Benoit, Office national du film du Canada
When Peter dies in Yellowknife with no family members to claim his remains, he ends up in Janice's careful hands, where he is cleaned, shaved and dressed for his final resting place.
3. Afterlife
Afterlife, Ishu Patel, Office national du film du Canada
What happens after we die? No one knows for certain, but if it's anything remotely like Ishu Patel's depiction of the great beyond, we're in for an interesting ride.
4. Griefwalker
Griefwalker, Tim Wilson, Office national du film du Canada
Meet Stephen Jenkinson, a man who's made his life mission to change the way we die. Once the leader of a palliative care counseling team at a major hospital in Toronto, Jenkinson has been at the deathbed of well over a thousand people. He seeks to turn the act of dying from denial and resistance into an essential part of life.
5. The Circus
The Circus, Nicolas Brault, Office national du film du Canada
This animated short, intense and almost suffocating, tells the story of a boy who doesn't get a last goodbye with his dying mother because of all the traffic and hubbub in her hospital room.
6. Tibetan Book of the Dead
The Tibetan Book of the Dead: A Way of Life, Yukari Hayashi et Barrie McLean, Office national du film du Canada
This two-part documentary series looks at death and dying in the Tibetan Buddhist tradition. Shot in the majestic mountains of Ladakh, it is narrated to ravishing effect by Leonard Cohen, himself an ordained Rinzai Zen Buddhist monk.
7. Inhale Exhale
Inhale Exhale, Danielle Sturk, Office national du film du Canada
Filmed at Saint Boniface General in Manitoba, this short doc follows two women: one who helps women in childbirth and one who attends the dying. The film highlights similarities between the birth and death process, which both require an awareness of breath as well as the ability to let go.
8. Why Me
Why Me, Derek Lamb et Janet Perlman, Office national du film du Canada
The poor chap in this animation film has been given 5 minutes to live. In front of his doctor, who delivered the blow, he goes through every possible reaction (disbelief, denial, hope for a miracle drug, etc.) until time almost runs out on him.
9. Icarus
Icarus, Paul Bochner, Office national du film du Canada
This Greek myth about hubris, Icarus meets his demise when he flies too close to the sun and loses the feather-and-wax wings his father had prepared for his escape out of the labyrinth.
10. Lodela
Lodela, Philippe Baylaucq, Office national du film du Canada
In this experimental film, two dancers explore the myths of the afterlife. A magical metaphor for life, death and everything in between.