On Common Ground: Eliminating Child Poverty is something we can all agree on
The following is a guest post by Amy Stewart Gallant.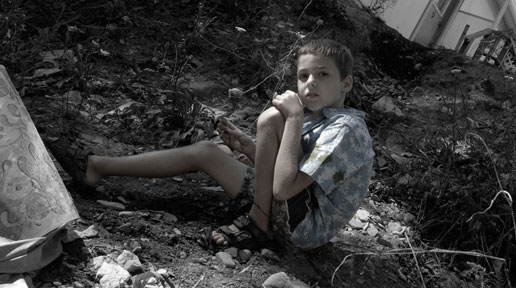 Whenever I'm overwhelmed by contrast, by conflict, I contemplate one of my favourite lines, a string of words conjured by 13th-century Persian Poet Rumi: "Out beyond ideas of right-doing and wrong-doing, there is a field.  I will meet you there."
It doesn't matter that I read it on a mug 700 years later. It makes me feel hopeful.
Sounds nice, this place.  But in a world of clashing opinions and contrasting agendas, that field starts to look like a dried up sod.  And then, last week, something changed.
On November 24, I watched Four Feet Up alongside hundreds of other Canadians, and things began to look a little different.  The world is the same, but the way I'm looking at it has changed. Now that I've seen it through the eyes of a child living in poverty.
Based on the flood of emails I've received in response to the screenings,  I think the same can be said of the other viewers – the hundreds of Canadians of all walks of life, from all political affiliations who poured into theatres across the country together last week to watch the film and to discuss the current state of child poverty in Canada.
Now it's hard to see the walls, the differences between us because suddenly we are in complete agreement about one thing:  It's time for child poverty in a country as rich as Canada to end.
Last week, November 24, 2009, marked the 20th anniversary of our promise as Canadians to eliminate child poverty by the year 2000. On this same date Four Feet Up had multiple screenings across Canada.  On this one evening, Canadians in Yellowknife, Victoria, Winnipeg, Toronto, Ottawa, Montreal, Fredericton, Halifax, Wolfville (where the film was shot) and St. John's watched the film in unison and took part in the vibrant, impassioned panel discussions that followed.
Director Nance Ackerman – who shot the film over the course of a full year – beginning November 24, 2007 – artfully takes the viewer into the world of 8-year-old Isaiah, who lives in poverty with his family amid the abundance of the Annapolis Valley of Nova Scotia.
Without affixing blame, Ackerman leaves us with burning questions:  What is to be done about child poverty in this, one of the world's richest countries?  What can I do?  And standing in this open field where the film leaves us, we begin to answer these questions.  Together.
I'll leave you with a clip from the film, and if you're interested in more information visit NFB.ca/four-feet-up or call 1-800-267-7710. You can also leave a comment in the comment section below.