Making air waves: Aboriginal filmmaker Dennis Allen on new radio-inspired doc CBQM
Yesterday was National Aboriginal Day, and to mark the occasion NFB.ca launched CBQM, Dennis Allen's new feature length documentary:
CBQM, Dennis Allen, provided by the National Film Board of Canada
A charming, honest tribute to volunteer-run radio station CBQM (690 on the AM dial), and the people who tune in every day in and around the remote Gwich'in community of Fort McPherson (North-West Territories), the film is a must-see for anyone with interests in Aboriginal culture, community media, the Canadian Arctic or good old-fashioned storytelling.
For its listeners – solitary trappers in their cabins, Gwich'in ladies busy with their beadwork, truckers heading north on the Dempster Highway – CBQM has become way more than just a radio station over the course of its nearly 30 years of existence. It is a place to call in to request your favorite country tune or ask your neighbour over for tea, a friendly voice that provides prayers, cookie recipes, and wolf sighting alerts, and an endless source of entertainment that broadcasts everything from town-wide bingo games to impromptu in-studio fiddling sessions. It has become a pillar of local identity and pride.
Last week, I spoke to CBQM director (and longtime listener) Dennis Allen on the phone from Whitehorse, where he lives with his wife and two children. Allen comes from a long line of storytellers, Inupiat Eskimo on his father's side, and Gwich'in Indian on his mother's, and had many good tales to share about his time shooting in "McPhoo."
Here are some of the things he had to say about oral traditions, country music and that oh-so shrill telephone ring.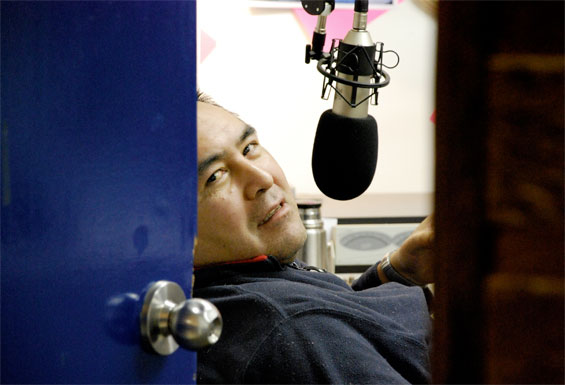 Carolyne Weldon: How natural were Fort McPherson's locals when you started shooting?
Dennis Allen: Well, I knew everybody already so it wasn't that big of a deal. I'm from Inuvik myself [175 km North], so we all grew up together. I understand the culture, I know how to deal with elders, what to do, what not to do. In Fort McPherson people knows each other intimately – by name. It's a homogeneous group, like a traditional band. It's all one tribe, all Gwich'in people. Sure there are social problems, but it's a happy, healthy community overall. That made things easier. It was different having the film crew there of course. It took everyone a bit of time to warm up, with the film crew there. But generally speaking all were very cooperative.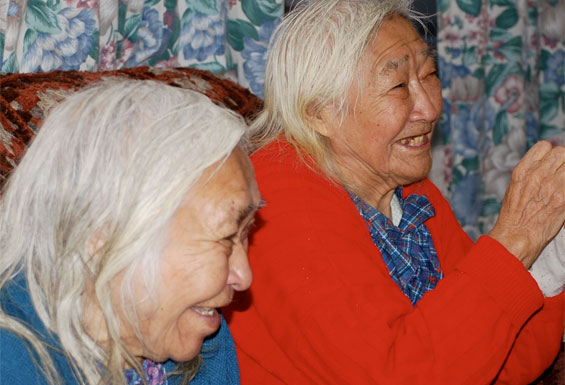 CW: In what ways do your own Aboriginal roots informs your storytelling?
DA: As Aboriginals, for centuries we never had anything written. We are born storytellers. We all learn how to deliver a punch line, and take great pleasure in it. How to keep people on the end of their chairs… how to hold them in the palm of your hand. The question necessarily becomes how does this translate to film? My approach is to have a solid relationship with my subject beforehand, and to let the story unfold naturally, with ease. Beyond some initial awkwardness, there's a story that wants to be told.
CW: Your film touches on many issues, what's the main point you wanted to make with CBQM?
DA: There is so much negative coverage of Aboriginal communities and issues in the press. If you look at the media, Aborignals are always portrayed as fighting this or fighting that. They want land, they want recognition, they want apologies. I wanted to offer a different point of view. I know the average Canadian isn't likely to visit Fort McPherson. The average Canadian won't be in contact with Aboriginal people like the folks in the film. What I wanted to do then was to invite them in. I wanted to invite them into our living room, to sit with us. To get comfortable with us. To have tea with us. So they could see us in our real light, in the real light that shines in our community.
CW: How did you avoid going completely nuts hearing CBQM's phone ring all day? Or did you?
DA: At first it annoyed everybody. It's quite the ring, eh? But we got so used to it at some point we realized it had become a character of its own. So we played on it, involved it. It's got personality, that ring!
CW: Is it just a fluke, or is there a reason the station plays nothing but country music throughout the movie?
In Fort McPherson, all everybody listens to is country music. You know, some people say Black people have hip-hop music, that's how they express themselves? Well we got country music. Country is all about pain, hard drinking, womanizing and feeling lonesome. I don't mean to say we're all hard drinkers and womanizers – no. But we're all recovering from one form of addiction or another. They say country music is the Brown man's blues. For us, listening to a George Jones lonesome drinking song… having someone sing your whole life story like that, it's like a catharsis. I'm telling you, listening to country with elders, in a living room, it's almost a transcendental, religious experience.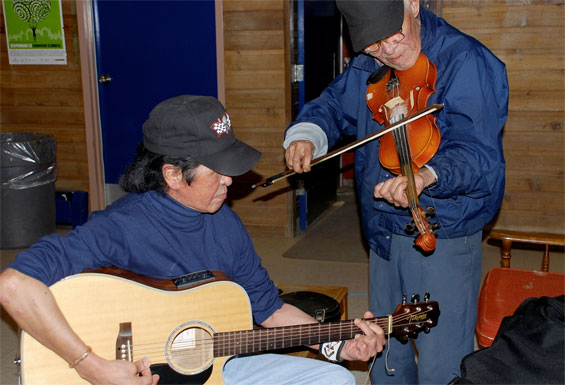 CW: Now that CBQM is all done and launched, what will you be working on next?
DA: We'll I'm in talks right now with the NFB Pacific and Yukon Centre. I'm looking at the possibilities of making another film with the NFB. This time about Native people's relationship to alcohol, from the first contacts with Europeans to today.