The NFB and World Fairs, pt. 2: Osaka and Expo 70
The City (Osaka), Kaj Pindal, provided by the National Film Board of Canada
This is the second of a 4-part series documenting the NFB's involvement with World Fairs, from Montreal to Shanghai. It was written by Marc St-Pierre, our French Collection analyst. – CW
The Osaka World's Fair, the first ever presented in Asia, opened its doors on March 14, 1970, under the theme "Progress and Harmony for Mankind." Canada was present at the exposition with a spectacular pavilion: an immense pyramid with a central opening and an entirely mirrored surface. More than 25 million people visited the Canada Pavilion, the theme of which was "The Urban Environment.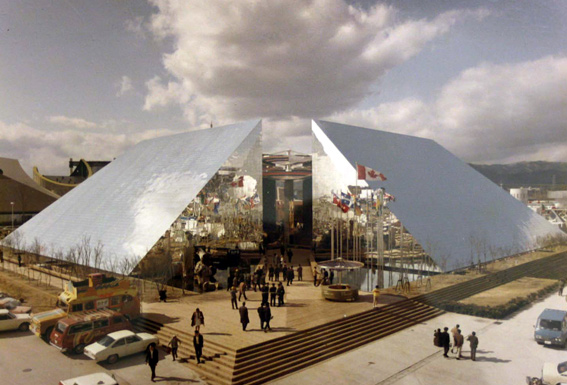 The Land and The City
The NFB's contribution to the pavilion came in the form of two films for visitors: The Land and The City. The first was designed to show off the vastness of the country, the potential of its natural resources, its plant and animal life, and the challenges posed by its climate and geography. The second was an animated short that provided a humorous look at Canada as an urban, industrialized nation, showing the ingenious methods its people had deployed to conquer their environment, and demonstrating the country's status as a cradle of ingenuity, creativity and invention.
As in Montreal three years before, the Osaka World's Fair provided an opportunity for the Film Board to offer audiences out-of-the-ordinary viewing experiences. The Land was shot in Panavision, a film format that enabled a wider image than the standard 35 mm used in movie theatres, and then blown up to 70 mm in Technicolor's Hollywood labs. The technology used to shoot the film, in conjunction with the final 70 mm print, allowed The Land to be shown on a huge triangular screen. The viewing experience was similar to that of IMAX, a technology that was developed around the same time. On either side of the main screen were two 10-metre rectangular screens, on which slides were projected. The Land offered spectators an immersive, spectacular and captivating experience. The City, meanwhile, was screened on a huge lighted panel made up of thousands of 5-cm-wide luminescent wafers. The panel was the backdrop to a three-dimensional exhibit and a light show on the theme of life in the city.
To be continued! Stay tuned for Part 3: Expo 86 in Vancouver.