What goes into clearing rights for streaming films on NFB.ca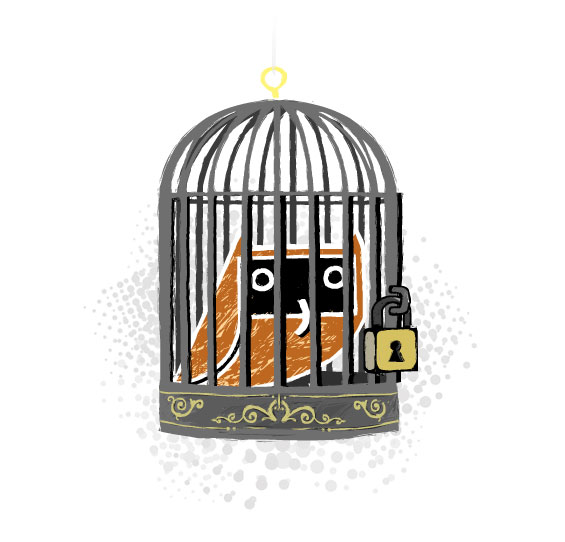 Although I have been part of the NFB web team since last Christmas, I recently realized I was still pretty hazy about the whole notion of internet rights. Why are we able to upload certain films for streaming, and not others? I figured if I wasn't too sure how those things worked, others out there might have the same kinds of questions.
That's why I asked NFB rights expert Hélène Dubé (her real title is Administrator, Rights Clearance) to break the science down for me. Hélène is NFB's rights cognoscenti. She's been working at the Film Board for 32 years, and has been part of the Rights department since 1980. Let's just say she knows her stuff.
All day, every day, she pores over rights files and analyses them to establish whether we have the rights – legally – to show a film online, at festivals or in movie theatres, whether it can be made into a DVD, etc. I asked her to tell me all about it, one morning this week. Since then, I've had a thought for her and the work her team does every time I've pressed 'play' on one of our online films and it just started playing, effortlessly, for me to enjoy.
Carolyne Weldon: Why can certain films be added to NFB.ca and not others?
Hélène Dubé: For a film to be shown online, all internet rights must be cleared. With recent films or films currently being made, we require the purchase of internet rights at the time of production. It's compulsory, automatic. For films from the past, the problem is that the internet did not exist back then, so the right to stream a film online was never negotiated. For those films, internet rights must be purchased on a case by case basis. So what happens is that the NFB Collection analysts and Digital Enterprises managers get together and prioritize different titles they'd like to purchase the rights for. We have an annual budget that is finite, so there is a finite number of films we can add to the site every year.
CW: What are the different type of rights that must be cleared?
HD: For each film, the rights file details who owns the rights to the different components. First there is the visuals, the shooting. Is it original or stock… did they use photographs? Then there is the screenplay, the actors, the narration, the music and "other rights", which is basically everything else. For the script and talent, the rights are usually pretty easy to obtain as they are negotiated in bulk through agencies like ACTRA [Alliance of Canadian Cinema, Television and Radio Artists], which are basically unions representing performers. We don't have to negotiate rights individually. It's usually images and music that are more complicated. And a lot more expensive, too.
CW: What happens then?
HD: Well, there's no problem at all if the images and music are all original. And that's what we encourage, too, at the production level… to get a composer to write something specifically for your film. But sometimes that is just not possible. Like the film Falling in Love Again. It's based on an existing song [by Marlene Dietrich]. In those cases, we have to buy rights. These days, buying rights means expensive purchases for a limited time. The rights to 30 seconds of music in a film can easily cost several thousands of dollars, for 5 years. The reality is that if those rights cannot be renewed in 5 years time, for budget reasons or what have you, the films that people were enjoying online will have to be taken down. Next year, we think we'll start seeing some of that happen, as various 5-year rights agreements come to an end.
CW: What are some of the other challenges you encounter?
HD: Let me see. I have over 300 open files at the moment; every one of them so unique. There is the question of co-productions, which usually complicates things to some degree. With co-producers, the idea is to share rights, share territory. For rights, what we try to say to co-producers is "we'll stream the film on our site for free, and you do the same." But oftentimes, co-producers partner up with broadcasters and negotiate television pre-sales to help with funding during production, which results in exclusive TV rights for a year. As for territory, well we don't do any geoblocking at NFB.ca. That means we are unable to implement and respect territorial limitations. Co-productions require some work.
Otherwise, there is the question of succession, when right-owners are no longer alive. A good example is one of the films I'm working on at the moment: Kate and Anna McGarrigle. The music in the film was written and sung by both sisters, so they owned the rights conjointly. The film was among those prioritized to be added to NFB.ca this year, but unfortunately one of the sisters, Kate, passed away this January. The remaining sister agreed to the proposed conditions, but the other sister was never consulted on the matter during her lifetime. So now we are waiting to see who her successors will be, to eventually negotiate with them. If her two children, Martha and Rufus Wainwright, are designated as such, then both of them will have to consent to the rights agreement. It's a lot of work, but it's also very rewarding. There is no better gratification than to pull off an important negotiation and see a film go online, all rights cleared.