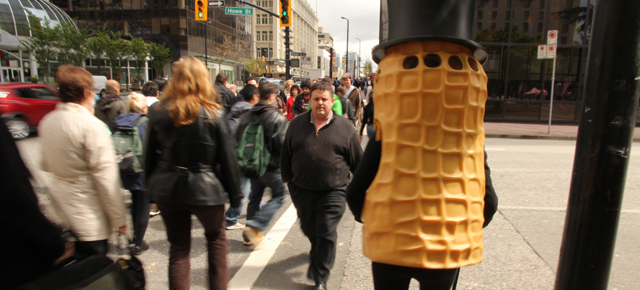 DOXA Connextions: A Mixed Bag of Nuts
This post was written by one of the young women participating in the 2011 Kris Anderson DOXA Youth Connexions Forum, as part of the DOXA Documentary Film Festival. "Connexions" is an immersive 2-week program where 6 selected emerging female filmmakers create 6 short films in 6 days, while also connecting with industry professionals & checking out all the doc films & panels.
It is through a series of chance encounters and mishaps that I created the film "Becoming Mr.Peanut."
An hour before setting out to shoot my DOXA project, my subject called to say he no longer wished to be involved in the film.  After an initial panic attack, I started running through all my other options.  It felt like none of them "clicked" with the Vancouver theme, or held up to my initial idea.
I was determined not to be the disappointment of the Connexions group, the girl who would have nothing to screen at DOXA.
On Wednesday morning I searched for inspiration around the house.  My Mr. Peanut memorabilia caught my attention…
I have always been interested in Mr. Peanut because of his connection to Vancouver.  In 1974, an artist named Vincent Trasov ran for Mayor of Vancouver as Mr. Peanut and received 3.4 percent of the vote.  To me, Mr. Peanut signifies the fusion of art and politics in Vancouver and an aspect of my own personal history.
What would Mr. Peanut do?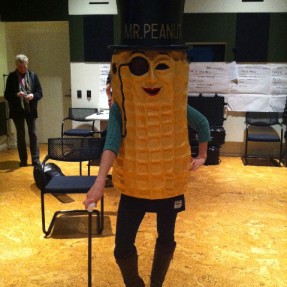 In many ways Mr. Peanut is a role model for documentary filmmakers. For one, it is important to grow a nice hard shell.  This shell is particularly useful when your planned film goes awry and you are left with nothing but a list of questions and a lavalier mic. Mr. Peanut's 'gentlemanly conduct,' is also useful for chaotic filmmaking situations. No matter what happens to your sound, lighting or subject, you always remain dignified and well- mannered, with a "superior standard of conduct."
Suddenly it dawned on me that I could use my interest in Mr. Peanut and his connection to Vancouver for a short.
I called Vincent Trasov, the Vancouver Performance artist who ran for Mayor in 1974.  His campaign included tap dancing and handing out peanuts.  Miraculously, he answered in Berlin and I spoke with him while he took his Wednesday night bath.  We discussed my plan, and how to procure a Mr. Peanut costume (a surprisingly difficult task).  I emailed the Helen and Morris Belkin Art Gallery  whose archives include Vincent's original costume, to see if someone might be able available to speak with me.  I wasn't expecting such an immediate response…
I reached the NFB at 10 am, and explained my new idea to Mo, Cat and Lisa, who hid their confusion well.  During the course of an hour, I set up an interview with Scott Watson, Director of the Belkin Gallery, and found out that Vincent's original costume was on display as a part of an exhibition at the gallery.  I also located a vintage 1960's Mr. Peanut costume in the city.  Luck was on my side.
Things I have learned while filming "Becoming Mr.Peanut":
1. People LOVE Mr. Peanut – while filming, people would shout "Mr.PEaaaanut!!" and happily agree to being on camera.  People smile as you pass, share childhood memories, and sing their favourite peanut songs.
2. Wearing the costume, you will transform into Mr. Peanut. Your gestures, voice, and attitude all become nutty.  Inside the costume, your voice will also sound really awesome, making you think you are an excellent singer.
3. You will forget you are wearing the costume, but when you look in the mirror, you will smile and possibly tap-dance.
4. People from Australia do not know who Mr. Peanut is.
5. People will eat peanuts off the ground.  (Not really that weird, because they come from the ground).
In a nutshell, by "Becoming Mr. Penaut," I feel that I was able to transcend gender, species, politcs and time, allowing people of all backgrounds to rekindle their love for Mr. Peanut, Canadian conceptual performance art and the 1970's.  I hope that my film will help realize the dream for "An Art City."
I leave you with this endorsement of Mr. Peanut by William S. Burroughs via The Western Front:
"Since the inexorable logic of reality has created nothing but insoluble problems, it is now time for illusion to take over. And there can only be one illogical candidate: Mr. Peanut."
Is Mr. Peanut for Mayor that nutty?
Paisley