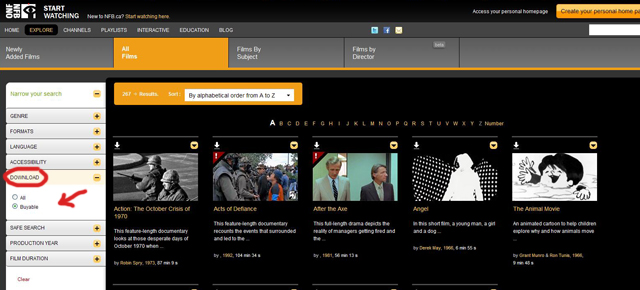 Download NFB films? Now you can!
This post is a translation. Find the French original here.
Until now, you could only watch NFB.ca films via streaming. However, over the past few months, my web team colleagues have been working hard to bring you more options. We are pleased to announce that it is now possible to download certain films in our collection.
Why offer the download option?
Most Internet users are happy to watch our films via streaming, either through our website, or on our Facebook, YouTube, Vimeo or Dailymotion pages. However, some people may find it handy to download our films so they can watch them later without an Internet connection. I'm thinking of families on a road trip who want to watch films on their mobile device without going over the data limit for their mobile Internet plan.
Why buy?
Buyable downloads also allow us to offer films that wouldn't be available on NFB.ca otherwise. Why? Because some films are very expensive to make available on the Internet. My colleague Carolyne Weldon gives a very good explanation of the reality of copyright in her article What goes into clearing rights for streaming films on NFB.ca. Some films were coproduced, others contain music that's protected by costly copyrights, and so on.
Furthermore, it often takes a long time (at least a year) before the latest NFB productions are available for viewing online. With buyable downloads, we will be able to offer the opportunity to see first-run and just-completed films much faster.
How do you download a film?
Not all films can be downloaded. For now, there are more then 500 available on NFB.ca and ONF.ca. You can find them easily by visiting the page <Explore> and then narrowing your search (left-hand column) with the options Buy the Digital Version and Buyable. You can then sort your results in alphabetical order or by publication date. If you have any comments or questions, be sure to share them with us.
In the meantime, I wish you many a wonderful discovery!
—
For more info, please consult the Digital Downloads section of our FAQ.