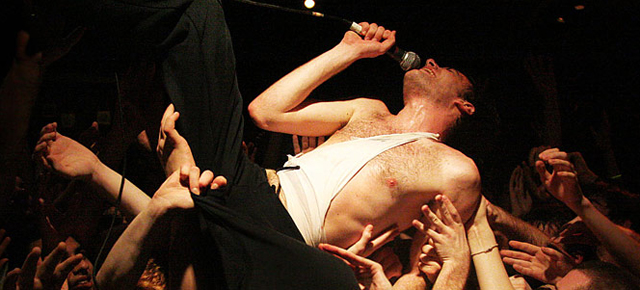 Friday staff pick: RiP! A Remix Manifesto
Hi everyone! My name's Kate Ruscito and I'm the newly minted English Community Manager for the NFB. I was asked to do another Friday Cinema post, so I humbly present to you my favorite doc from our vaults: RiP!
When I first started working at the NFB, all anyone could talk about was RiP! A Remix Manifesto. Being a newbie and all, I naively asked, "What's RiP?" After everyone was done laughing at me, they went, "Watch and see for yourself."
So I did.
That was the first in a (hopefully) long line of smart decisions I've made since 2009.
RiP! is, quite simply, brilliant. I wasn't terribly familiar with the remix culture that's slowly been invading music even though I did listen to Girl Talk (who happens to have a starring role in the film), but afterward, I felt like a scholar.
Director Brett Gaylor takes you around the world to argue copyright law and musical integrity and all the in-betweens of that fuzzy gray area in law where music piracy and art clash. RiP! feels like the first truly contemporary documentary we've made and I'm banking on it not being the last.
On top of all that, RiP! is the first open source documentary of its kind. What does that mean? Simply: you can legally download the doc, cut it up, recolor it, animate it, add in your own music, and spread the final product around the Internet like wildfire. In fact, Brett would love it if you did just that.
So, in what has to be the first and probably last time you'll hear a government employee encouraging Internet piracy: RIP THIS MOVIE!
Enjoy!
RiP! A Remix Manifesto , Brett Gaylor, provided by the National Film Board of Canada