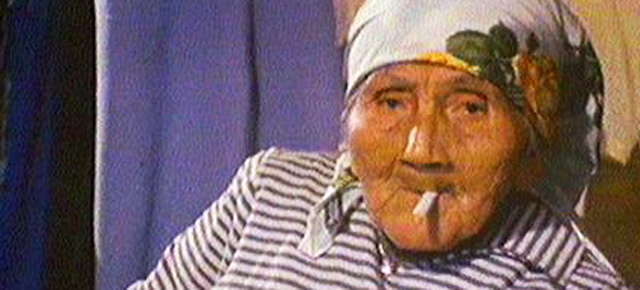 Friday staff pick: Augusta
On Tuesday, I got a nice big red envelope in the mail. Inside was a Valentine's Day card, from my grandma Antoinette (a.k.a. Mimi). On top of being a spectacular human being, my grandma is 94 now, and still the only person who sends me letters in the mail (other than my dear friends at Hydro-Québec and VISA.)
Inside the card, there was a handwritten message underneath the printed greeting. In my grandmother's elegant handwriting, it read (in French, she's Acadian): "You are the prettiest of Valentines. With love, Mimi."
I opened it, read it, and almost died. Everything about it was so perfect. The handwriting, the little butterfly sticker on the envelope, the words. I felt so special. The perfect Valentine's Day card. I called to thank her, and Mimi said, in her perfect tiny voice, that my mother had sent her one too, a really nice card with a heart on it. It made me very happy, to learn I was part of this excellent mother-daughter Valentine's Day card kartel. Yay women.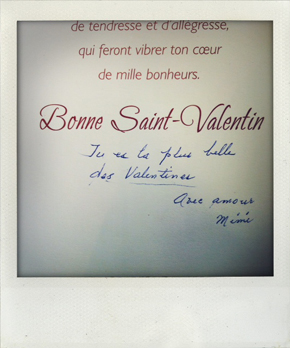 All this to say that all this matriarch love put me in a mood to tell you about another remarkable grandmother: Augusta. I've never met Augusta, and she has passed away now, but judging from the short documentary the NFB made about her in 1976, I think we would've gotten along remarkably. As would her and my Mimi.
Augusta, who was 88 at the time of the shooting, was a non-status Shuswap Indian living in the Williams Lake area of British Columbia. She lived alone in a log cabin without running water or electricity, which, if you think about it, is super hardcore.
In the film, which is all of 16 minutes long, Augusta talks about the high and lowlights of her existence. Snippets of narration are interwoven with footage of the lady herself, at mass in Soda Creak, in town for a "chicken dinner and a visit to the bank", or at home, singing old tunes with children on her knees.
Rolling and delectably smoking her own tobacco cigarettes, she remembers residential school, where sisters from France had kids write "I will not speak Indian anymore" on their slates (50 times on one side, and 50 times) should they ever have the gall to venture a few words in Shuswap in school.
Augusta is full of stories, and although they are often not what you'd call "feel-good stories", they are very real, and her delivery imbues them with dignity and humanness. Like that time she gave birth to her own daughter alone at home while her husband was out drinking for 3 days. Or when she lost her status as an Indian, in 1903, for marrying a "taxpayer".
Watching her go – splitting wood, walking by the river, playing her harmonica – I was reminded of the strength of women, especially grandmothers, who definitely didn't lead easy lives, but still always found ways to be kind to those around them and make them feel real special when they needed it the most.
A good weekend to all. Happy viewing.
Augusta, Anne Wheeler, provided by the National Film Board of Canada