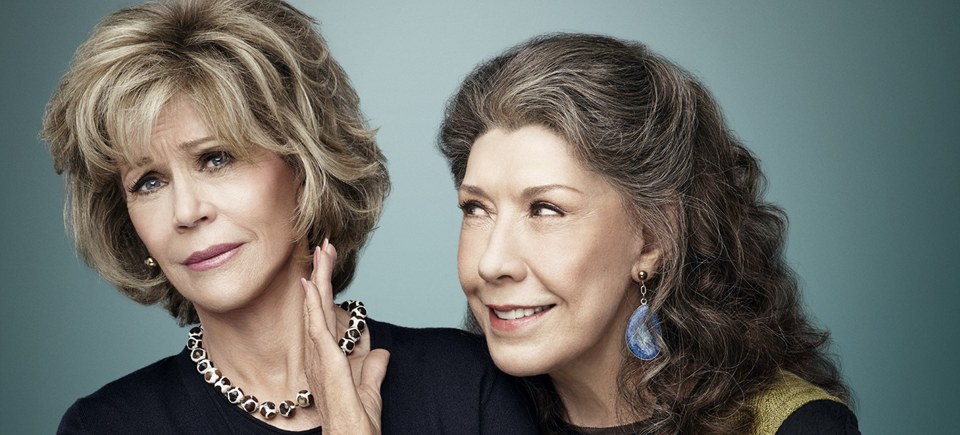 Satisfy Your Grace and Frankie Withdrawal Here
I know I'm late to the party, but I just finished binge-watching Grace and Frankie. Holy cow. What a great show. But now that it's over, I'm just craving some sassy senior-lady talk. There's something highly enjoyable about watching elderly women with plenty of life experience, and past the age of giving a… hoot, let loose and let you know what they think. Thankfully, we've got some great examples of this in our collection.
The Company of Strangers
This film is a favourite among NFB fans. It always does well when we feature it, and generates warm, heartfelt comments. Meet 8 elderly women who find themselves in a bad spot after their bus breaks down in the wild. Filmed before the advent of reality TV, it's an unscripted film with non-professional actors, allowing it to blur the lines between reality and fiction. It's a great film, and if you haven't seen it, take the time to watch it now.
The Company of Strangers, Cynthia Scott, provided by the National Film Board of Canada
A Sunday at 105
I know this film has been featured a few times recently, but come on, it's so good. I couldn't leave it out. No matter what kind of mood I'm in, this woman never fails to evoke a laugh from me. She shoots from the hip, especially when it comes to the juicy topics. She could give Frankie a run for her money, for sure!
A Sunday at 105, Daniel Léger, provided by the National Film Board of Canada
Mabel
Talk about a feisty senior with spunk! This short doc introduces audiences to Mabel, a 90-year-old woman who runs her own business, having opened her hair salon 70 years ago! 70 YEARS AGO! And she's still doing the same old shampoos and sets, and she's still got her old customers… at least the ones that haven't died on her. This woman is something else; a pure joy to behold.
Mabel, Teresa MacInnes, provided by the National Film Board of Canada
Louise
Oh, Louise. First of all, you've got to love a woman whose first item on her daily to-do list is "go to the bathroom." But seriously, what this woman accomplishes before I even wake up in the morning is astounding. Louise is a 96-year-old woman living in rural Manitoba, and this loving tribute from granddaughter Anita Lebeau is a real gem.
Louise, Anita Lebeau, provided by the National Film Board of Canada
Augusta
Meet Augusta, an 88-year-old non-status member of the Shuswap tribe from British Columbia. She lives alone in a log cabin; no water, no electricity. But no matter what life throws at her, she manages to live in the moment. With a heart of gold, she spreads good feelings wherever she goes.
Augusta, Anne Wheeler, provided by the National Film Board of Canada
Image credit: Netflix