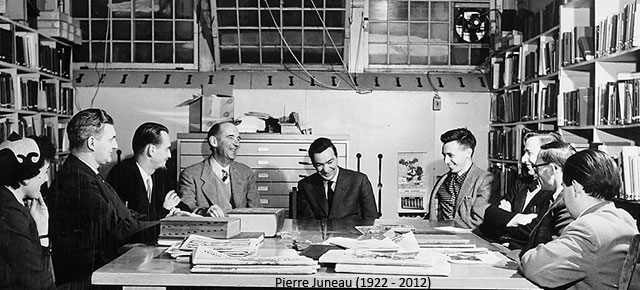 The National Film Board of Canada pays tribute to Pierre Juneau
The National Film Board of Canada wishes to acknowledge the significant and lasting contribution made by Pierre Juneau to the NFB and to Canada's radio broadcasting and telecommunications industries. Mr. Juneau died on February 21, 2012, at the age of 89.
During his career at the NFB from 1949 to 1966, Pierre Juneau played a vital role in the development of French filmmaking. When French-language production became an autonomous unit in 1964, he was its first director; his many and varied activities included promoting international co-productions with France and Italy. He had previously held a number of management positions tied to distribution and French-language production, in addition to having been Assistant Commissioner and Secretary of the NFB's Board of Trustees and having worked actively towards moving the NFB Head Office to Montreal in 1956.
"Pierre Juneau made a crucial contribution to the NFB in general and to French production in particular. Under his stewardship, French-language filmmaking thrived, affording great filmmakers opportunities for creation and innovation. Throughout the remainder of his career, Mr. Juneau remained an ardent promoter of Canadian culture in all its diversity. It is with great regret that we learned today of his death," stated Tom Perlmutter, NFB Chairperson and Government Film Commissioner.
In 1960, Pierre Juneau co-founded Quebec's first film festival—the Montreal International Film Festival. Mr. Juneau left the NFB in 1966 to accept the position of Vice-Chairman of the Board of Broadcast Governors, which became the CRTC in 1968. He remained CRTC Chairman until 1975, leaving his mark on the agency: the Juno Awards are named in his honour. In 1975, he was appointed Minister of Communications, then Chairman of the National Capital Commission. From 1982 to 1989, he occupied the position of Chairman of CBC/Radio-Canada.
Pierre Juneau retired in 1989, and thereafter took on a number of mandates, including presiding over the re-evaluation of the CBC/Radio-Canada, NFB and Telefilm Canada mandates for the federal government in 1995.
Pierre Juneau was born in Montreal in 1922 and was a student at Collège Sainte-Marie in Montreal. He next studied at the Sorbonne and the Catholic University of Paris, where he obtained his Bachelor of Arts in philosophy. Among his many honours, he received the Order of Canada in 1975 and was elected a member of the Royal Society of Canada.
[View original text here]