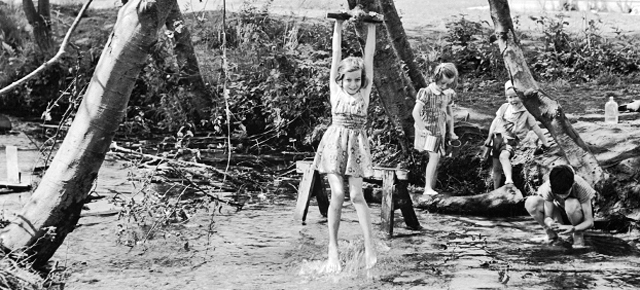 Summer in Canada is a thing as fickle and elusive as it is glorious. Lakes thaw, wild flowers bloom and neon-white feet venture out of doors in sandals sans wool socks. Yay! But time is of the essence. Blink, and you could miss it. Like my friend Wayne in Saskatchewan says, "I really hope summer happens on a weekend this year." (Here's another one. Q: What are the seasons in Canada? A: Winter and July.)
The issue with fleeting Canadian summers is the obligation to "enjoy it." Whether you're feeling up to it or not, our summers are not the kind you can be lazy about. Every sunny summer day, by virtue of extreme rarity, is an occasion to which all Canadians must rise. Berry picking! Sailing! Picnics! Garage sales! Swimming! Barbecue! Got to enjoy the beautiful day!
Here's an offer for those a little tired of this tyranny of Canadian summer enjoyment. How about some films about summer, instead? Here are 5, specially curated by yours truly.
This way, you can know all about a) summer hallucinations, b) how summer came to be, c) cowboys in the summer, d) summer annoyances (of the winged variety) and e) romantic summer strolls – all without leaving your AC, ice-tea and E-Z recliner.
Summer delinquents, enjoy.
The Ride (1963)

The Ride, Gerald Potterton, provided by the National Film Board of Canada
Sometimes, it's just too hot. This film is about a time like that. From Gerald Potterton (the guy behind Heavy Metal), this short film depicts the daydream of a chauffeur awaiting his boss. We've all been there. You're sweating like the Niagara, sitting perfectly immobile, and your mind drifts to ice-cool memories of Februaries past. Snow men. Icicles. Ahhh. Ooh. Ahh. Here, the chauffeur imagines that the street he's parked on has transformed into snowy mountains, and hold on – has the car turned into a toboggan?! A series of dizzyingly refreshing misadventures ensue.
Summer Legend (1986)
Summer Legend, Françoise Hartmann, provided by the National Film Board of Canada
Did you know that Summer was actually a girl, and that before the great spirit Glooscap kidnapped her from down South, Kyrgyz bride style, there was only bitter white cold all across the world? This lovely mid-1980's animation recounts that sultry summer story, courtesy of Mi'gmaq folklore.
Corral (1954)
Corral, Colin Low, provided by the National Film Board of Canada
by Colin Low
I've said it before and I'll say it again: Colin Low rocks. When I interviewed him a while back at his house in Westmount, my lunch invitation sprawled till half-past 6. Many stories were shared and many photographs produced, including gems from his time out West, filming the Hutterites and the Blood Indians and dinking around Dawson City, Yukon, 55 years ago.
Corral also hails from Colin Low's Western period (it was shot in Alberta.) Shot in black and white and without words, the film is a romantic portrait of a cowboy doing all the things that lonesome cowboys do (okay, maybe not all of them); rounding up wild horses, lassoing high-spirited animals in the corral, going for glorious plunging rides across the foothills. Bonus points for the sweet accompaniment of Western ballads, played on guitar.
Blackfly (1991)

Blackfly, Christopher Hinton, provided by the National Film Board of Canada
I distinctly remember the time my father taught me, out in a canoe somewhere, about the difference between bugs that suck your blood (like mosquitoes) and bugs that bite off a chunk of your flesh (like deer flies or horse flies.) I was 3 or 4, and thoroughly horrified. (Snacking on me?) This animated short is about an even more insolent cousin of those chunk-takers: the dreaded black fly.
Blackfly is based on a song of the same title, written and sung by Canadian folk singer Wade Hemsworth (who also wrote The Log Driver's Waltz) with back-up vocals by the McGarrigle sisters. It tells the story of Hemsworth's near-debilitating encounters with this insect during a jolly summer of surveying in Northern Ontario. Proceed with caution: the song sticks to your head worse than a cloud of buffalo gnats.
Montreal by Night (1947)
Montreal by Night, Jean Palardy & Arthur Burrows, provided by the National Film Board of Canada
by Arthur Burrows & Jean Palardy
Montreal in the summer is super dreamy-romantic, and it appears the summer of 1947 was no exception. In this film from the Canada Carries On series, Colette, a francophone girl who works along with 3,000 other girls in a cigarette factory, is fixing her hair before her date with Jacques (Jeck?), an Anglo who hails from Manitoba and shares Dracula's pointy hairline. Tonight, the narrator tells us, Colette is just like any Canadian girl. "She wants to be married. She's in love."
Together at last, our couple enjoys the balmy summer night, strolling arm in arm. Their perambulations take us to the "Club de croquet", as well as to a different sort of club, where gorgeous ladies do the French cancan and other fancy things with skirts. They go to the now-defunct and much-lamented Belmont amusement park, then famous for its wooden roller coaster. Nothing much happens, but that's besides the point. Being in love on a summer night in Montreal is a happening in itself.