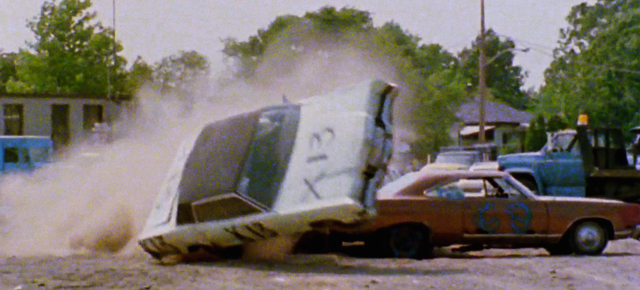 Stunt Family: A Story About Daredevils
* This post was translated from French. Read the original here.
A few days ago, we added Canada Vignettes: Stunt Family (1978) to NFB.ca. This documentary by Lois Siegel is the portrait of a family of stunt people working in the film industry.
Yesterday morning, I had a chance to chat with the Genie Award–winning filmmaker and learn more about the production experience behind this fascinating 3-minute short, which also exists in a longer version called Stunt People.
Stunt Family
With plenty of passion and maybe a little insanity, a dozen members of the Fournier clan (4 brothers, 5 sisters, and the 3 children of Marcel Fournier, the head of the group) crashed cars, set themselves on fire and dived off buildings. The Fourniers became specialists in movie stunts after celebrated filmmaker Gilles Carle discovered them in 1969 while he was looking for smashed cars for his film Red. By the time Canada Vignettes: Stunt Family was filmed, 4 generations of Fourniers had taken part in 125 films and done about 540 stunts.
Describing themselves as a normal family, one that happens to like doing stunts and wrecking cars, they put their lives in danger to earn a good living and to thrill movie fans.
Canada Vignettes: Stunt Family, Lois Siegel, provided by the National Film Board of Canada
An atypical filmmaker's career path
Originally from the United States, Lois Siegel first came to Montreal to take summer French classes at McGill University. That's when she heard about the National Film Board of Canada. She later became a Canadian citizen and joined the NFB for camera training. "Back then, the NFB was looking for 4 female camera operators from across Canada," she says. She also worked as a stills photographer and, at the same time, made a few independent and experimental films to indulge her interest in directing. "My introduction to documentary filmmaking was at the NFB," she says.
In the late 70s, Robert Verrall, director of the English program and executive producer of the NFB's Studio D, was developing the Canada Vignettes series whose aim was to promote a positive image of Canada. He was looking for interesting topics. "He gave several people at the NFB the chance to make a film by inviting us to suggest potential topics," Siegel says. She submitted 3 ideas, and Verall chose the story of the stunt family.
Siegel already knew the Fourniers. She'd worked with them on the sets of fiction films shot in Montreal in the 70s. "One movie was a Frank Vitale film where stuntmen had to jump out a third-floor window," she says. She remembered that they were "really nice" and "always worked as a family." A few years earlier, she'd also encountered professional stuntmen on the set of the 1976 Robert Fortier film The Mad Canadian about stuntman Ken Carter, who specialized in car jumps.
A 2-day shoot
The NFB gave Siegel only one day to shoot Canada Vignettes: Stunt Family. Still, she managed to persuade her team to let her have an extra day to finish off a few scenes. A teacher at John Abbott College and Concordia University, she received help from a few of her film students. One of them, Glen MacPherson, went on to make movies in Hollywood (Resident Evil: Afterlife, The Final Destination).
During the film shoot, Siegel first interviewed Marcel Fournier, the leader of the group, and followed the family to La Prairie to a dirt site where they trained using old cars. "I was supposed to deliver a 3-minute action film, so I had to keep things moving," she says. She ended up juxtaposing the interview with images of car smash-ups and film clips where you see the Fourniers in action.
Stunt People
Thanks to her experience with Canada Vignettes: Stunt Family, Siegel now makes documentary films. "I caught the bug," she says. "It takes only 3 minutes to learn all about filmmaking," jokes the one who wrote, directed and edited her film by herself. After this shoot, she decided to expand the story of the Fourniers into a second documentary, a longer film that she made independently.
The second film, Stunt People, won a Genie Award for Best Short Documentary in 1990. For this film, she received help from the NFB through its assistance program for independent filmmakers (FAP).
The acclaim the documentary won enabled her to make Baseball Girls in 1995. In the past, Siegel had used her own credit card to cover expenses for her independent films. To cut down on costs, she'd become an expert negotiator. "I offered my services as a stills photographer or a casting director in exchange for equipment loans," she says. "I don't know how I managed to finish Stunt People, but I remember that Marcel Fournier agreed to add a line to his other film contracts that enabled me to film him on sets. That way, I saved on set costs!"
Nearly 35 years have gone by, but Siegel is still in touch with members of the Fournier clan." I've become part of the family," she says. "Most of them now live in Florida. The youngest launched a stunt company a few years back. He's still working in the film industry."
***
For more information on Baseball Girls, by Lois Siegel, please read Albert Ohayon's post :
A woman's place is at home… and first base, second base, shortstop…