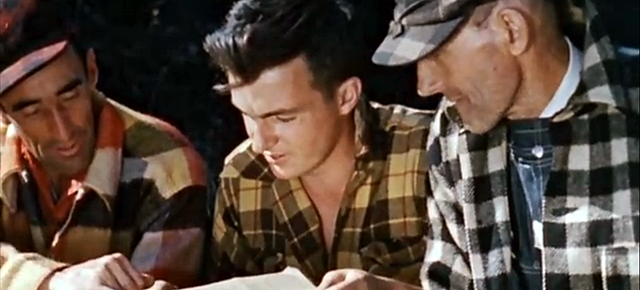 5 NFB Films Celebrating Canadian Lumberjacks
Despite the fact not too many people get paid to swing axes and fell trees these days (machines do that now), the mystique of the lumberjack is alive and well in today's popular imagination. In both fiction and fashion, not to mention women's hearts, woodsmen and their rugged ways continue to fascinate and captivate.
A 5-part ode to the loggers of yesteryear.
Canada Vignettes: Log Driver's Waltz
Canada Vignettes: Log Driver's Waltz, John Weldon, provided by the National Film Board of Canada
Log Driver's Waltz is the mother of all NFB classics. Along with this cat video, it is one of the most requested films on NFB.ca. Watching it, for the first or the billonth time, it isn't hard to understand why. 1) It was directed by a Weldon – ! 2) It is based on a super catchy tune, sung by the wonderful McGarrigle Sisters. 3) Between lyrics such as "For there's none with the style of a log driver," and "A log driver's waltz pleases girls completely," it says it like it is.
Timber Front
Timber Front, Frank Badgley, provided by the National Film Board of Canada
This short doc is 73 years old and amazing. Produced in 1940, as the world was plunging head-first into World War II, it tackles the topic of lumbering from the unusual angle of war efforts. The narrator's voice, puffed with the righteousness of propaganda, presents the Canadian forest as one of the most vital new war fronts. If, on the prairies, "wheat fields are the farmer's battleground, and combines his tanks," in the forest "the noise of battle is the crash of falling trees."
Six minutes into the film, however, the war rhetoric subsides, and we have a lovely 6-minute vignette on war-time lumberjacks. The footage is superb, but the descriptions, even better. Loggers are described as North America's real pioneers; men with "a capacity for hard work and hard drinking, unsurpassed in history," who wade into the forest with their axes 6 days a week and on Sunday, grind their axe blade to a razor edge and shave with them. So manly.
Canada Vignettes: Logger
Canada Vignettes: Logger, Al Sens, provided by the National Film Board of Canada
This animation from the Canada Vignettes series crams all you need to know about how lumberjacks went from being the fit gods at the center of the lumbering trade to forestry technicians supervising machinery – in one minute flat.
Ti-Jean Goes Lumbering
Ti-Jean Goes Lumbering, Jean Palardy, provided by the National Film Board of Canada
Ti-Jean is a young French Canadian boy with reddish hair, freckles and super powers. In this 1953 classic, Ti-Jean rolls into a logging camp riding on a tall white horse and looking for a job. "As cook's helper, perhaps?" the clerk asks. "No, as a woodcutter," answers Ti-Jean. All the bona fide lumberjacks, assembled for lunch, laugh their breeches off. But they soon live to regret it. Ti-Jean, pint-sized superhero that he is, amply proves his mettle by competing and winning in all the lumbering competitions and contest the big burly men throw his way. Go Ti-Jean!
Foresters
Foresters, Werner Aellen, provided by the National Film Board of Canada
This one is kind of a cheat. Though it stems from the late 1960s, a time when the era of lumberjack "with his axe and bulging biceps" was already pretty much a thing of the past, this film merits your attention if only for the extremely trippy opening sequence. Inexplicably, images of falling trees are juxtaposed with footage of hot babes flaunting Flower Power beach attire al fresco. The opening song's lyrics eventually shed some light onto this titillating head-scratcher. "Yes, yes, eventually," Donna Louthood sings, "the lady owes her dress to a tree – yeah!"