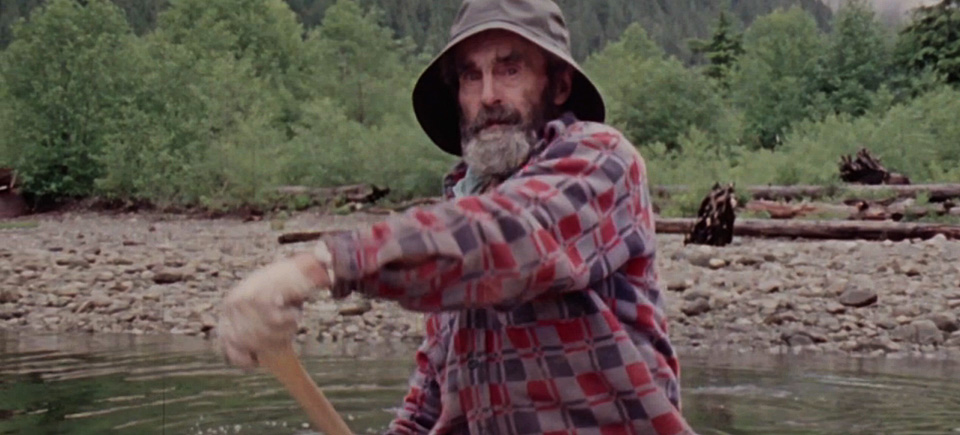 Hobos, Hermits and Drifters | Watch 3 Short Films Starring Wise Loners of the Canadian Bush
Although almost everyone has dreamed of leaving it all behind and vanishing into the bush, it takes a special kind of character with a special set of skills to do it and survive.
Especially when the bush in question is the unforgiving Canadian kind, a sparsely populated land where winter happens frequently, and vigorously.
Whatever lures one to the bush or keeps one there – heartbreak, gold fever or plain misanthropy – it's very practical matters that occupy one's mind in the outback.
What is there to drink and eat? How can one stay warm and reasonably sane?
Learn a few things about self-reliance, the difference between being alone and lonely and the joy that stems from a true connection to nature with these three short docs profiling real loners of the Canadian bush.
Watch them all for free below.
Nahanni
We start our tour of the outback with a visit to Albert Faille, the 73-year-old prospector who lives alone near Fort Simpson, on the Mackenzie River in the Northwest Territories. Full of dramatic music and scenery, the film follows the rugged and taciturn Faille on his yearly attempt to locate a mysterious gold mine, four hundred miles down river. Seven times before he has tried and failed. Will Faille's eighth expedition be successful? This mythical mine, in the middle of nowhere, is said to be haunted. Many lost their lives just looking for it; and when their skeletons turned up, many were missing skulls. Our bush loner is unfazed. "I'll need to be dead or drowned before I quit," he says.
Bush wisdom takeaway: If you're going to travel 400 miles from your cabin, prepare for the possibility of winter coming early. That happened to Albert Faille one time. The cold came crashing down and he was snowed in, far from his "cozy" cabin. He built himself an emergency shelter and spent that long, dark winter in the very remote bush, plagued by scurvy and toothache. When it became intolerable, he pulled the offending tooth out with pliers.
Nahanni, Donald Wilder, provided by the National Film Board of Canada
David and Bert
Of the two eccentric Vancouver Island old-timers featured in this documentary portrait, Bert Clayton is the true bush enthusiast. Living alone and prospecting around his cabin in the hopes of "creating something other people might benefit from," such as mining jobs, he is thrilled with the lifestyle he's chosen. "I don't think anyone could be more contented with his life as I've been," he says. "The very thought of living harmoniously amongst the animals in the woods and the tinder in the bush – that seems to give me a great sense of satisfaction." The film shows him as he joyfully ascends amd dynamites the neighbouring hills, a 66-pound prospecting drill attached to his back. "I love living," he says. "I"d do it all again."
Bush wisdom takeaway: Tents and sleeping bags are unnecessary luxuries. Who wants to carry all that? Before nightfall, make a fire and heat up a few stones. Place those babies in the small of your back and voilà, those fire-warmed rocks will keep you toasty all night.
David and Bert, Daryl Duke, provided by the National Film Board of Canada
Man Who Chooses the Bush
This film should've been titled Man Who Chooses the Bush (While Entire Family Says Screw That). If it takes resolve to "choose the bush," and make a life there, imagine staying out in the bush when your whole family finally "chooses town." This is the story of Frank Ladouceur, a Cree man who traps muskrat out in the North Alberta wilderness. There used to be quite the gang, out in the old "trap house" but Ladouceur is now the only soul there, his entire family having traded the bush for the comforts of Fort Chip (Fort Chipewyan, in Northern Alberta.) His wife says she doesn't miss him much. He was always out on the trap line anyway. His grown daughter Lina, who married good, can't for the life of her imagine going back to the trapline life. ("Remember when I used to run for water? It runs for me now!" she says with a laugh.) The film introduces us to Ladouceur's cabin and ways. He makes a sled out of a birch tree. He feeds his sled dog puppies entire raw frozen fish. ("Now I use a Ski-doo but dogs are much better. Dogs don't break down.") Survival means hunting, and Ladouceur is skilled at it. The film depicts a moose being shot and chopped into portable pieces, and muskrats, Ladouceur's main source of income, being trapped and skinned. (These images may offend some.)
Bush wisdom takeaway: To stretch out your tobacco, smoke like the old-timers smoke. Go out and cut red willow branches. Peel off the top part, discard that, and then scrape the rest off, right down to the stick. Dry these scrapings and add them to your tobacco. It's a "mild smoke" according to Ladouceur, something that will make your tobacco supply last much longer, without overpowering the taste.
Man Who Chooses the Bush, Tom Radford, provided by the National Film Board of Canada
Also check out…
Flash William: A short profile of Flash William Shewchuck, an unbelievable one-man movie industry operating in the Canadian wilderness.
Augusta: Retirement home? This 88-year old Shuswap elder is happily living alone… and off-the-grid.
Blake: A beautiful short film on freedom-obsessed bush pilot and loner Blake James, known to some as the "hobo of the sky".