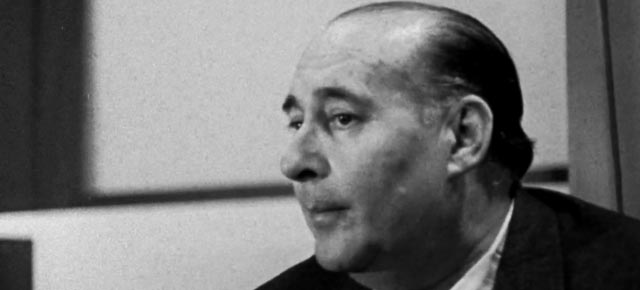 Hidden Treasures from the Archives – A Letter from Roberto Rossellini
Gathering information from the innumerable pages of our paper archives can sometimes be a tedious task. Contracts, invoices, budgets, all kinds of correspondence… there seems to be no end to the documents available for my dissection, documents that too often are of little or no interest to anybody wanting to know more about a film. But every so often, I discover something exciting. These little treasures—files buried under time-worn pages, stuffed inside old crumpled envelopes, hidden behind the umpteenth version of a screenplay, or camouflaged by an official letter—appear to contain nothing of importance, at first glance.
Imagine my surprise when, while leafing through the production file of Cinéma et réalité (1967), a film on Italian Neorealism (film movement) and its major figures, I found a handwritten letter from famous Italian filmmaker Roberto Rossellini!
Rome, February 2, 1966

I hereby authorize IDI Cinematografica to make a 16 mm copy at your facilities of some excerpts from Paisà and L'Amore. However, a complete copy reel will have to be made; meaning the reel containing the excerpt of interest to IDI Cinematografica will have to be copied in its entirety. IDI Cinematografica shall pay for the abovementioned service.

Kind regards,

Roberto Rossellini
I know you might be thinking that there is nothing exciting about this letter (see English translation above), but in this digital era when all written communication is crafted either on a keyboard or a smart phone, a handwritten letter—and written by a giant of world cinema no less—is worth reading!
It is sometimes difficult to understand the origin of a film and to trace its history simply by looking through the archives. I usually compare my research to the work of an archaeologist. Relying on a few artefacts I come across randomly in my searches, I must recreate the history of a film. The story behind this letter is easy to dig up: in December 1965, the executive producer of Cinéma et réalité, André Belleau, wrote to Roberto Rossellini directly, asking for permission to use excerpts from two of his films, Paisà (1946) and L'amore (1948). The Italian filmmaker, who held the rights and original negatives for both films, replied in February 1966, giving the NFB his permission via Italian film company IDI Cinematografica, at that time associated with the project.
Cinéma et réalité par Georges Dufaux et par Clément Perron, Office national du film du Canada
There's no point to this blog post other than to share the pleasure of my discovery with you! And also to tell you that you should watch Cinéma et réalité (if you know French!). You will be introduced to almost all of the great Italian filmmakers of the era, like Rossellini, De Sica, Fellini, Antonioni, almost all of whom speak French. Another marvellous discovery to share!
Thanks to my co-workers Stefania Colantonio, Marianne Di Domenico and Sophie Quevillon for their help!