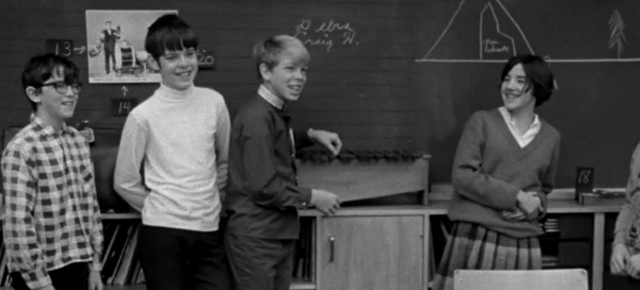 Bing Bang Boom: on a Journey to the Playful Discovery of Sound
Occasionally, experiencing the breadth of the NFB collection can be a bit like rifling through an antique trunk in an attic and coming across a delightfully surprising little treasure. The NFB has created over 13,000 productions since our inception in 1939, so you can imagine that there are quite a few little gems to be discovered—and re-discovered! We've recently added just such a gem to our online streaming site, NFB.ca, and as soon as I saw it, I couldn't wait to start a discussion about what a wonderful, weird, inspiring, charming, and entertaining little film this is.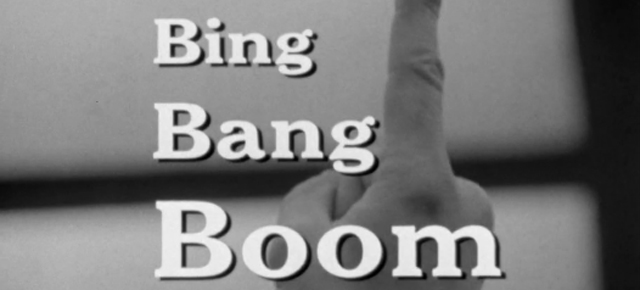 "The freeing of the mind to achieve its own good in knowledge…"
Joan Henson's short 1969 documentary Bing Bang Boom follows iconic composer and sound pioneer R. Murray Schafer as he guest-teaches a Grade 7 music class in Toronto and shakes up established notions of what it means to teach, to learn, and to hear and produce all the sounds of life as a kind of music. The film could not have come at a better time; the educational philosophies of the 1960s were beginning to slowly distance their conception of education from instrumental (e.g., vocational) aims. While still conservative in many senses, the 1960s were no doubt a historical era known for experimentation in culture and, as Peter Hirst (an educational philosopher of the 1960s) put it, this shift in educational theory signaled "the freeing of the mind to achieve its own good in knowledge". (See John White's essay on the educational philosophies of the 1960s).
"Could you draw that sound?"
As Schafer encounters the room full of eager young music students, he begins by asking them provocative questions like: "Could you draw that sound?" and "Can you locate silence?" The visibly intrigued—yet adorably confused and shy—adolescents begin by taking part in Schafer's experiments: they invent sounds with their mouths, throats, bodies, clothes, pencils, and classroom furniture. They listen to each others' breath, heartbeats, and steps. Finally, they begin to create experimental "music" of their own, at Schafer's bemused urging. Miniature choirs of handfuls of students assemble to perform their original compositions, some consisting of harmonic tones, and some simply bursting forth as a collection of spontaneous noises and beats. It's always interesting to see which students in a class gladly volunteer to be leaders (in this case, conductors), happily grabbing the baton and doling out instructions to their "choir".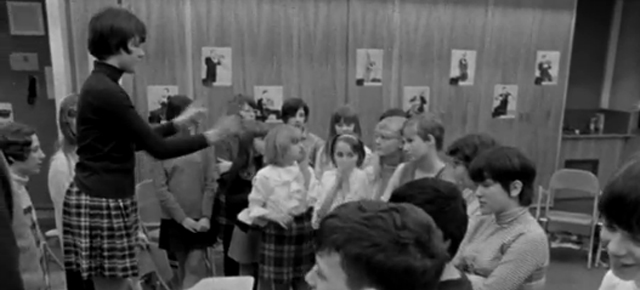 Schafer's soundscapes: something "nice"?
Through the clanging and banging of youthful enthusiasm, we can see that the kids in Bing Bang Boom are actively questioning their own assumptions about sound and music. One boy argumentatively asserts that music is defined as something that is "nice", while sounds don't necessarily have to be "nice". But the sense of wonder in these kids isn't necessarily a product of their youth, or the decades-old culture they occupy, which may seem so arcane to us. Schafer's own unceasing sense of wonder about sound hasn't waned over the many decades he has worked as an artist. In 2009, Schafer was honoured as a recipient of the 2009 Lifetime Achievement Award at the Governor General's Performing Arts Awards, and the NFB produced a short documentary about Schafer, Listen, directed by David New.
One cannot help but see the remarkable consistencies between the Schafer of the 1960s in Bing Bang Boom and the thoughtful, established artist of today in Listen. Watch both films here, and see for yourself how the meditation on sound is taught, learned, and perfected.

Bing Bang Boom, Joan Henson, provided by the National Film Board of Canada
Listen, David New, provided by the National Film Board of Canada