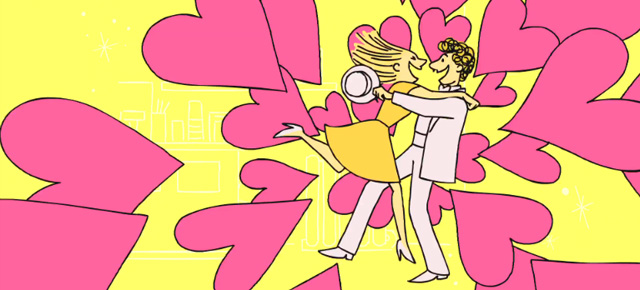 Heartwarmers: 9 Films about Romance
Ah, romance. Enough with the cards, flowers, and chocolates—isn't the most romantic thing really to indulge in the cinema? We've got a selection of cinematic treats for you leading up to this year's Valentine's Day.
Besides the romance, the two best things about this classic feature are the opening credits (reminiscent of Saul Bass' iconic work for Hitchcock et al) and lead actor Charles Denner's chiseled, dimpled visage. Denner was primarily known as a stage actor, but also played a crucial role in legendary director Louis Malle's Ascenseur pour l'échafaud, a crucial film noir about the downfall of a criminal couple of lovers. In YUL 871, Denner plays a Frenchman on his first visit to Montreal. Partially a business trip, the voyage turns into a search for his parents who were displaced by WWII. A love affair with a sharply-dressed, carefree blonde rounds out the adventure. Nothing like kissing in an old-timey phone booth on a hot summer night (skip to the 40:27 mark)!

Watch YUL 871 by Jacques Godbout, National Film Board of Canada
If you want to delve into some other mid-century b&w classics (my fave thing about these films is always the clothes!), try Don Owen's film-school-approved Nobody Waved Goodbye, a feature drama in which a teenage couple grows painfully into adulthood while rebelling against an older generation.
There's also Crossroads, a short drama from 1957, which tells the story of Judy and Roy, a young couple in love who face discrimination because Roy is black and Judy is white. But after all, love prevails! As Judy tells her mother, who is hesitant about accepting the union, "Do you think all people feel the way you do?" A young mid-century generation is ready to face racism head-on.
Finally, Pierrot in Montreal is a goofy pantomime set in Montreal's now-defunct Belmont Amusement Park. Our mute hero, played by Canadian mime Guy Hoffman, must defeat the evil Harlequin in order to regain the favour of the beautiful young damsel who has a grip on his heart.
Have you ever done crazy things in the name of unrequited love? (Full disclosure: I once drew a picture of a guy I pined for and kept it in my wallet). Well, George and Rosemary have both done a few nutty things. They're neighbours on a quiet suburban street, and George thinks Rosemary doesn't know he's alive while he wistfully stares at her through a window. Little does he know that Rosemary has some plans of her own up her sleeve.

Watch George and Rosemary by David Fine & by Alison Snowden, National Film Board of Canada
If you're looking for a few other short animations about loooooove, try Missed Connection, a hilarious yet sad little flick about a coffee shop daydreamer who misses out on a momentary chance at love.
Sure, it's a Christmas tale, but this short animation contains a powerful lesson about life and love. A grumpy old millionaire wants nothing more in life than to maintain a stubborn grip on his cash with a tight fist. But as The Beatles so infamously sang, money can't buy you love. Finally, crotchety old moneybags experiences the epiphany of a lifetime: happiness only comes when the heart is allowed to speak. Narrated by Leslie Nielsen, the film warms hearts across both the Christmas and the Valentine's Day holidays!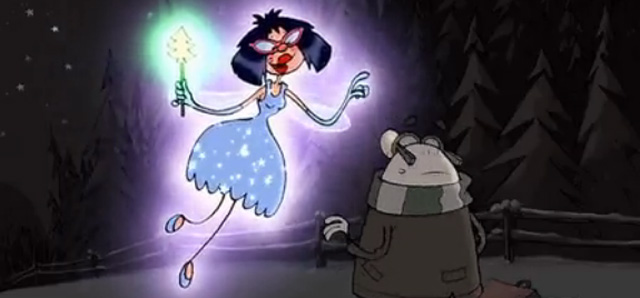 Watch Noël Noël by Nicola Lemay, National Film Board of Canada
This feature documentary is a remarkable and inspiring portrait of four Canadian women living with disabilities and their desire for an intimate sexual and romantic relationship with the partners of their choice. Some of the women have experienced painful childhoods in institutions that denied them the freedom to think and act for themselves, and as they discover their abilities and assert their autonomy, we're moved to cheer them on in their quest for romance.

Watch Toward Intimacy by Debbie McGee, National Film Board of Canada
Hope these little nuggets of romance are enough to warm your heart over the cold winter. Share these films with a date, a friend, a crush, or a partner. Happy Valentine's Day!