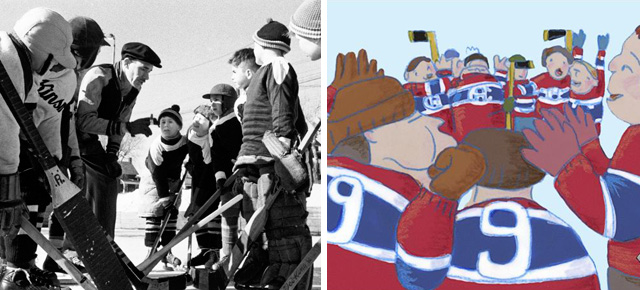 Hockey: The Great Canadian Game… As Seen by the NFB
Hockey is part of every Canadian's DNA, and part of our cultural heritage. Whether you have a French background or an English background, and whether you were born here or come from another part of the world, hockey is likely to play a role in your experience as a Canadian. It's a game that unites people across this great country. It was the first thing I connected with when I arrived in Canada at the age of six, and it was the first thing I shared with my son when he was old enough.
As the 2014 Winter Olympics hockey tournament gets under way, I've decided to look back at the sport as seen by the NFB over the last 70-odd years. From Pee Wee hockey to the pros, and from the juniors to the international game, it's obvious just how strong the bond is between Canadians and our beautiful game. So without further ado, here's a rundown of some of our best hockey films.
This 10-minute gem was originally released as part of the Canada Carries On series in October 1953. It depicts the Canadian game at all levels. My favourite sequence shows youngsters playing on outdoor rinks while their parents freeze on the sidelines. It's jarring to see the kids without helmets and masks! Just a toque or earmuffs to keep the head warm and away we go. While I would never approve of kids playing with so little equipment, I love this sequence because it showcases hockey in all its simplicity. Skates, a hockey stick and a puck are all you really need to play. The film also has a brilliant scene showing the great Jean Beliveau playing with the Quebec Aces, making some spectacular moves to deke the socks off his opponents and score a goal in the process.
We are told in the film that it costs the unthinkable sum of $55 for a junior player's skates and that there are (were) 65,000 amateur players in the country (today there are more than 580,000 registered players, and that doesn't even include the beer leagues). I was also surprised to hear that the ice at Maple Leaf Gardens required 300 gallons of paint! For the nostalgic among you, don't miss the excerpt from the Montreal Canadiens–Detroit Red Wings game featuring two of hockey's greatest players, Maurice Richard and Gordie Howe. Remember, it's all about cheering for your team.
Here's Hockey!, Leslie McFarlane, provided by the National Film Board of Canada
This amazing documentary covers a tour by the University of British Columbia Thunderbirds hockey team throughout China in December 1973. The 'Birds travelled from coast to coast playing outdoor and indoor games against the Chinese national team and local teams, outscoring their opponents 56-5 in the process. While the quality of the opposition was not top calibre, the UBC players lived an incredible experience in a country that was just starting to open up to the world.
Two amazing sequences in the film stand out for me. The first has the team practise outdoors on a particularly cold day with 17,800 people in attendance! The second shows the team arriving in Harbin, Manchuria, to the surprise of locals who had never seen Westerners before.

On the hockey side, their games against the Chinese national team in Beijing are pretty exciting (5-0 and 7-0 wins) but the most interesting moment is the shot of the Chinese goalie, who appears to be wearing blue paint on his face. It is actually his mask, which unfortunately must have given him as much protection as a sheet of paper. The Chinese players might not have been as skilled on the ice but they made up for it with grit and determination. Isn't that what Canadian hockey is all about? Overall, this is an incredible film about the growth of hockey outside Canada. (You can read the more comprehensive blog post I wrote about it here.)
Thunderbirds in China, Les Rose, provided by the National Film Board of Canada
I don't think there are more than a handful of Canadians who haven't seen this classic animated film. It encapsulates just how strong the hockey rivalries are in this country. As a Montreal Canadiens fan, I can't imagine EVER wearing a Maple Leafs jersey (I'm sure Leafs fans couldn't imagine wearing a Habs jersey either). What makes this film so special is the feel it has for 1940s rural Quebec. From the outdoor games played with friends to the worship of great hockey players, it paints a lovely picture of that time and place. How many of us have obsessed over hockey greats with our friends, all the while dreaming we could wear the sweater of our favourite team and lead them to victory? A true Canadian classic.
The Sweater, Sheldon Cohen, provided by the National Film Board of Canada
Another film on the power of hockey to transform people, this doc focuses on two 15-year-olds in Belfast, Paul and Andrew, whose love of hockey has bridged their differences. One is Catholic and one Protestant, which, in Northern Ireland, means they really shouldn't be friends at all, but through their love of hockey they discover that old prejudices must fall. Several Canadian players who suit up for the professional Belfast Giants team help the youngsters develop their game and break down barriers. In one of the most poignant moments in the film, Andrew says that hockey is a lot of fun but when they finish playing they'll have to go back to the reality of living in a city divided by religion.
Since hockey is not associated with either side of the religious divide, it allows the kids to take a break from all the hate and share an experience together. While hockey in Northern Ireland has a long way to go, it is improving, and the future is bright. (It brought a smile to my face to see kids playing street hockey wearing Team Canada and Montreal Canadiens jerseys.)
When Hockey Came to Belfast, Linda Conway, provided by the National Film Board of Canada
These four films are just a sampling of what we have produced over the years (you can find more hockey films here). They show just how much this game has meant to our country, and how enthusiastically other countries have embraced a sport born on the frozen rinks of this vast land.
Enjoy the films and… go Canada go!