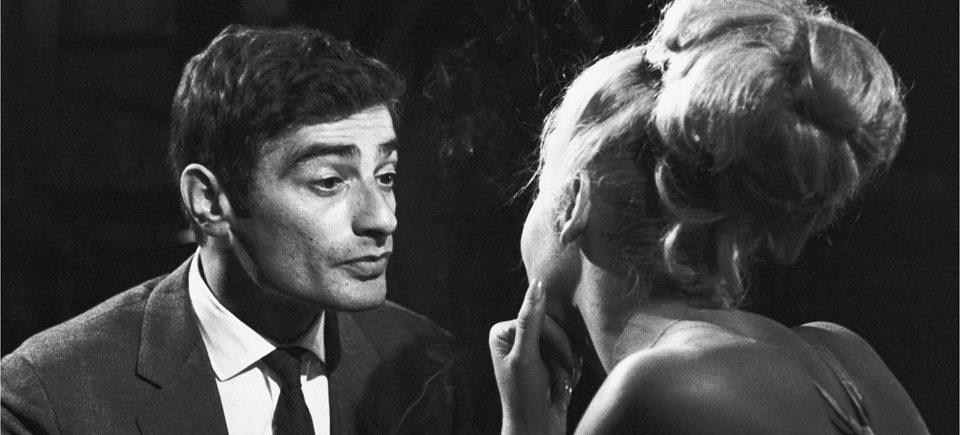 Time Travel Tuesday: head back to the 1960s with 5 black-and-white gems
Whether or not you actually lived through the 1960s, you probably hold some pretty powerful cultural, aesthetic, and political associations with that decade. It was the rise of various counter-cultures, an era of the relaxation of social taboos, a time when feminism and civil rights gained prominence in the public sphere, and it was definitely a— shall we say—"good-looking" decade.
Think of the smoldering smoke of a cigarette filmed in black-and-white, the pitch-black reflection bouncing off a pair of Ray-Ban Wayfarers, the birth of what we now lovingly refer to as "skinny jeans" (really!) and of course we can't forget the music. Oh the music!
This week on NFB.ca, you're in for a real time-travel treat. We've got a selection of stylish, seductive, and sonorous black-and-white films from the 1960s; with their influences ranging from Henri Cartier-Bresson to François Truffaut, these cinematic goodies are a feast for the eyes.
The iconic Canadian crooner is not only known for his soothing and sombre voice; you'll see his sense of humour, literary prowess, knack for performance, and undeniably charming face in this short documentary.
As Cohen strolls the streets of his native Montreal, viewers accompany him as he gets a shave, holes up in his hotel room, visits a favourite childhood park, and sporadically discusses his family history, his art, and his philosophies of life ("…if I am not in a state of grace, I try to go bed," he quips in a television interview.)
Ladies and Gentlemen… Mr. Leonard Cohen , Donald Brittain & Don Owen, provided by the National Film Board of Canada
Incidentally, did you know that this film was initially conceived and shot as a documentary on four Canadian poets who toured a handful of universities in 1964 (the working title was Four Poets)? Don Owen shot the tour, which included Leonard Cohen, Earle Birney, Irving Layton and Phyllis Gottlieb. However, the material was found to be lacking during the editing stage, so Owen walked away from the project. Donald Brittain came on board and shot additional footage in order to create a Cohen-only pic.
The film premiered on the CBC on February 16, 1966.
Can't get enough Leonard Cohen? The melodic poet wrote the music for—and starred in—1966's Angel, a hypnotic experimental film about a young man (Cohen), a girl, and a dog who are cavorting about in a misguided attempt to fly. Performed by The Stormy Clovers, the music is typically 60's: upbeat, harmonious, yet with some sombre and mysterious undertones.
The film won first prize in the Arts and Experimental category of the Canadian Film Awards in 1966. Check it out: it's a real trip!
Angel, Derek May, provided by the National Film Board of Canada
One of the most stylish things about the 1960s was the fact that international travel was so glamorous. Transatlantic flights were a status symbol and the sophistication of the characters in YUL 871 are a testament to this. Filmmaker Jacques Godbout wanted to paint a portrait of Montreal through a foreigner's eyes; our protagonist is a traveler from France who touches down in la belle province for reasons both personal and professional.
What he ends up finding in mysterious Montreal is a steamy love affair with a sophisticated blonde, and an odd budding friendship with a little girl. The spirit of the city is never richer than through a newcomer's eyes.
YUL 871, Jacques Godbout, provided by the National Film Board of Canada
The film's title refers to Air Canada flight 871 to Montreal—"YUL" is the IATA airport code for Montreal's Pierre Elliott Trudeau (formerly Dorval) Airport. One of the NFB's rare non-documentary live-action films, YUL 871 is a picture-perfect portrait of the style and substance of an era gone by.
Director Godbout met with famed French filmmaker François Truffaut in the hopes that the latter would help him tighten up his script, but Truffaut was too busy with other projects. Still, Truffaut's influence can be felt in the alternately languorous and frantic pace of the characters' navigation of urban milieus.
Want to learn more about the fascinating behind-the-scenes info of the production of this film? Head over here for all the details.
Along with Le chat dans le sac and Nobody Waved Good-bye, You're No Good presents a uniquely mid-20th century tale of youthful rebellion. Indeed, lead actor Michael Sarrazin has that chiseled, brooding Rebel Without a Cause vibe that's so iconic in mid-20th century cinema—Sarrazin went on to boast a successful Hollywood career, starring in, for example, 1969's multi-Academy-Award-winning They Shoot Horses, Don't They? with Jane Fonda.
Our protagonist Eddie is a gloomy and tortured yet strikingly handsome young man who steals a motorcycle and takes his girlfriend for a spin. Evading the cops afterwards, Eddie affects a careless and nihilistic attitude that points to the purposelessness he feels about his life.
You're No Good, George Kaczender, provided by the National Film Board of Canada
The film was first broadcast on the CBC's Outlook TV series, which focused on both NFB and BBC films, and premiered other seminal '60s fare like Don Owen's Toronto Jazz.
What's more '60s than a group of screaming girls going wild over a handsome and sweet young pop music star? That star is the one and only teen idol Paul Anka, and those girls are everywhere to be found in Wolf Koenig's and Roman Kroitor's Lonely Boy. But the fascination with celebrity doesn't end there: we hear how Anka underwent weight-loss training and even plastic surgery to gain a physical appearance that was appropriate for mainstream stardom.
Agents, managers, fans, and even Anka himself are in awe of his celebrity, and simultaneously, some disturbing sense of superficiality floats over the entire charismatic film. Head over here to read more about the film's stylistic influences and overall tone.
Lonely Boy, Wolf Koenig & Roman Kroitor, provided by the National Film Board of Canada
This film first aired on the CBC's Lively Arts, a half-hour weekly show about issues in arts and culture. You can learn more about Lonely Boy co-director Roman Kroitor's life and career here.
Hope you've enjoyed this cinematic trip to the past!
Header image: Charles Denner and Andrée Lachapelle in Jacques Godbout's YUL 871 (1966)