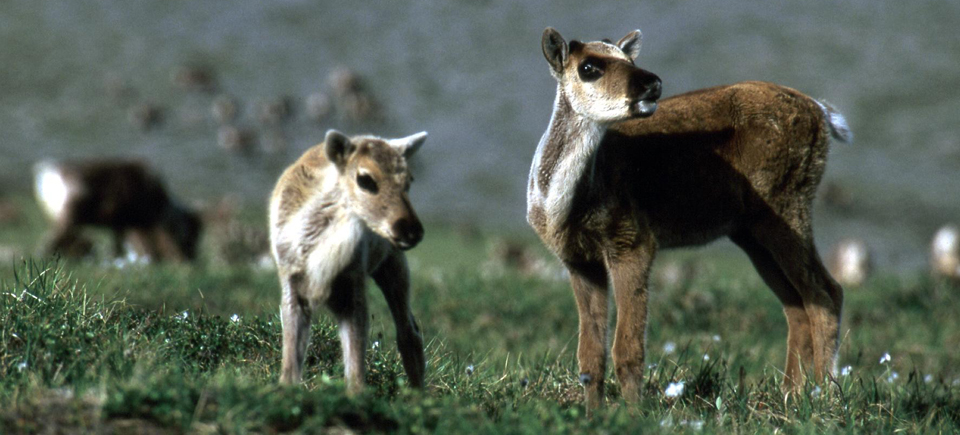 A visit with our furry friends: watch 5 animal docs
Summertime is our opportunity to commune with nature, what with all the time we spend in lakes, forests, grasslands, and even the occasional thrilling storm.
You might even say that summertime is the season when we are most in touch with our animal selves. The need for shelter and indoor heating goes away, and we find ourselves lost in thought, subsisting on nothing more than a sunset and a dream.
This week on NFB.ca, we're becoming one with our animal friends. All creatures, both great and small, are on display in a variety of magnificent docs. They may seem different at first, but these creatures share our intelligence, our survival instincts, and our curiousity about the natural world in which we live. Check 'em out!
This film juxtaposes the serene existence of wild horses against the industrialization of the Canadian prairie, particularly in the form of a military base. In addition to making friends with these grand creatures, you'll also explore the rich ecosystem of the prairie: the rare plant and wildlife on the prairie includes the burrowing owl, ferruginous hawks, northern leopard frogs, and a host of previously undocumented native plant species. Of the 173 species of wildlife here, 31 were endangered at the time of the making of this film.
Horses of Suffield, Nick Bakyta, provided by the National Film Board of Canada
These wild horses have wandered the plains for generations, ever since their ancestors broke free from domestication. But their increasing numbers mean that the resources available to them are insufficient. The film features a range depletion tour with a local rancher who explains that these beautiful beasts may need a helping hand if they are to survive.
In a touching moment, a rancher who has adopted a formerly wild horse talks admiringly of her character: "She's tough," he says, and "she's got a mind of her own; she's survived out here for 12 years all on her own."
Horses of Suffield was included in a special playlist we compiled to celebrate the 100th anniversary of Parks Canada. If you're a lover of the outdoors, this playlist's for you! Check it out here.
Sometimes, we might excessively romanticize the wild abandon of our animal friends as they cavort about in the unspoiled rural landscape. Well, guess what city-dwellers: you've got neighbours! Wild in the City tracks those of our animal cousins who have joined us in the metropolis: from birds to coyotes to those mischievous little raccoons digging through your garbage, you'd be surprised what kind of wildlife thrives in the heart of Vancouver, BC.
Want to see the cutest thing ever? Skip to the 12:47 mark to watch some adorable and helpless waterfowl glide around on a slippery patch of ice. They just can't hit the brakes!
Wild in the City , Gordon Fish, provided by the National Film Board of Canada
You might wonder where all these wild creatures find a home in the city. Birds roost under bridges and in shipping containers, coyotes live in cleared areas of grassland after forests are razed for construction, and bears… well, they just go wherever the garbage dumps are. It's a gold mine!
Many kids dreamed of being veterinarians when they grew up… the two spirited men in this doc made it happen. You can re-live your childhood dream through this touching—and at times hilarious—documentary about a pair of country vets who travel far and wide to treat anything with a beak, claws, or fur. The phone is constantly ringing off the hook at this busy vet office.
Canaries to Clydesdales, Eugene Boyko, provided by the National Film Board of Canada
The love these vets show for their animal patients is heartwarming; from sheep to horses to dogs and all manner of creature in between, these patients are lucky to get the conscientious care they deserve.
Want to see more from the acclaimed filmmaker of Canaries to Clydesdales? Eugene Boyko is the man behind the massive and impressive Helicopter Canada, a film we featured last week on our NFB Moments site.
Filmmaking team Leanne Allison and Diana Wilson followed a herd of 120,000 caribou on foot during their annual migration from the central Yukon to the Alaska coast and back. And best of all, the entire epic journey was captured on film.
Being Caribou , Leanne Allison & Diana Wilson, provided by the National Film Board of Canada
These splendid creatures are endangered, and this standout documentary calls attention to their plight. Allison herself remembers the process fondly: "What made the trip unique was that we couldn't have a route plan; everything was left up to the caribou, including where we went and for how long. During the 5-month journey we didn't cross a single road or pipeline and only encountered a handful of people. We were constantly in the presence of wild animals such as wolves, wolverines, musk ox, eagles and foxes, because the caribou tow an entire ecosystem with them on their migration."
To read more about Allison's work on Being Caribou and her subsequent pitch of the Bear 71 interactive documentary, head over to this blog post she wrote.
In 2008, the Canadian government announced the first Bowhead Whale sanctuary in the Eastern Arctic. The Bowhead Whale, also known as the Greenland Right Whale or Arctic Whale, was an early target for the whaling industry, and its population was severely depleted before a whaling moratorium was introduced in 1966.
Shortly after the moratorium, in 1974, famed outdoorsman Bill Mason paired with whale expert Scott McVay to seek out this elusive mammal in the cold Arctic seas. What follows is a complex and adventurous expedition featuring a helicopter, an Inuit guide, aqualungs and underwater cameras.
In Search of the Bowhead Whale, Bill Mason, provided by the National Film Board of Canada
If you want to know more about Bill Mason's lively nature docs, check out all his films here.
We hope you enjoy getting to know our friendly animal cohabitants of this vast planet through these colourful docs. Leave your feedback in the comments section below… and happy watching!