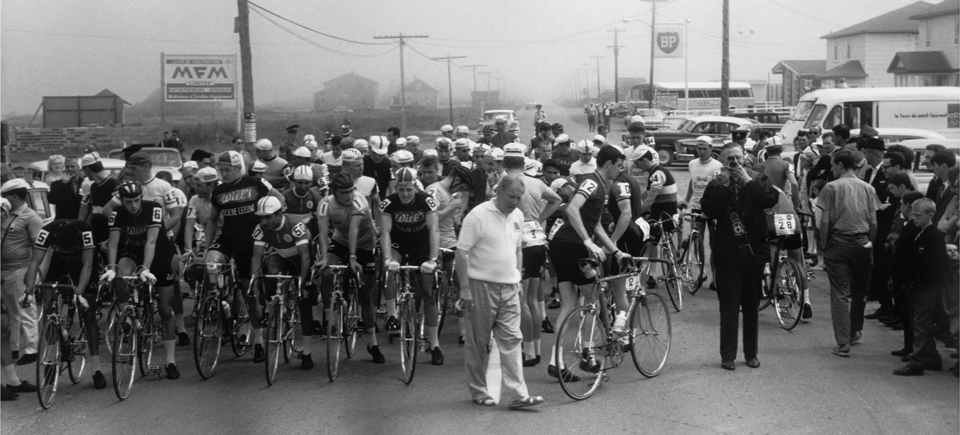 Switch into high gear on NFB.ca
We thought summer was over as temperatures dropped nationwide a couple of weeks ago… not so, friends! Let the sunshine resume!
What better way to explore the best season of the year than on your trusty bike? From professional racing to a leisurely group ride across Canada, the fun on two wheels is guaranteed to never stop.
🚴💨 Check out these 5 thrilling and uplifting films about bikes!
Ever wondered what it takes to rip around those banked tracks in a velodrome like Clara Hughes? Well, now you'll know: it ain't for the faint of heart.
In this heart-stopping short documentary by Gary Toole, you'll follow the tightest of races straight to the finish line where razor-thin takeovers happen on the regular, believe it or not. You think one guy's got the race in the bag, for sure, no problem; all of a sudden Mr. Second Place comes zooming out from behind as the cyclists descend to the lower level of the banked track and… boom! You've got yourself a photo finish.
Check out some edge-of-your-seat, white-knuckle fun:
Cycling: Still the Greatest, Gary Toole, provided by the National Film Board of Canada
What do a group of girls have to do to cycle across the country, from Montreal to Vancouver? Well, it looks like all they have to do is have heart and pedal on. This long-distance adventure is a uniquely Canadian story (after all, what country in the world is as darn big as ours?) and the girls at the centre are delightfully keen on making it to the end.
Skip to the 9:35 mark to hear a particularly charming song-backed montage of the ambitious cyclists on the road:
10 Miles/Hour, Marcel Carrière, offert par l'Office national du film du Canada
There is no stopping for these guys, and I am not kidding. Rain or shine, and even after a nasty fall, they just keep going… and going… and going.
This beautifully-shot documentary profiles the racers in the 11th St. Laurent long distance bicycle race in which participants from 13 countries covered 2 400 km of Gaspé countryside in 12 days (wowza).
The long shots of open road and the mesmerizing soundtrack are absolutely spellbinding. I'd venture to put this film right alongside one of my NFB faves, Corral, for its simplicity and loving representation of the hauntingly beautiful outdoor landscape.
60 Cycles, Jean-Claude Labrecque, offert par l'Office national du film du Canada
Newsflash: some cycles are motorized. It's not all pedal-power for velocity lovers! Professional motorbike racer Mike Duff has a need for speed—and as you can imagine, it makes his wife and kids very nervous. Duff has suffered his fair share of accidents, but he just gets back on the bike again and again. Who can blame him? It's an undeniable thrill ride.
Ride for Your Life, Robin Spry, provided by the National Film Board of Canada
OK, so we're cheating a bit with the premise of this film… it's not exactly about bicycles—or is it?! You'll have to watch to find out. In the film, a routine-loving office worker gets in his trusty car every day and drives to work. One day, he's locked out of the car! Whatever will he do? He wouldn't dare—gasp!—ride a bicycle… would he?
Automania, Robert Awad, provided by the National Film Board of Canada
Happy watching, cycling cinephiles!