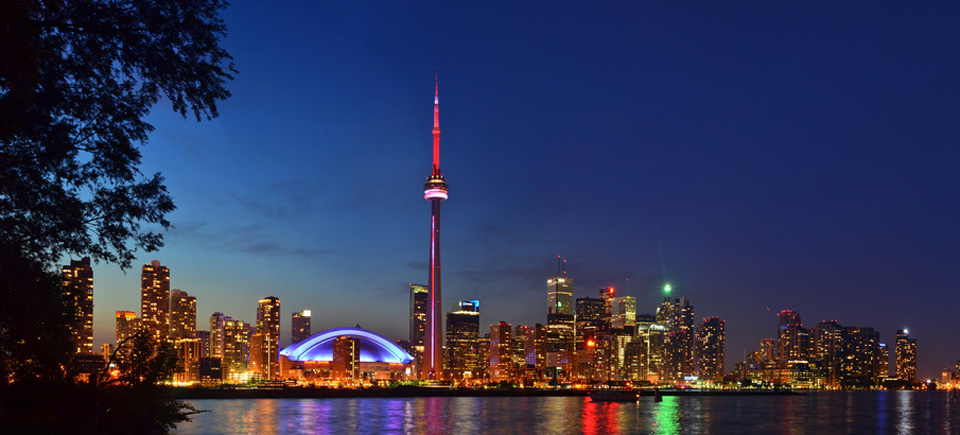 Election o'clock in Toronto: get out there and vote!
Wowza! It's that time again. Torontonians: on your marks, get set, head to the polls! This coming Monday, October 27th, the people of Toronto will elect a new city council and mayor.
But, alas, the saga of Rob Ford as the city's chief is not to continue: in light of a serious cancer diagnosis back in mid-September, Ford is instead seeking re-election as a city councillor rather than mayor. But don't forget: the work that city councillors do is just as impactful as that of the mayor! So, in preparing to vote, check out this handy Position Primer that quickly and easily gives you the info on where city council candidates stand on the important issues in your community.
So, then, who's on deck for the top job? Torontonians are already very familiar with the front-runners: John Tory, Olivia Chow, and Doug Ford (who has replaced his younger brother Rob in the race). But I bet you've never seen Toronto politics through the NFB's eyes, have you? Let's take a cinematic tour!
Election time in Toronto the Good
Did you know that none other than the venerable urban theorist and activist Jane Jacobs moved to Toronto in the 1970s? And, of course, we've got a short film about it! Check out City Limits, a lively and thought-provoking short doc on the issues that affect Toronto—through Jacobs' eyes.
City Limits, Laurence Hyde, provided by the National Film Board of Canada
Jacobs discusses a range of issues, from housing to public health, transportation, and recreation. She also takes delight in Toronto's multi-culturalism, with its Greek, West Indian, and Chinese neighbourhoods, cuisines, and customs (among many others, of course).
Some of Jacobs' comments from the 1970s still have weight today, and are worth considering in the upcoming election. "One great hunk of steel carrying one man is perfectly absurd," says Jacobs on the topic of highways and car culture. Do you agree? And a good urban park "has a great variety of things in it for people," says Jacobs. "If there's variety in the park, totally different kinds of people come, which keeps the park populated at different times,"—making it safe, fun, and community-oriented.
"Historically, solutions to city problems have very seldom come from the top. They come from the people who understand the problems because they're living with them and have new and ingenious and often very offbeat ways on how to solve them." Wise words from a wise woman. "People have to insist on government trying things their way." What's your way?
Also: check out Toronto Boom Town, a delightfully archaic portrait of Toronto politics in the mid-20th century. How much has changed and how much has stayed the same? Then-mayor of Toronto Hiram E. McCallum warned that post-war expansion may mean the city is "in danger of being strangled." Shots of the planning and construction of the first subway make one nostalgic for the days when Toronto invested in public transit infrastructure. Take a trip to the past, Torontonians!
Toronto Boom Town, Leslie McFarlane, provided by the National Film Board of Canada
The Candidates: John Tory
Tory was formerly an Ontario provincial MP, and leader of the Ontario Progressive Conservative party in the mid-2000s. But did you know that he already ran for mayor of Toronto back in 2003? (David Miller eventually won that election). In Campaign: the Making of a Candidate, a profile of underdog-turned-victor Miller, you can catch a few glimpses of Tory in action. Head over to 38:45 in this riveting doc to watch a mayoral debate between Miller and Tory on the topic of city safety and increased police presence.
Campaign: The Making of a Candidate, Andrew Munger, provided by the National Film Board of Canada
This film is also an informative look at what it takes to survive a dog-eat-dog municipal election. Can some of this year's candidates be inspired by Miller's tactics and resilience in this film? Watch and find out!
The Candidates: Olivia Chow
A former federal NDP MP and a former Toronto city councillor, Chow has been publicly supported by a number of prominent Torontonians, including Sarah Polley (director of the NFB film Stories We Tell), and Margaret Atwood (profiled in the riveting NFB doc Margaret Atwood: Once in August).
Recently, Chow released a list of all her campaign donors, and guess who was one of the biggest donors listed? None other than legendary Canadian long distance runner Bruce Kidd, who went on to be a respected academic and administrator in sports education. Kidd was profiled in the stunning and hypnotic Don Owen documentary Runner in 1962. While this film may not exactly have a lot to do with the election, you must watch it because it's an absolute cinematic gem.
Runner, Don Owen, provided by the National Film Board of Canada
If Chow runs in this election as well as Kidd does on the track, she may very well get the top spot!
The Candidates: Doug Ford
Older brother of Rob Ford, Doug has also been a Toronto city councillor in Ward 2, where his brother is currently running after dropping out of the race for the top job due to his health problems.
According to the Ward's census, a significant portion of Ward 2's residents (specifially, 36.1%) live in apartment buildings of 5 stories or more. So Ford and his constituents probably meditate a lot on the kinds of issues explored in the NFB's multi-year, award-winning Highrise project. Have you explored this project yet? Check it out now, and watch an excerpt from A Short History of the Highrise below.
A Short History of the Highrise, Part Four: Home, Katerina Cizek, provided by the National Film Board of Canada
More on Toronto's politics, landscapes, and diverse communities
Hungry for more films on the issues that make Toronto tick? Check out the films below for a past-to-present survey of the people and places that make Toronto such a rich and stimulating place. Here's to Toronto!
Flemingdon Park: The Global Village, Andrew Faiz, provided by the National Film Board of Canada
In Flemgindon Park: The Global Village, we examine the history of a subsidized housing project built in 1961 as a trendy urban utopia for artists and young professionals. It now houses tens of thousands of refugees and new immigrants from around the globe. Get to know the community!
The Right Candidate for Rosedale, Bonnie Sherr Klein & Anne Henderson, provided by the National Film Board of Canada
In The Right Candidate for Rosedale, we get to know the community of Rosedale, one of Toronto's largest and socially most diverse federal ridings.
Toronto Jazz, Don Owen, provided by the National Film Board of Canada
In Toronto Jazz , we can see the birth and sustenance of Toronto's lively, innovative, and globally-acclaimed arts scene. Jazz lovers will relish this inside look at the creativity, hard work, improvisation, and stylization of the talented musicians profiled in this atmospheric doc.
So, get out there and vote, Toronto! You can find information about your polling station here.
Header image credit: Anton Bielousov, Toronto Night Skyline Panorama. Image has been cropped; view the original here.