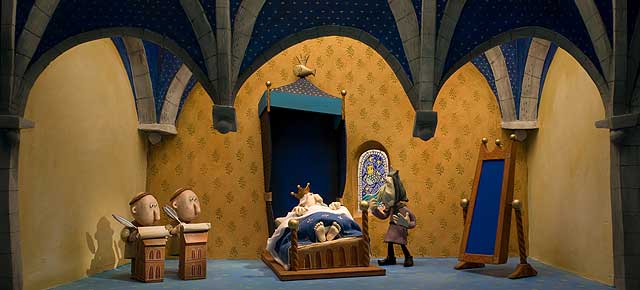 Exploring a world of magical stories with your students
Storytime: One more, please!
Stories, stories and more stories. Ever since I was a little girl, I've loved listening to stories. As a child, my favourite book was a large collection of 365 tales, and my goal was to read one a day, which was usually not enough to satisfy my appetite. Through these stories I could imagine myself in magical worlds where anything is possible—a donkey that produces gold, young girls who turn into birds, talking animals and gingerbread houses. It's not surprising that more than 20 years later, much of my work focuses on the use of film narrative as a learning tool for elementary and secondary students.
The story: a magical world
One of the treasures of the NFB collection is, for me, the Four Seasons in the Life of Léon series, which recounts the adventures of a band of merry characters from the kingdom of Escampette in four short films—one for each season! The magical tales in this series, as well as the study guides that accompany them, provide opportunities for discussions of various universal themes, such as family, love, friendship, fellowship and courage. They also allow students to discover some aspects of life in the Middle Ages, with its royal characters, peasants, storytellers, illuminated manuscripts and other features. These beautiful stories not only bring magic to the lives of children, but they also help them develop a sense of justice and morality.
The story: its structure and characters
Teachers will love using these study guides, which are filled with activities for students aged 7 to 12 and address a range of subject areas, including language and literature, personal development and the arts, and culture in general. Let's take a look at how each short film and its fun activities encourage children to learn.
We'll begin with Léon in Wintertime and its study guide. In this short film, the first of the quartet, students discover the series' characters and magical places and can then explore the narrative structure of the tale with the help of the study guide.
Léon in Wintertime, Pierre-Luc Granjon & Pascal Le Nôtre, provided by the National Film Board of Canada
With Molly in Springtime and its study guide, using the freeze-frame method students discover the different elements of the tale's narrative structure in greater detail: the initial premise, the misdeed or disruptive element, the adventures that follow, the resolution to the misdeed and the conclusion. Additionally, the student's vocabulary and ability to concentrate and listen is enriched through a series of observation questions.
Molly in Springtime, Pierre-Luc Granjon, provided by the National Film Board of Canada
Next, with Bonifacio in Summertime and its study guide the student is invited to describe several aspects of life in the Middle Ages as presented in this tale, and to compare these with today's way of life.
Bonifacio in Summertime, Pierre-Luc Granjon & Antoine Lanciaux, provided by the National Film Board of Canada
Finally, with Poppety in the Fall and its study guide the student is asked to describe the personalities of the various characters, their relationships with each other, and their role in the film's storyline.
Poppety in the Fall, Antoine Lanciaux & Pierre-Luc Granjon, provided by the National Film Board of Canada
The story told, again and again
It's often been noted that revisiting a theme or idea is a great way to improve learning. With a series like Four Seasons in the Life of Léon, not only do we get to explore the principles of storytelling through these magical tales, but we are given the opportunity to see them developed, again and again, in a narrative that is both unique and familiar to us each time.
It's a great opportunity to learn while having fun!