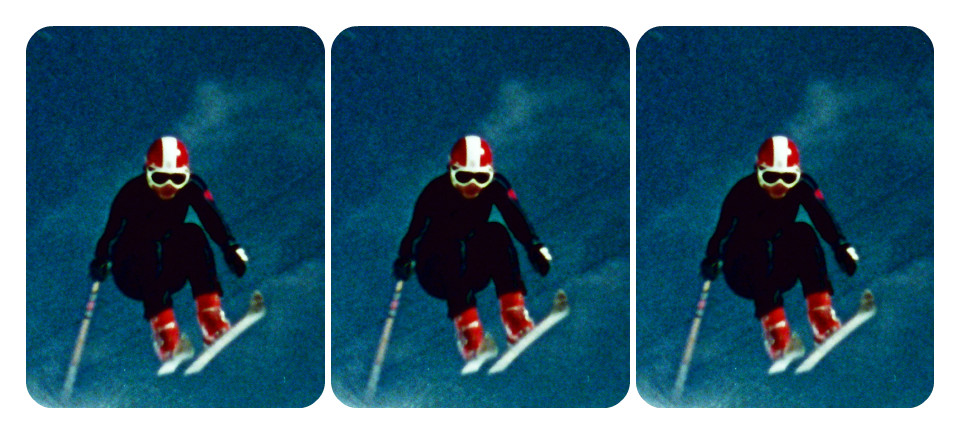 What's the trick to capturing thrills on camera? Watch 4 films on winter sports!
Strap on those skates and skis! Hurry hard! This week, we're profiling a number of winter sports docs on NFB.ca, all of which somehow manage to capture the excitement and fervour of athletic pursuits through the magic of cinema. But how do they do it? Let's find out with these 4 films.
When it comes to cameras, more is better
To film action sequences or sports events, filmmakers may use multiple camera set-ups. The director and editor can combine various viewpoints in a single sequence. Television shows often have more than one camera trained on a single person, so that there is a little variety in the presentation.
Check out the downhill skiing sequence at 17:40 in No Way They Want to Slow Down, a doc about the Canadian Olympic ski team. Look at the fantastic camera work as we cut from one skier to another (and one camera to another), barreling down a hill and reaching speeds up to 90 miles per hour!
No Way They Want to Slow Down, Giles Walker, provided by the National Film Board of Canada
Moving with the action: camera on board!
Sometimes, cameras are mounted on moving objects to travel with the action. The director and camera operator decide how to move the cameras to show the action and reinforce the quality they want to achieve. The camera lens is the eye of the film, so the filmmakers turn the eye to follow significant movement or to look toward important details. Camera moves carry the viewers closer to the action.
Ever wondered what it's like to be a curling stone, hurtling across the ice? Find out in Gone Curling, a hilarious satire of the cult of curling in Canada. In a dizzying shot at the 8:15 mark, a camera is mounted onto a moving object that mimics the stone's path across the ice. Neat!
Gone Curling, John Howe, provided by the National Film Board of Canada
Camera movements: pans, tilts, zooms, and more
Sports involve a lot of movement, of course, so cameras need to be agile to capture all the action in detail. Through pans (a sideways swivel), tilts (an upward or downward swivel), tracking shots (moving the camera along tracks), cranes (raising or lowering the entire camera, rather than simply the lens), and zooming in and out (which creates the illusion of moving closer), cameras can capture a great variety of athletic movement.
Check out the pans (especially at the 2:51 mark) as a group of old-timers gather to play hockey together in Overtime, a funny and heartwarming film about a group of middle-aged men whose love for the game brings them together.
Overtime, Marrin Canell, provided by the National Film Board of Canada
Want to see more? The opening of shot of King of Blades is also a gorgeous, slow-notion pan of champion figure skater Don Jackson's beautiful and elegant footwork on the ice. This particular film is a fascinating one. Did you know that the Canadian Jackson was the first to land a triple lutz in international competition? Check out his talent and charisma below:
King of Blades, Stanley Clish, provided by the National Film Board of Canada
Do you want to know more about camera movement terms? Read this post and learn all about 'em.
We hope you're as impressed as we are with these athletic and ambitious sports films. It certainly isn't for the faint of heart to be zooming down a ski hill or around an ice rink with a camera, trying to capture every last detail of the excitement. But don't worry—it's perfectly safe for you to enjoy these films from the comfort and safety of your couch!