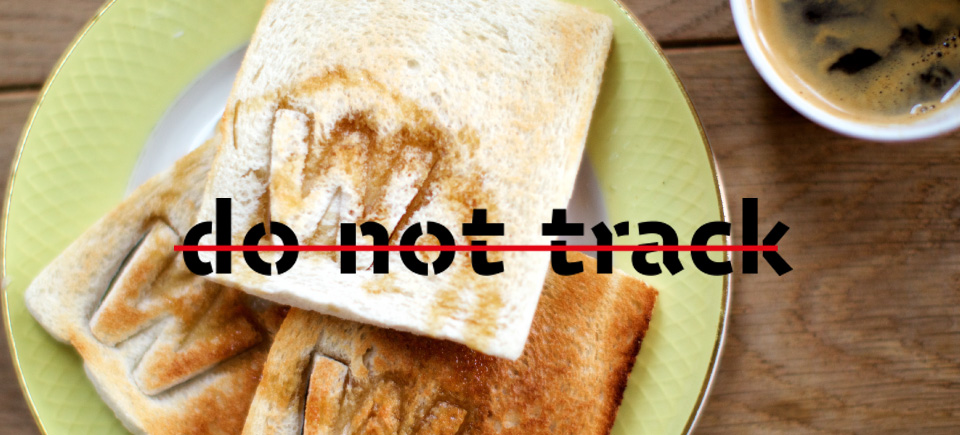 Reclaim Control of Your Online Identity With Do Not Track
An eye-opening personalized look at how online data is being tracked and sold.
Starting April 14, the online interactive documentary series Do Not Track will show you just how much the web knows about you―and the results may astonish you.
Conceived and directed by acclaimed Canadian documentary filmmaker and web producer Brett Gaylor, the 7-part series Do Not Track is an eye-opening look at how online behaviour is being tracked, analyzed and sold―an issue affecting each of us, and billions of web users around the world.
Created with the goal of helping users learn how to take back control of their digital identity, Do Not Track goes beyond a traditional documentary film experience: viewers who agree to share their personal data are offered an astounding real-time look at how their online ID is being tracked.
Do Not Track is a collective investigation, bringing together public media broadcasters, writers, developers, thinkers and independent media makers, including Gaylor, Vincent Glad, Zineb Dryef, Richard Gutjahr, Sandra Rodriguez, Virginie Raisson and the digital studio Akufen.
Do Not Track episodes launch every 2 weeks, from April 14 to June 9, 2015, in English, French and German. Roughly 7 minutes in length, each episode has a different focus―from our mobile phones to social networks, targeted advertising to big data with a different voice and a different look, all coupled with sharp and varied humour. Episodes are designed to be clear and accessible to all.
The project was one of just 5 works selected for the 2015 edition of Storyscapes, an annual transmedia showcase at the Tribeca Film Festival, taking place April 16–19. Do Not Track is produced by Paris-based production company Upian; the NFB; French/German public broadcaster Arte; and German public broadcaster Bayerischer Rundfunk. Distribution partners are Radio-Canada and digital news channel AJ+ (U.S.).
List of episodes
April 14 | Episode 1: Morning Rituals
This episode introduces viewers to Brett Gaylor and offers a call to action: let's track the trackers together.
Written and directed by Brett Gaylor
Interviews: danah boyd, principal researcher, Microsoft Research; Nathan Freitas, founder, and Harlo Holmes, software developer, The Guardian Project; Ethan Zuckerman, director, MIT Center for Civic Media
*
April 14 | Episode 2: Breaking Ad
We meet the man who invented the Internet pop-up ad―and a woman who's spent nearly a decade reporting on the web's original sin: advertising.
Directed by Brett Gaylor | Written by Vincent Glad Interviews: Ethan Zuckerman; Julia Angwin, journalist and author of Dragnet Nation: A Quest for Privacy, Security, and Freedom in a World of Relentless Surveillance
*
April 28 | Episode 3: The Harmless Data We Leave on Social Media
This episode reveals how users can be tracked from Facebook activity and how far-reaching the data trail is.
Directed by Brett Gaylor | Written by Sandra Marsh | Hosted by Richard Gutjahr
Interviews: Constanze Kurz, writer and computer scientist, Chaos Computer Club
*
May 12 | Episode 4: Your Mobile Phone, the Spy
Your smartphone is spying on you—where does all this data go, what becomes of it, and how is it used?
Directed by Brett Gaylor | Written and hosted by Zineb Dryef
Interviews: Harlo Holmes; Rand Hindi, data scientist and founder of Snips
*
May 26 | Episode 5: Big Data and Its Algorithms
There's an astronomical quantity of data that may or may not be used against us. Based on the information collected since the start of this documentary, users discover the algorithmic interpretation game and its absurdity.
Directed by Sandra Rodriguez and Akufen | Written by Sandra Rodriguez
Interviews: Kate Crawford, principal researcher, Microsoft Research New York City; Matthieu Dejardins, e-commerce entrepreneur and CEO, NextUser; Tyler Vigen, founder, Spurious Correlations, and Joint Degree Candidate, Harvard Law School; Cory Doctorow, science fiction novelist, blogger and technology activist; Alicia Garza, community organizer and co-founder, #BlackLivesMatter; Yves-Alexandre De Montjoye, computational privacy researcher, Massachusetts Institute of Technology Media Lab
*
June 9 | Episode 6: Filter Bubble
The Internet uses filters based on your browsing history, narrowing down the information you get―until you're painted into a digital corner.
Written and directed by Brett Gaylor
*
June 9 | Episode 7:  The Future of Tracking
Choosing to protect our privacy online today will dramatically shape our digital future. What are our options?
Directed by Brett Gaylor | Written by Virginie Raisson
Interviews: Cory Doctorow