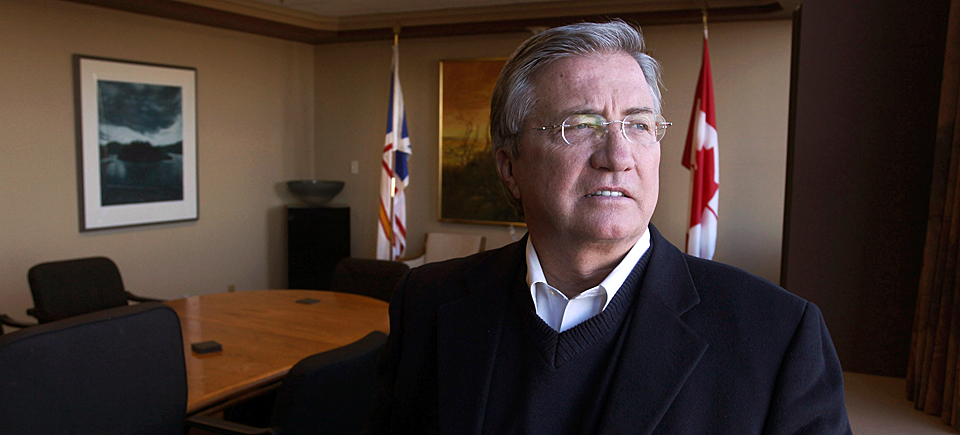 Controversial Newfoundland Politician Danny Williams in the Hot Seat
Rich with back-room anecdotes and behind-the-scenes details, Danny is an inside look at how Danny Williams, the former Premier of Newfoundland and Labrador, became the most popular—and controversial—Canadian politician of his era. Launched online yesterday, the film follows Williams through his 7 historic years in office (2003-2010), portraying a man utterly unafraid to battle Ottawa and Big Oil alike to ensure his province received a fair share of its natural resources.
To give you a taste of the colourful character behind this great doc, we sent Danny Williams 5 questions, which he promptly answered with his trademark wit and aplomb.
Check out his answers below. Rent the film here.
What does a fighter like you miss the most about politics?
Honestly, I miss the people the most. The main reason for the success of our administration is that the people of Newfoundland and Labrador always had my back and they overwhelmingly supported what I set out to achieve to better the province. Newfoundland and Labrador is really quite a small place (not geographically) and so you are always on the ground meeting with people and getting a sense of how they feel, what their opinions are and so on. And I miss that interaction and the ability to listen to what they had to say and to hopefully deliver for them. But I still live at home, so I still enjoy a great camaraderie with the people of the province.
How did your political career prepare you for owning a hockey team?
I have always said that my experience playing and coaching sports gave me my best life lessons. So, in a way my experience in sports really contributed to my success in the political arena. Now that I am out of politics, I just apply the same principles to running any business – respect others, acknowledge that everyone on your team has a contribution, and always anticipate the future. That is the real key to success.
What is your favourite quote from yourself?
I love quotes – in fact, I have many quote books because I find them inspiring. My all time favourite is one that I actually live by and that is "If you don't anticipate the future, you won't be a part of it." I obviously cannot claim that as an original, but it is one that I use quite often because I really believe in it.
What's the top reason anyone should watch Danny?
I just love how the filmmakers used my life story to tell the history of Newfoundland and Labrador. To share my story within the context of our rich and colourful history really captures what I love about Newfoundland and Labrador. I'm a guy who had good success in Canada's youngest, one-time poorest province. So, to see the economic transformation of Newfoundland told on the big screen along with elements of our humour, our culture and so on – that is really a thrill. I just love the idea of sharing the story of our province with the world.
What is the main piece of advice you'd like viewers to take away from your life story?
Never give up and don't back down from what you believe in.
Online and in the film you share many fun moments with Mark Critch. Why did he kiss you?!
Well, I would like to think it is because I am irresistible! But really it was just a light-hearted moment for a Kiss Cam at a hockey game. Mark is such an incredibly talented guy. He is not just hilariously funny, but he is smart and passionate about his province and country. And we have shared some great times, particularly on 22 Minutes. I am very proud of him and all of our culture community who are such tremendous ambassadors for our province.