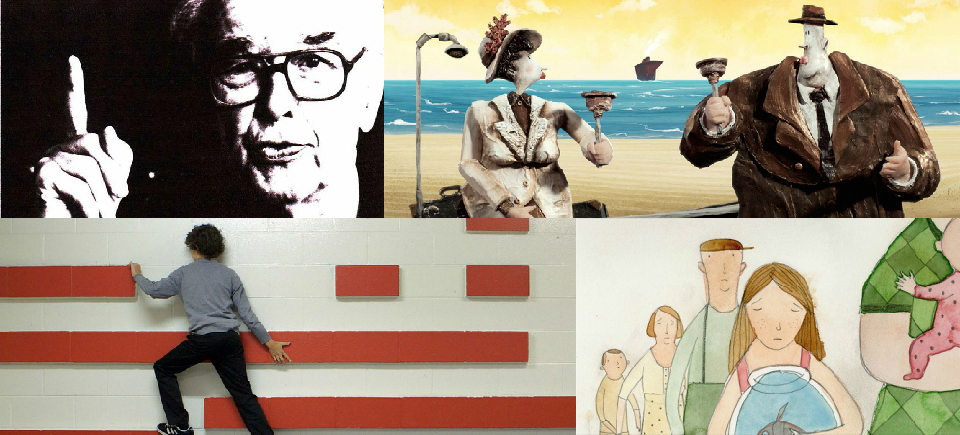 Check out the NFB Film Club's Fall 2015 Programming
The latest season of the NFB Film Club is here, and we've got an exciting lineup filled with tons of new NFB releases! There are five brand-new programs for a general audience, and one created specifically with kids in mind.
The Film Club works with public libraries to make the NFB's extensive collection accessible to communities and families across Canada.
Here's a look at the programming!
Youth in revolt
Film fans will be thrilled to learn Guidelines, Jean-François Caissy's new documentary about a crew of rambunctious high school students and their relationship to authority inside the classroom and out in the wild, is on the programming docket. 
For the little ones, we have Nicola Lemay and Janice Nadeau's beautiful film No Fish Where To Go, about a friendship that unites two little girls from rival clans in a village where tensions are mounting.
No Fish Where to Go, Nicola Lemay & Janice Nadeau, provided by the National Film Board of Canada
War paint
Theodore Ushev returns with Blood Manifesto, a violent poem about ideals worth shedding blood for, and is literally animated with Ushev's own blood. Blood Manifesto is certainly not for the squeamish.
In a similar vein, Patricio Henríquez's Uyghurs: Prisoners of the Absurd charts the incredible odyssey of 22 men from China's persecuted Uyghur minority who escaped to the Middle East where they were captured and sold to the American forces and detained in Guantánamo as terrorists through no fault of their own.
Uyghurs: Prisoners of the Absurd, Patricio Henríquez, provided by the National Film Board of Canada
Where the heart is
In Where I'm From, director Claude Demers embarks on a quest for redemption as he questions the mysteries of his origins and formative years, which were marked by abandonment.
As well, celebrated Latvian animator Vladimir Leschiov returns with a touching ode to memory in Rainy Days, an animation drawn entirely with black tea, that focuses on an elderly Japanese man who boards a ferry bound for an unknown island.
Rainy Days, Vladimir Leschiov, provided by the National Film Board of Canada
Deus ex machina
Tech fiends will love the lineup of Michelle and Uri Kranot's latest film, Hollow Land and our Hothouse film Observer by Brendan Matkin. Observer explores how the raw data from smartphones paints a picture of a connected world.
The shorts are paired with Atanasoff: The Father of the Computer, by Mila Aung-Thwin and Daniel Cross, which, as the title hints at, tells the story of John Vincent Atanasoff who fought to be recognized as the originator of the computer.