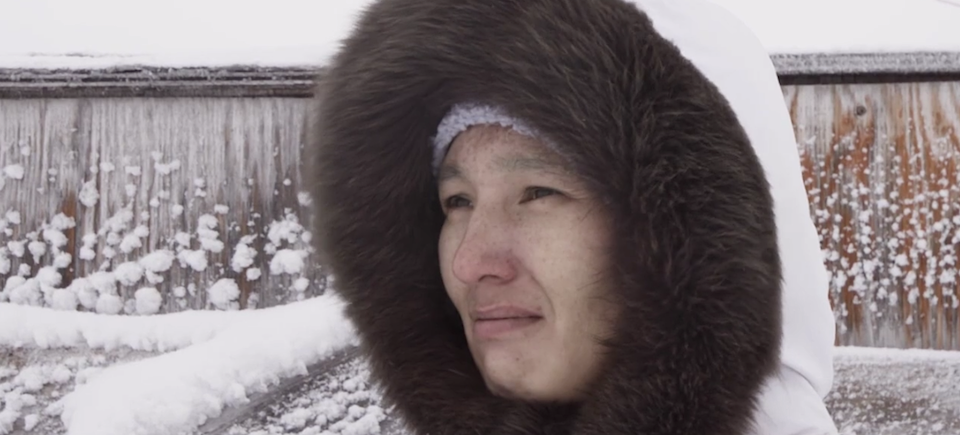 Nowhere Land: When short films tell big stories
March 4, Iqaluit. The doors have just opened at the Astro movie theatre, where Bonnie Ammaaq is about to attend the local premiere of her new short documentary Nowhere Land.
Joining her for the occasion are Alicia Smith, the film's producer, and Michelle van Beusekom, the director of the NFB's English Program. Competition for audience is going to be stiff –– the other attraction on the evening's program is a big-budget animated feature, the latest instalment in the Spongebob Squarepants franchise.
The NFB party watches with apprehensive interest as the first customers, a young family with kids, approach the box office. "We're here to see Nowhere Land." Yes!
"We were all delighted," says Smith, looking back on the moment. "In the end we pulled a crowd of over 100, and it was moving to see people make a point of personally thanking Bonnie afterwards. We'd already screened it for her family and friends in Igloolik, and the film seems to resonate with audiences throughout the region." Pictured below: Bonnie Ammaaq with parents Samueli and Micheline and nephew, following community screening in Igloolik.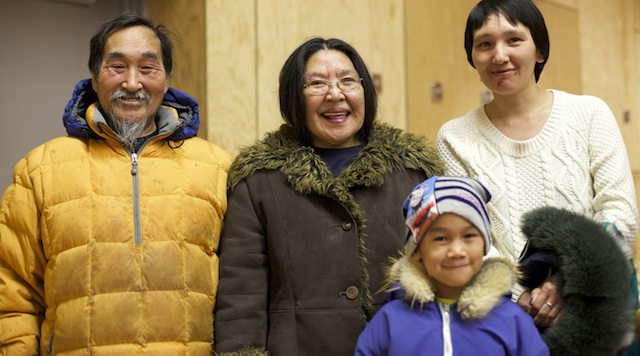 Good storytelling is about economy, and short films can tell big stories. Nowhere Land is a case in point. Within the confines of 15 short but eloquent minutes, Ammaaq explores the complex notion of home while tailoring a vivid chapter of family history –– all set against the vast and fearsome beauty of the Arctic.
"Bonnie's a natural. She's got this amazing talent for storytelling," says Smith, who co-wrote the script. "She may be relatively new to filmmaking, but she's got a very clear vision of how to build a narrative."
The film comes out of Stories from Our Land, a partnership between the NFB's North West Studio and the Nunavut Film Development Corporation, established with a view to mentoring emerging filmmakers in Nunavut. Now in its fifth year, the program organizes intensive weeklong workshops, each focussing on a different audio-visual format.
Ammaaq was among the program's early participants, and her first film, a five-minute short called Family Making Sleds, was produced through Stories from Our Land 1.5, in which six Nunavut filmmakers created shorts without narration.
"Nowhere Land has a curious production history," says Smith. "It was initially conceived as an interactive project, where sound was decoupled from image. But as we reviewed the material, exchanging files and vimeo links by email over a period of months, we realized that we had a film. So it's been an interesting side-ways process, but it results in a powerful intimacy. We never see Bonnie speaking onscreen, yet her voice dominates the soundtrack. It's as if we're inside her head, hearing her thoughts."
Arctic Relocations
Ammaaq's family were among thousands of Baffin Island Inuit who were coerced into abandoning their traditional territories during the 50s and 60s. Federal authorities argued that the move was in the Inuit's best interest, rescuing them from a precarious livelihood and providing access to centralized services, but the displacement had drastic consequences that are playing out to this day.
Relocated to Igloolik — "the city" — Bonnie's parents were cut off from the geographic base of their traditional economy and culture. In 1986, when Bonnie was eight, they took the unusual step of bringing their young family back to Baffin Island. For over a decade they lived at a remote outpost, a four-day overland journey from Igloolik, where they survived on hunting and raised their three children much as their own parents had been raised.
With Nowhere Land, Bonnie looks back at that formative decade with a complex range of emotions. Now re-established in Igloolik, her family remembers the outpost years as the happiest of their lives, while acknowledging they are unlikely to ever return to Baffin Island.
The Arctic is undergoing massive changes, and the Ammaaq family would have trouble surviving at the outpost in the present context. The Baffin Island caribou herds, their traditional source of food, are dwindling, and large-scale industrial mining is changing the landscape.
"There's a lot more to this story, and we've begun production on a digital companion piece, an app and possibly a website," says Smith. "Bringing Bonnie's narrative into the interactive realm allows us to give historic context to a personal story, to look at the larger economic forces that are reshaping life in contemporary Nunavut."

Nanook, Atanarjuat and beyond
Inuit have been seeing themselves on film screens for close to a century, every since Robert Flaherty helped define the documentary genre with his landmark 1922 release Nanook of the North. As influential as it was controversial, Flaherty's romanticised perspective would inform international perceptions of Inuit life for decades.
In the ensuring years scores of ethnographic filmmakers would set their gaze on Inuit people and culture, but it was not until the 1970s that Inuit people began to control their own cinematic image, thanks partly to NFB initiatives like Stories from Our Land.
In 2001 the Igloolik-based director Zacharias Kunuk made a major breakthrough with Atanarjuat: The Fast Runner — the first feature film to be written, directed and acted entirely in Inuktitut. Produced by Igloolik Isuma Productions in co-production with the NFB, it was filmed on various locations in Nunavut and many local people, including members of the Ammaaq family, worked on the production. The film went on to win multiple awards, including the Golden Camera at Cannes and Best Canadian Feature at TIFF, and is considered one of the Top Ten Canadian Films of all time.
The success of Atanarjuat has helped pave the way for a lively filmmaking scene in Nunavut, where Ammaaq is part of a new wave of incisive cinematic storytellers.
Nowhere Land was directed by Bonnie Ammaaq, co-written by Ammaaq and Alicia Smith, and edited by Erika MacPherson. Cinematography is by Nate Smith, and the sound design by Christine Fellows. It was produced by Alicia Smith, a Winnipeg-based producer for the North West Studio. It was produced in partnership with the Nunavut Film Development Corporation.
The southern Canadian release of Nowhere Land is scheduled for late 2015. In the meantime, you can watch Ammaaq's first film right here:
Stories from Our Land 1.5: Family Making Sleds, Rosie Bonnie Ammaaq, provided by the National Film Board of Canada