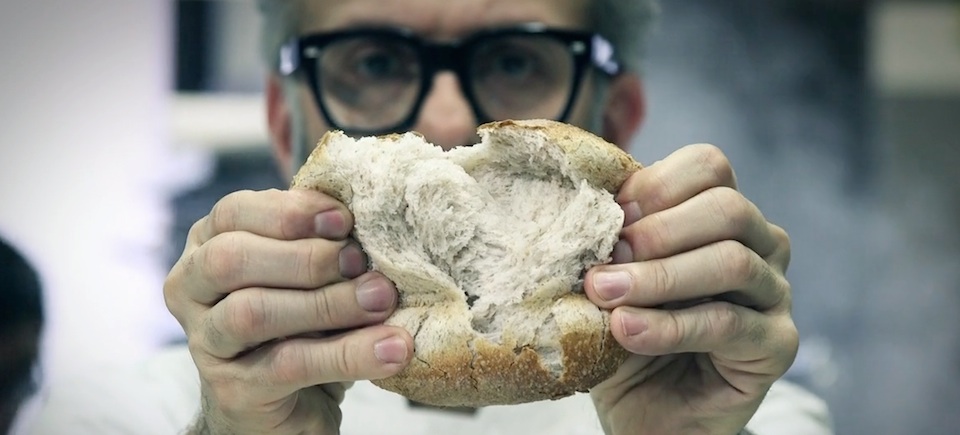 Massimo Bottura knows a thing or two about feeding people.
One of the most inventive proponents of contemporary Italian cuisine, he's hailed as the Jimi Hendrix of Italian chefs and his flagship eatery, Osteria Francescana, in his hometown of Modena, routinely ranks among the world's very best restaurants.
So when it was announced that the 2015 Milan Universal Exposition would be dedicated to the theme of food, it followed that the nation's culinary star would be participating in some way.
But few were expecting what Bottura would bring to the table. Rising to the challenge of Expo 2015's official slogan — Feeding the Planet, Energy of Life — he declared his intention to set up a soup kitchen. More than a simple mess hall, it would be a beautifully appointed dining room where top international chefs would don aprons, sharpen knives, and prepare meals for some of Milan's most vulnerable and disenfranchised residents.
Putting the ethos of sustainable cooking to the test, Bottura and his guest chefs — a Who's Who of world cuisine that included Canadians Jeremy Charles and John Winter Russell — would limit themselves to using ingredients gleaned from the unused food discarded daily from the official exhibition site.
Drawing praise from Pope Francis himself, Bottura forged ties with a forward-looking local priest, anchoring his project in the working class district of Greco, worlds away from the glamour-n-glitz of the official site. With help from Italy's leading artists and designers, he transformed an abandoned theatre into the Refettorio Ambrosiano — a simple and elegant dining room that opened its doors to the city's street people and refugees, serving them exquisitely prepared meals for the duration of Expo 2015.
The remarkable story of Bottura's Refettorio, and the people who broke bread within its walls, is being brought to the screen in the feature doc Theatre of Life, a Triplex Films/ NFB co-production that recently wrapped its final shoot in Milan.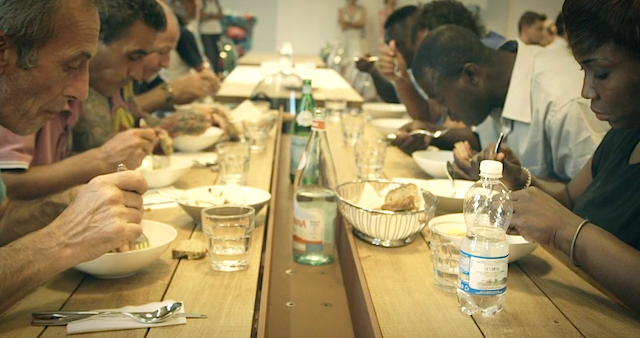 When Massimo calls
"Some great subjects just present themselves," says director Peter Svatek who met Bottura several years ago while developing a separate film project. "When Massimo called to tell me about his Refettorio plan, asking if I wanted to document the project somehow, I knew right away that we had a great story. Massimo is a superstar, so we already had a great central character, and the story had so much dramatic potential."
Requiring a co-producer in order to move forward with the project, Svatek and Josette Gauthier, his partner at Triplex Films, brought the project to Annette Clarke in the NFB's Quebec-Atlantic Studio. "I started my career at the NFB back in the 70s," says Svatek, "and "I've got loads of respect for the work it's produced over the decades. So the NFB was always our preferred option."
Clarke was quick to come onboard. "The film explores food security and sustainability in a surprising and engaging way," she says, "and it's been wonderful working with such a hard-working and visionary director. Peter has been keenly tuned to all the dramatic possibilities of the story, and he's taken particular care to represent the diners themselves with dignity — to underscore their agency, individuality and complexity. It all makes for a rich and provocative film."
Svatek spent over a month researching the diverse and revealing backstories of the Refettorio's regular diners — a group that includes a junkie-turned-educator; a young Nigerian refugee who's only recently extricated herself from a prostitution ring; and a homeless couple who are forced to sleep in a train station, unable to find a shelter that allows them to stay together.
"The overarching theme of food, of how we consume or waste it, opens windows onto all these personal narratives, and allows us to explore some of those big existential questions," says Svatek. "Am I really my brother's keeper? What does home actually mean when you've had to flee your homeland, or when you live on the street?"
Principal photography took place in Milan between April and October. Svatek shot for about 40 days, working with two DOPS — the Montreal-based Nicolas Venne and the Italian cinematographer Giancarlo Migliore. The film is being cut by Elric Robichon at NFB headquarters in Montreal. Pictured below: Peter Svatek on location in Milan (photo, Ellie Yonova).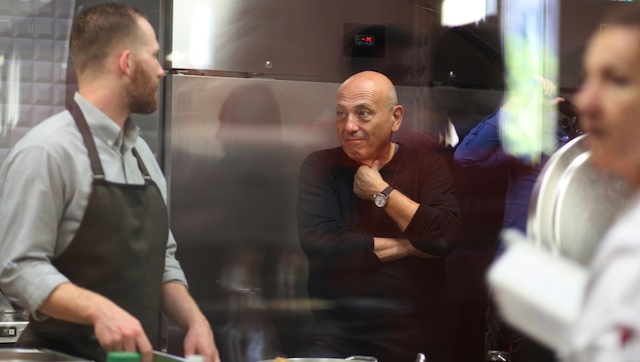 Svatek has directed both drama and non-fiction, and his many credits include acclaimed titles like Takedown: The DNA of GSP, a profile of welterweight champion George St-Pierre, and Stolen Babies, Stolen Lives, featuring the adult children of women who went missing during Argentina's Dirty War.
Theatre of Life is produced by Triplex Films (Josette Gauthier, producer) and the National Film Board's Quebec-Atlantic Studio (Annette Clarke, producer), in association with Montreal's Phi Centre and Super Channel. It is scheduled for release in the spring of 2016.
On the back burner…
Theatre of Life is one of several projects currently in production at the NFB that explore food and its central place within culture and economy. Wild Thing, an interactive doc directed by Rosemary House, is profiling a new generation of primary producers in Newfoundland — the farmers, fishers and foragers who inspire pioneering young chefs like Jeremy Charles and John Winter Russell. Also in the works is a short film that renews the NFB's historic relationship to the people of Fogo Island: Hand. Line. Cod., directed by Justin Simms, features Fogo Islanders who've developed an inventive new approach to time-honoured fishing practices.
Here is a brief photo-essay about food sustainability, featuring Community Harvest Ontario, an organization that helps supply the province's food banks with unused crops gleaned from farmers' fields. It was produced for The GDP Project, an interactive web-doc that charted the repercussions of the Great Recession of 2008/2009 within the lives of Canadians.