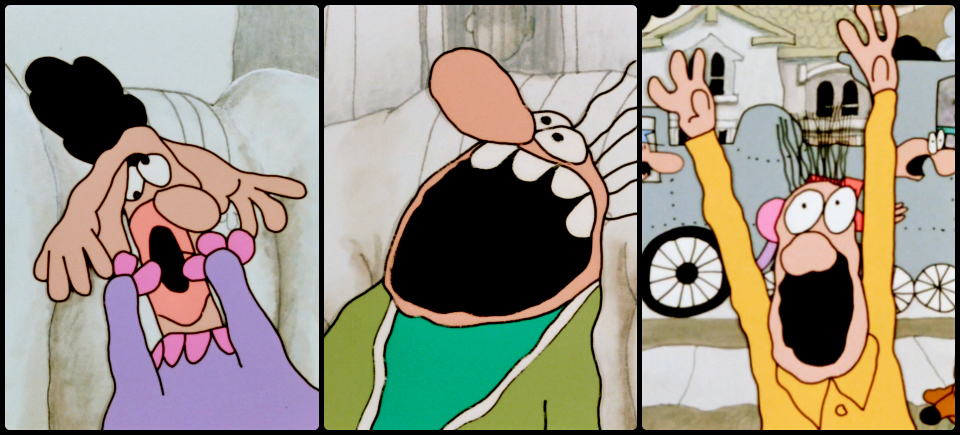 Live and Let Live: Download 5 Films about Conflict and Tolerance for $0.99 Each
Anyone with neighbours has already figured out how much effort and imagination it takes to love them as thyself.
In the summer, neighbours agressively mow their lawns in the middle of thy romantic al fresco dinner. In the fall, neighbours to blow their stupid leaves all over thy driveway. In the winter, neighbours go on more exciting tropical getaways than thy and return with way better tans. Argh!
But the fact it's hard doesn't mean you shouldn't try. Jesus was unequivocal! There is no commandment greater than these.
Diversity-rich societies such as ours need tolerance and coexistence to function. In the absence of tolerance, what you have is nasty, perpetual conflict. All you're left with is each side trying to get on top of the other, either by forcing the other to leave, through genocide, or by one group completely dominating and de-humanizing the other. And that's never a good look, whoever is ruining your barbecue with their obnoxious mowing.
This week, ponder these fundamental questions with 5 films that wittily illustrate the challenges of tolerance and the pitfalls of conflict. Should you like to add these to your personal film collection, you'll be happy to know they are all available as $0.99 downloads… this week only.
Sale ends December 10, 2015.
Dinner for Two
Dinner for Two, Janet Perlman, provided by the National Film Board of Canada
In this jazzy short, peace is disrupted in the rainforest when two chameleons get literally locked in a conflict over a fluffy, delicious-looking pink bug they both want. Relationships are severed, opportunities are lost, innocent bystanders are harmed and violence seems imminent. Luckily for the belligerent chameleons, an otherwise very clumsy frog observing the fuss rises to the occasion and saves the day.
Dinner for Two is part of ShowPeace, a series about conflict and dispute resolution that has received support from UNICEF and Justice Canada. Other titles in the series include Elbow Room, Bully Dance and When the Dust Settles, all available for free streaming on NFB.ca.
The Twitch
The Twitch, Al Sens, provided by the National Film Board of Canada
The Twitch takes us to a strangely intolerant kingdom, where a blue cartoon cat, fleeing violence, chances upon a King. This King, soft-spoken and ever-hesitant, is forlorn. His kingdom is engulfed in strife! Everywhere people are beating people up and getting beaten up. It's capitalists vs. lefties, majority against minority, man against woman. What is a King to do? He tells the cat he hesitates to intervene, squirmish at the thought of curtailing his people's liberties. Offbeat, visually amazing and gurgling with eyebrow-raising, very non-PC language (the colonel is especially foul-mouthed – be warned), this film is a half-silly, half-deep tale about the necessity for tolerance and the very real challenges to embracing it.
Balablok
Balablok, Bretislav Pojar, provided by the National Film Board of Canada
Borrowing from geometry, Balablok is a simple yet highly evocative film about our human tendency to view differences negatively and to resort to violence instead of reason when things heat up. The cubes live happily amongst themselves until a ball appears on the scene. Sacrilege! Full-on war erupts until they all become the same again, this time in the form of hexagons. All is well with the world until hold on — is that a triangle I see??! The film won the grand prize for a short film at the 1973 Cannes Film Festival.
The Big Snit
The Big Snit, Richard Condie, provided by the National Film Board of Canada
If it can sometimes be taxing to love thy neighbour, loving thy wife or husband as thyself – day in, day out – can also be a heroic act. Take for example this charming couple trying to play a little Scrabble together. Between the woman's compulsive vacuuming and eye-shaking, and the man's manic desire to saw everything (Welcome to Richard Condie's unique mind!), and an actual nuclear warfare raging outside, there's seemingly no end to the difficulties of getting along in this very wild, very weird, and very awesome classic NFB short.
Neighbours
Neighbours, Norman McLaren, provided by the National Film Board of Canada
A product of the Cold War, Norman McLaren's Neighbours is an intense and for some, disturbing, parable about possessiveness, competition and violence. The film, which won an Oscar® for best short film, shows two neighbours who come to blows (and indeed lose their very humanity) over a flower that sprouts between their two homes. The serious subject matter is somewhat offset by the virtuoso pixillation McLaren used to animate the actors, to glorious effect. Find out more about the film here.