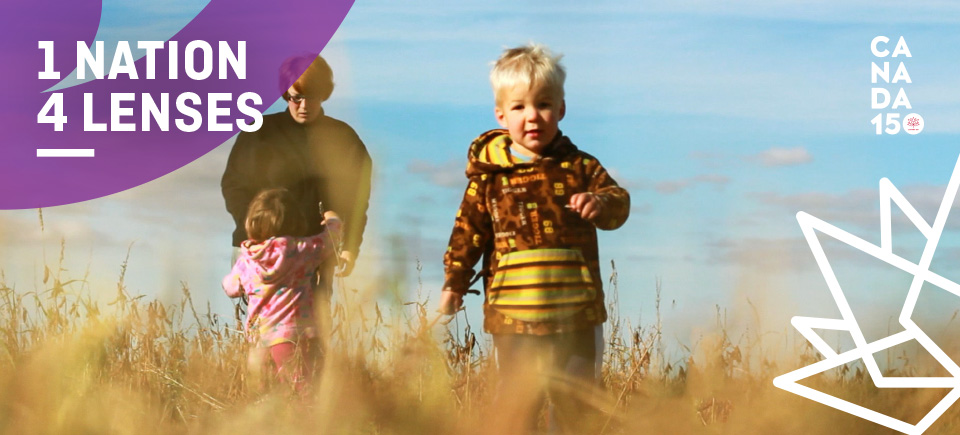 #Canada150 | Special Online Programming Celebrates Who We Are as Canadians
As Canada marks the 150th anniversary of Confederation, the NFB is offering up special online programming and public events across the country that put Canadians in touch with their nation's stories.
The NFB's online programming for #Canada150 kicks off on NFB.ca on February 20 with a four-part series called 1 Nation. 4 Lenses.
The first part, What We Call Home, explores who we are as Canadians through a selection of specially curated films.
>> EXPLORE NOW << 
To create 1 Nation. 4 Lenses, the NFB is curating films from its vast collection to produce four unique portraits for #Canada150: What We Protect will be launching next, in April, followed by What We Seek (June) and What We Fight For (September).
What We Call Home
Home can mean many things. It can be a province. A territory. A community. It can be a piece of land. Or a piece of the past. In a country as vast as Canada, what we call home differs depending on the region we live in, the cultural background we come from, the family traditions we carry forward, and the personal histories we carry inside.
For What We Call Home, the NFB has selected works that explore the many different "homes" that we've inherited, adopted, embraced and reinvented all across the country.
Nineteen NFB gems, new and classic, are being showcased in What We Call Home. Works such as:
Teresa MacInnes's short doc Mabel, about 90-year-old hairdresser Mabel Robinson, whose Hubbards, Nova Scotia salon is a meeting place for people of the community;
Canada Vignettes: Log Driver's Waltz: The most viewed film ever on NFB.ca―John Weldon's animated adaptation of Wade Hemsworth's classic Canadian song, as sung by Kate and Anna McGarrigle;
Cry of the Wild: Legendary director Bill Mason's seminal work dispelling the myth that wolves are bloodthirsty killers―and the NFB's biggest box-office success of all time;
Citizen Z: This hidden gem directed by Cavan Young focuses on a community in Toronto and their comical interactions with city hall, as people band together to find a new use for the local Zamboni garage;
Carts of Darkness: Another hugely popular title from NFB.ca; director Murray Siple offers an uplifting portrait of homeless men in Vancouver who support themselves by collecting bottles for recycling―and then race shopping carts down the steep hills of North Vancouver in thrilling sequences.
More NFB #Canada150 events
In addition to 1 Nation. 4 Lenses, Canadians from coast to coast to coast will have a unique opportunity to see our country through Indigenous eyes with Aabiziingwashi (#WideAwake): Indigenous Cinema on Tour, a cross-country screening series showcasing groundbreaking NFB films by Indigenous directors.
Now underway, the tour is being presented in collaboration with APTN, TIFF Bell Lightbox, the imagineNATIVE Film + Media Arts Festival and partners across the country.
Launching in June, #Legacies150 is a series of 13 interactive photo essays featuring Canadians from all walks of life who share personal reflections on our common journey—on what we've received from our past, our land and our ancestors—and the legacies we aspire to leave for future generations. The media partner for #Legacies150 is Postmedia.
The NFB is also collaborating with a range of public and private partners to support their own #Canada150 projects. Public partners include the Canadian Museum of Nature and events will be organized with Indigenous organizations such as the Nunatsiavut Government's Illusuak Cultural Centre and Wapikoni.