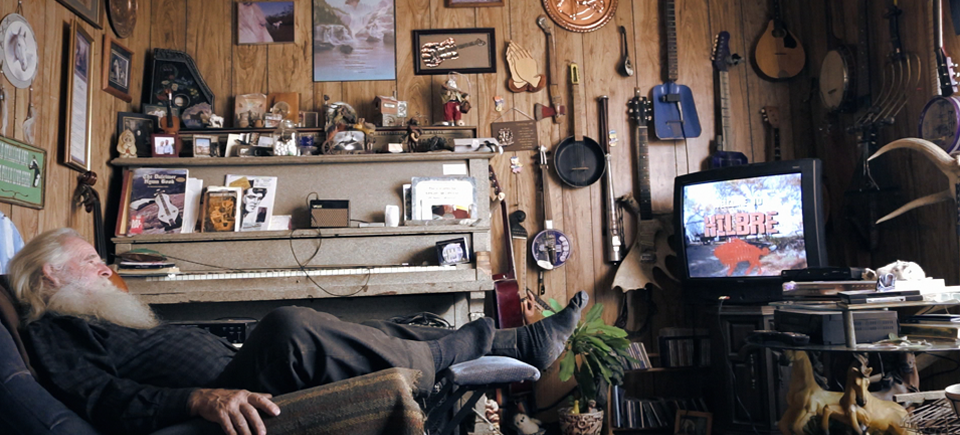 One Man's Trash is Another Man's Instrument
Lorne Collie is no ordinary guitar maker. He's a retired machinist with an undeniable talent for redefining the art of building stringed instruments by hand. Our doc, Home Cooked Music is all about him.
Home Cooked Music, Mike Maryniuk, provided by the National Film Board of Canada
Collie was forced into retirement by an aneurysm at the age of 52. After emerging from a coma feeling newly and truly alive, he decided to build his first musical instrument; a guitar made out of a shovel. If you look around the walls of his house today, you'll see just how far his colourful talent has taken him. He's built a banjo out of a frying pan, a violin out of a baseball bat, and any number of other unusual instruments. If music can save lives, then Lorne Collie is certainly the living proof!
To create this short of this unusual man, director Mike Maryniuk uses a variety of animation processes (such as stop-motion, animated drawings and collage), along with live-action interviews with Collie and clips from videos shot at various times in his life.
This combination of techniques vividly illustrates the passion that drives this charming character. Far from being just a playful way of passing the time, creating these instruments demands energy and, most of all, a vivid imagination. Collie is bursting with ideas: he hopes to one day build a harpsichord out of a typewriter, and a set of bagpipes blown by a vacuum cleaner!
Another remarkable aspect of Collie's work is how friendly it is to the environment. Through his creations, he gives a second life to everyday objects that would otherwise no doubt end up in the landfill. Instead, he turns them into musical instruments that sound great and evoke their own past lives!
If you enjoy Home Cooked Music, then here are some other NFB films on musical subjects:
Monsieur Pointu: a masterpiece of animation, nominated for an Oscar in 1975
Monsieur Pointu, Bernard Longpré & André Leduc, provided by the National Film Board of Canada
An Artist: an animated short film by Michèle Cournoyer (1994)
An Artist, Michèle Cournoyer, provided by the National Film Board of Canada