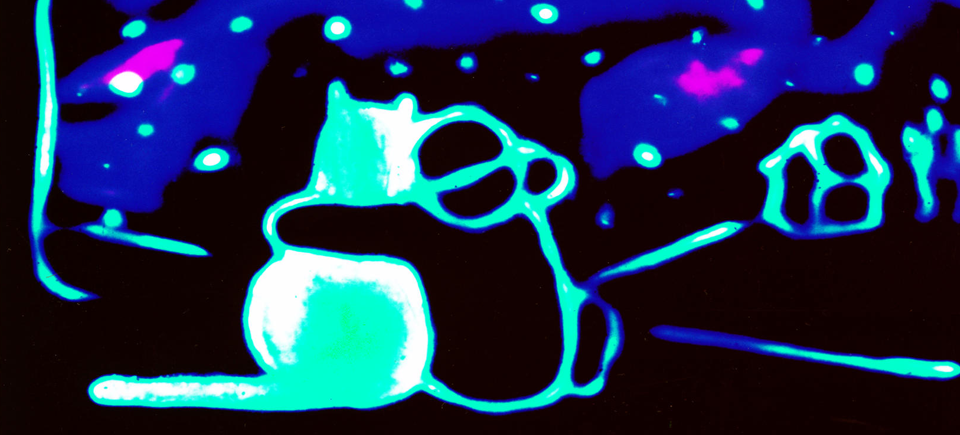 Feline Good (or 4 Purrfect Films for Cat Lovers)
Who doesn't love cats? They're fuzzy, cute, and frequently emotionally distant. Yes, throughout our shared history us humans and our cat overlords have been close companions, from the near-east where they were first domesticated nearly 9,000 years ago, to ancient Egypt where they were widely venerated (no doubt because they helped build the purramids), and all the way to the modern day, where we make memes about them.
And, scratching around the NFB video library, we've discovered a litter of films all about cats. So, curl up and get ready to peruse our gallery of four films featuring everyone's favourite feline friends.
Snow Cat
Based on the short story written by Dayal Kaur Khalsa and narrated by Oscar, Emmy, and Tony award winner Maureen Stapleton, this wonderful, cute animation relays the tale of a lonely girl named Elsie, as told by a grandmother to her grandchild. Elsie wants a cat more than anything, so she could have a friend to keep her company during the cold winter. And, during a night particularly auspicious for wishing, her dream comes true in the form of a magical snow cat…
Snow Cat, Sheldon Cohen, provided by the National Film Board of Canada
The Cat Came Back
Old Mr. Johnson has one mission: get rid of a incorrigible yet adorable yellow kitty who won't leave his home. Unfortunately for him, try as he might, the cat always manages to come back the very next day. So watch this hilarious, slapstick-filled Oscar-nominated film that is sure to make you grin ear-to-ear like the Cheshire cat.
The Cat Came Back, Cordell Barker, provided by the National Film Board of Canada
Time Out
A surreal, whimsical tale by award winning Estonian film maker Priit Pärn, this short animation follows an anxious small cat with a long stripped tale. As our fretful feline protagonist attempts to organize his house, the animator's own hand appears, and whisks him away into an increasingly bizarre series of adventures.
Time Out, Priit Pärn, provided by the National Film Board of Canada
The Magic Lion
A touching story that is sure to purloin your heart. This short animation follows a Kenyan boy during his quest to find medicine for his sick grandfather. It is through the course of his travels that he stumbles upon a noble lion who has been caught in a trap. Though afraid of the beast at first, the boy taps into his inner courage and frees the lion, who takes the boy upon his back and the pair soon begin a journey to save the boy's grandfather.
The Magic Lion, Charles Githinji, provided by the National Film Board of Canada