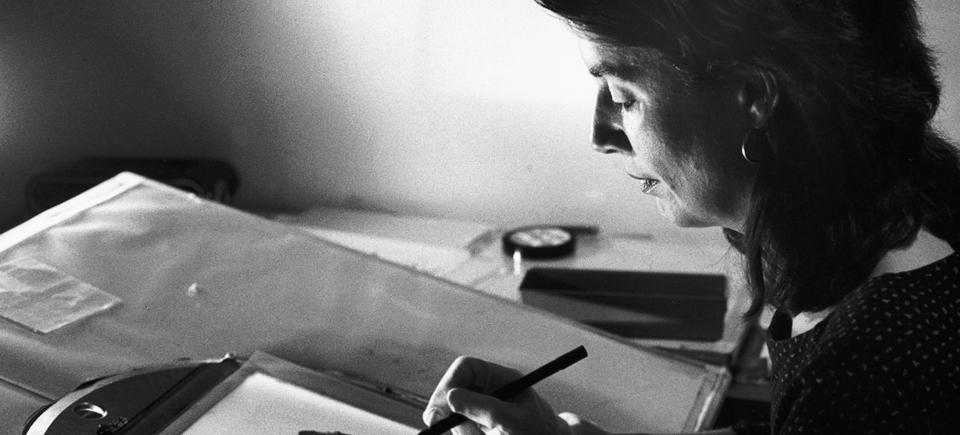 The Masters Series: Michèle Cournoyer
When you think of the word "Masters" and all it implies, and you tend to think of someone older, someone from the past. That's not the way I think. This series was created to shine a spotlight on the filmmakers who have been influential, and are renowned for their work. Besides, I didn't call it The Old Masters Series.
This week, we're looking at animator Michèle Cournoyer, who first came to the NFB as part of an emerging filmmaker program in 1992. She remembers those days fondly, having worked side-by-side with Jacques Drouin, Co Hoedeman, and other artists of that caliber. It was an exciting time to be at the Board, and Cournoyer flourished.
Twenty-five years later, and she's being featured as a Master. Her work brings something unique, something raw and authentic, to the table. The animation world is a better place for it.
Making Movie History: Michèle Cournoyer
Before diving into her collection of films, take 6 minutes to learn about Michèle Cournoyer, the filmmaker. In this interview, she talks about her early days at the NFB, what it's like to learn from the masters, and how her animation style evolved.
If you haven't seen the entire series, Making Movie History: A Portrait in 61 Parts , you should check it out. It's a film lover's dream.
Making Movie History: Michèle Cournoyer, Denys Desjardins, provided by the National Film Board of Canada
A Feather Tale
This was Cournoyer's first film with the Board and was made as part of an emerging filmmaker program. Even though it's done using rotoscoping, it still gives a good indication of both her future style, and the subject matter that will dominate her work. It's a strong film, but it's heavy – it looks at the repercussions on both sides when a woman succumbs to her lover's demeaning fantasies.
A Feather Tale, Michèle Cournoyer, provided by the National Film Board of Canada
The Hat
The first time I tried to watch this film my daughter was only nine months old. Maybe a minute into it, I had to turn it off. I sat at my desk, trying to catch my breath and realized how powerful it was, to have had such an effect on me. It was the first one of Michèle Cournoyer's films that I'd seen, and it introduced me to her signature style.
Watching it never got easier, but it's an incredible piece of work. Not for the faint-hearted.
The Hat, Michèle Cournoyer, provided by the National Film Board of Canada
Accordion
Up next is this film, which explores the relationship between love and technology. Or sex and technology. Or all three. It's a definite statement on relationships in general. It also revisits the themes of women, sexuality, and some very demeaning situations. There's no denying by this point that Michèle Cournoyer has made her mark and established herself as one of the great animators at the NFB.
Accordion, Michèle Cournoyer, provided by the National Film Board of Canada
Robes of War
This film, made almost ten years after The Hat, shows how Cournoyer's work remains consistent and true, but can still evolve. The film looks at the impact of war on women, their bodies, and on their families. Cournoyer brings a feminist eye to the subject, looking at war through a whole new light. The story, as always, is told through a series of fluid drawings, using a metamorphosis technique to tie the elements together.
Robes of War, Michèle Cournoyer, provided by the National Film Board of Canada