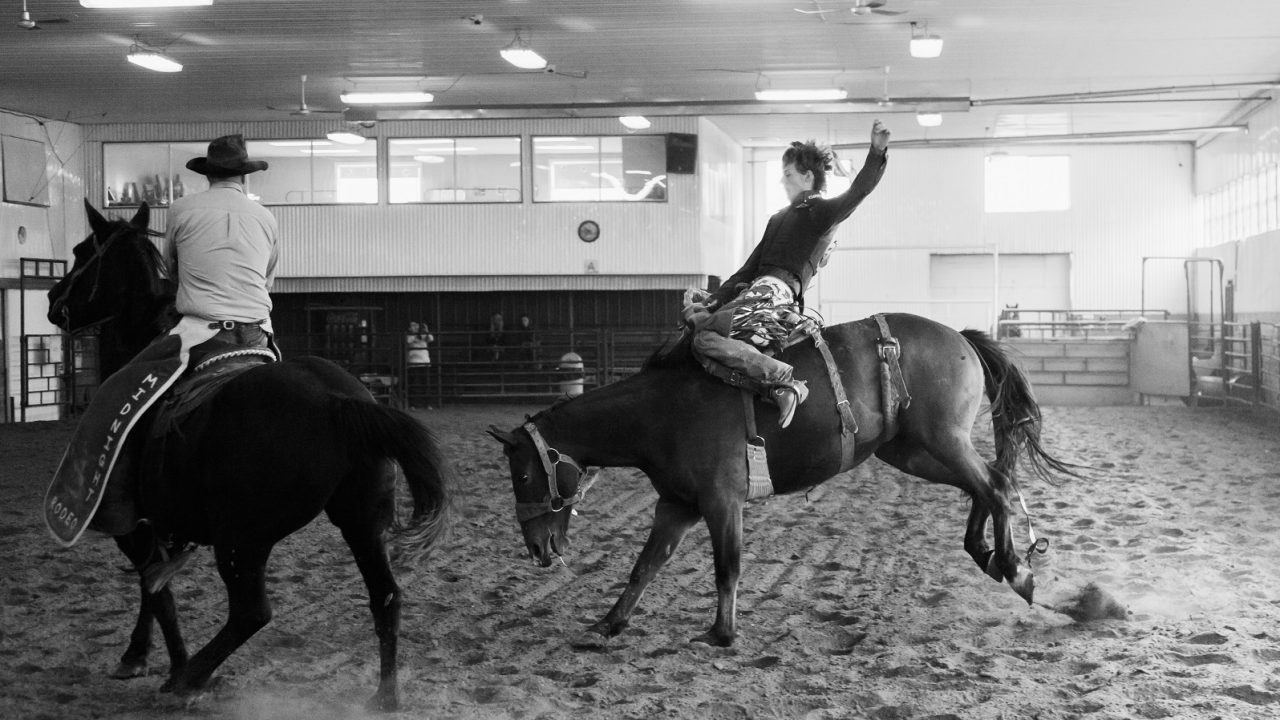 Now Online: Watch Ride, a portrait of a future rodeo champion
Growing up in rural Saskatchewan, it's not unusual that Liam Marshall would have an interest in bareback bronc riding. In Kristin Catherwood's short film, we watch as this dedicated young teen trains to compete with the hopes of becoming a bareback champion.
I came upon this film at a very opportune time. I had just finished screening Angry Inuk, which turned my entire way of thinking about the world upside down. The rodeo is something I know very little about, although I'm aware of its popularity out west. Having just learned about one way of life, I was eager to explore another.
About Rodeo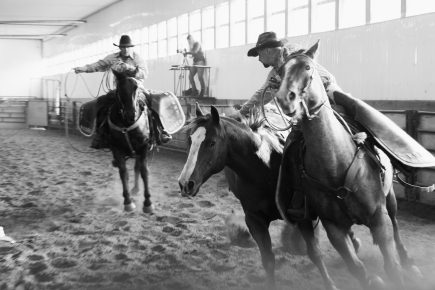 For those of us further east, it might be difficult to understand the significance of rodeo. According to Catherwood, rodeo is an arena where the traditional skills of horsemanship and livestock handling are still practiced and valued. There is a strong link between ranching and rodeo – it took thousands of years to fine tune the relationship between (wo)man and beast as western ranchers have done. Rodeo is the embodiment of that relationship.
For the younger generation, rodeo is something that has been passed down to them; a part of their heritage. For someone like Liam, it's a sport. Like other organized sports, it promotes competition, physical activity, goal achievement, dedication, and commitment. But it also has the added aspect of the deeply rooted cultural component.
It's important to understand that rodeo is not just a hold out from the "good old days." It has adapted and changed with the times, in terms of livestock handling, safety regulations, and even in respect to gender participation. Catherwood commented that the high school rodeos she attended were overwhelmingly female. She hasn't come upon a female bareback bronc rider, but it looks like we're getting there.
Liam Marshall and Rodeo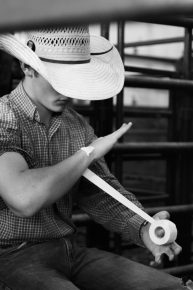 Liam is training as a bareback bronc rider. This is not a sport for the faint at heart. There is serious risk of injury, which is evident by the amount of time he spends preparing his body for the mere seconds he'll be on the horse. Protecting his shoulders, his arms, the way he wraps his hand and chalks his glove – the ritual of it is almost poetic.
Speaking of poetry, the entire film possesses a lyrical quality. The cinematography is stunning, thanks to the skilled eye of Aaron Munson, but just the story itself and the way it unfolds has a quiet dignity to it. Producer Jon Montes told me that Catherwood has a Masters in Folklore, and its obvious she put that to work here.
Watching Liam at work, it's easy to forget he's just a teenager. To remind us, Catherwood deftly interweaves footage of him on his phone. But even when we see him engaged in other activities, such as drawing, it turns out he's drawing a picture of – you guessed it – a guy on a horse.
He's a quiet young man, and Catherwood admitted that a challenging but rewarding part of the film was getting to know him. She says, "I couldn't have asked for a better person to work with, and I really wanted to do the best I could to tell a part of Liam's story and reveal some of his character."
The film was shot in two days, one day at the Big Muddy Ranch and one day at the arena. The ranch is south, situated about 500 metres from the Montana border. Montes joked about having to pay roaming charges on his cell phone during filming.
Both the horses and the Marshalls were unaccustomed to being filmed, and it took a little while for everyone to warm up for the camera. But what resulted is simply a beautiful film about an age-old tradition. As Catherwood says, "I think what really captivated me, over and above that, was the strong sense of community, the mentorship that goes on—there's a real sense of cultural continuity."
Doc Lab Saskatchewan and Kristin Catherwood
The film was produced as part of Doc Lab Saskatchewan. The program is a collaborative training initiative between the NFB, Creative Saskatchewan, and the Saskatchewan Filmpool Cooperative. In 2017, there was a call for submissions from emerging filmmakers, searching for proposals for short films focused on visual storytelling.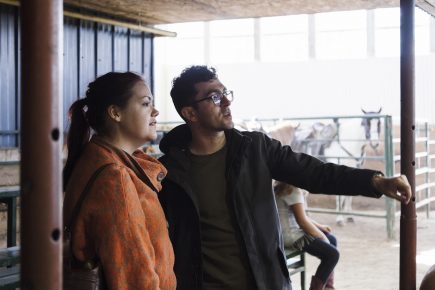 When Kristin Catherwood heard about the call, she was determined to get into the program, and she knew she wanted to tell a rural story. She had always been interested in rodeo and knew of Liam and his family. She did a little digging to see if there was a film there and discovered there was. Three participants were selected to participate in Doc Lab Saskatchewan, and Kristin was cone of them.
In her day job, Kristin is the Intangible Development Officer at Heritage Saskatchewan. She's no stranger to film, and this wasn't even her first experience with the NFB. She had previously worked with Scott Parker on The Grasslands Project. It was her first time behind the camera with us, though.
About the Doc Lab experience, Kristin says, "It's been the most creatively and personally rewarding work I've ever done. I love participating in the filmmaking process from start to finish; I found all of it fascinating. And it was a joy to be able to immerse myself in this local story about rural life in the place I love most in the world – southern Saskatchewan, aka, home."
Watch Ride :
Ride, Kristin Catherwood, provided by the National Film Board of Canada