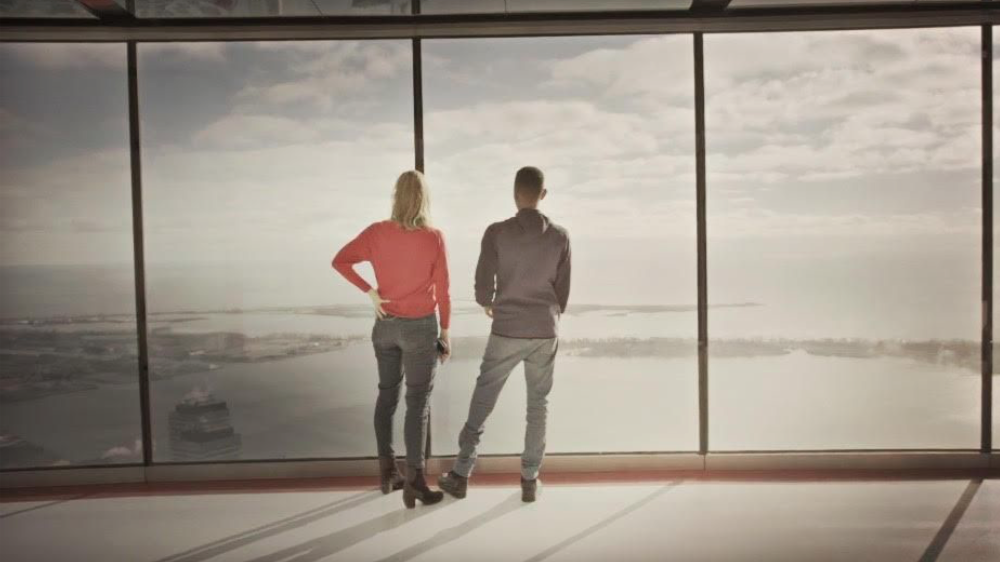 Outside the Box: New Production at the NFB
A refugee odyssey that travels from Mogadishu to Toronto by way of the Norwegian Arctic, a social media initiative that explores our complex relationship with other animals, and an Indigenous update to Challenge for Change are among ten projects that were recently greenlit for production across the NFB's English Program, French Program and Interactive Studios.
As a public producer the NFB provides space where artists and filmmakers can work outside the constraints of mainstream production models, and the most recent slate includes experimental 360 VR and animation about female sexuality alongside new work from pioneering documentarian Nettie Wild and several docs offering fresh perspectives on the migrant experience.
"Commercial pressures and entrenched modes of storytelling can limit the types of stories that make it to our screens and the range of voices that get to tell them," says Michelle van Beusekom, the outgoing Executive director of English Program. "That's where the NFB can play a vital role. Projects like these shed new light on critical contemporary issues, bring new voices into the fold and tell compelling stories that otherwise might not be heard."
DOCUMENTARY
Arab Women Say What (feature documentary)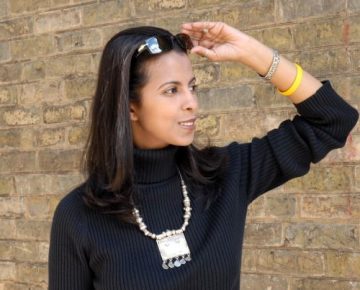 In a follow-up to her engaging short doc Things Arab Men Say, filmed entirely in an Edmonton barbershop, Egyptian-Canadian filmmaker Nisreen Baker assembles a diverse group of Arab-Canadian woman to reflect on issues that shape their lives in Canada — identity, religion, home, patriarchy, feminism and more. Reviewing Baker's work for POV Magazine, Pat Mullen calls it "an important counterargument to the Islamophobia and racism that has all but become institutionalised in parts of the West. The opinions of these Arab-Canadians are all the more valuable in today's heated environment."
Baker's credits include Women of Karaoun (2006), profiling Lebanese woman who immigrated to Canada in the early 20th century, and I wish… I CAN (2005), produced in association with the Canadian International Development Agency.
Director: Nisreen Baker | Producers: Coty Savard & David Christensen | North West Studio | 100% NFB
Just Call Me Ismail (feature documentary)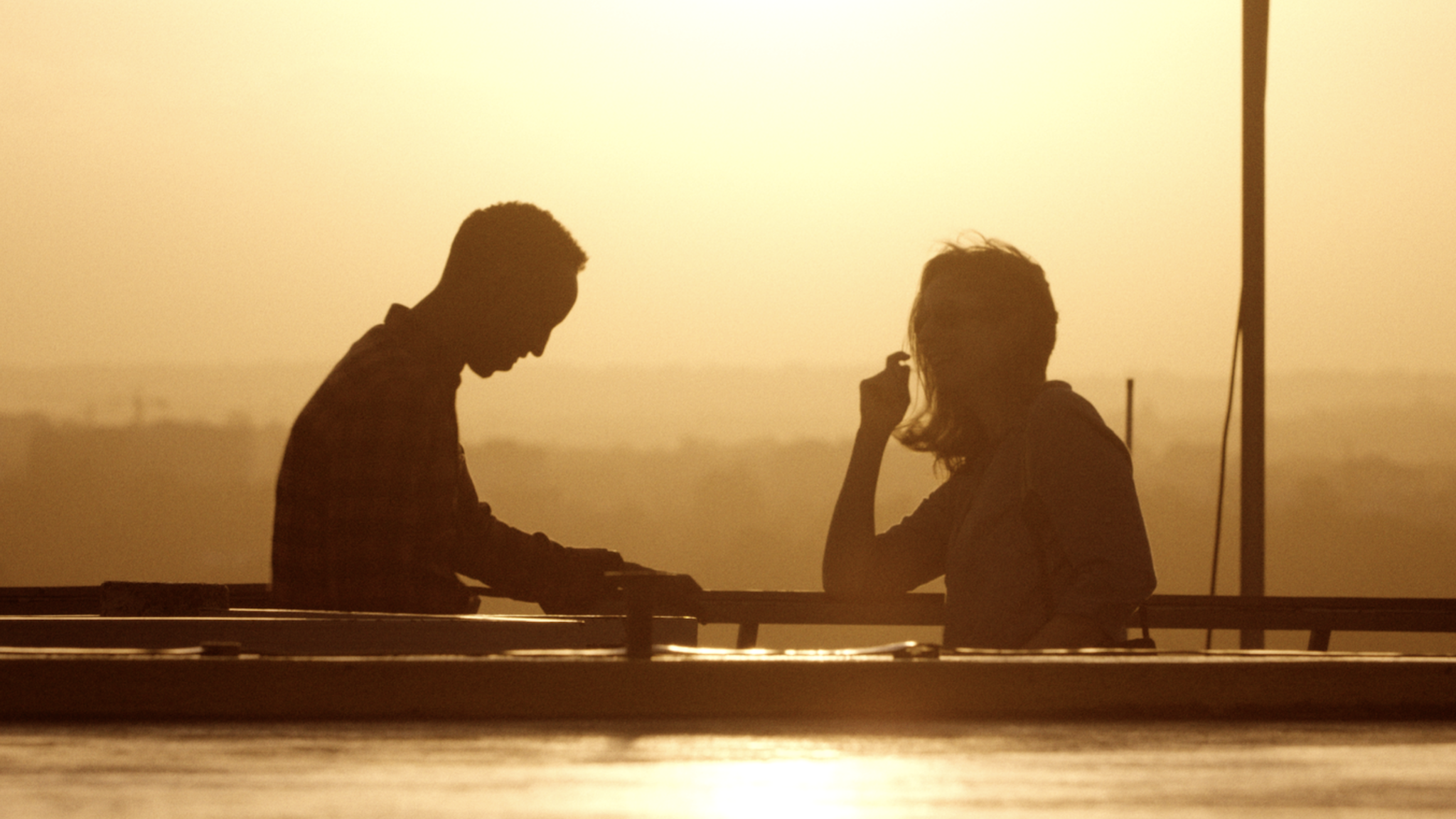 Journalist Michelle Shephard was on assignment in Somalia when she first met Ismail Khalif Abdulle, a teenager who'd been the victim of horrific violence at the hands of Al Shabab militants. "I thought this would be just another sad story, quickly consumed and forgotten," she says. Over a decade later her life and his are now closely intertwined.
Shephard's reporting in the Toronto Star sparked the formation of Project Ismail, a citizen initiative that succeeded in getting Ismail safely out of Mogadishu — first to Kenya and then on to Norway when he is now a citizen. With Just Call Me Ismail, Shephard tells the tale of their unusual and enduring friendship.
In a career spanning two decades, Shephard reported from over 25 countries, winning the Governor General's Michener Award, one of the highest distinctions in Canadian journalism, along with three National Newspaper Awards. Her publications include Guantanamo's Child: The Untold Story of Omar Khadr (2008) and Decade of Fear: Reporting from Terrorism's Grey Zone (2011) and her film credits include the Emmy-nominated documentary Guantanamo's Child (2015, co-directed with Patrick Reed), which premiered at TIFF, going on to win both the Donald Brittain Award for Best Social or Political Program and Best Direction Award from the Academy of Canadian Cinema. Other film credits include The Way Out, the Peabody Award-winning Under Fire: Journalists in Combat (associate producer and consultant and the NFB release Uyghurs: Prisoners of the Absurd (producer).
Director: Michelle Shephard | Co-producers: Frequent Flyer Films (Michelle Shephard and Bryn Hughes) and the NFB (Lea Marin) | Ontario Studio
Le Silence (feature documentary)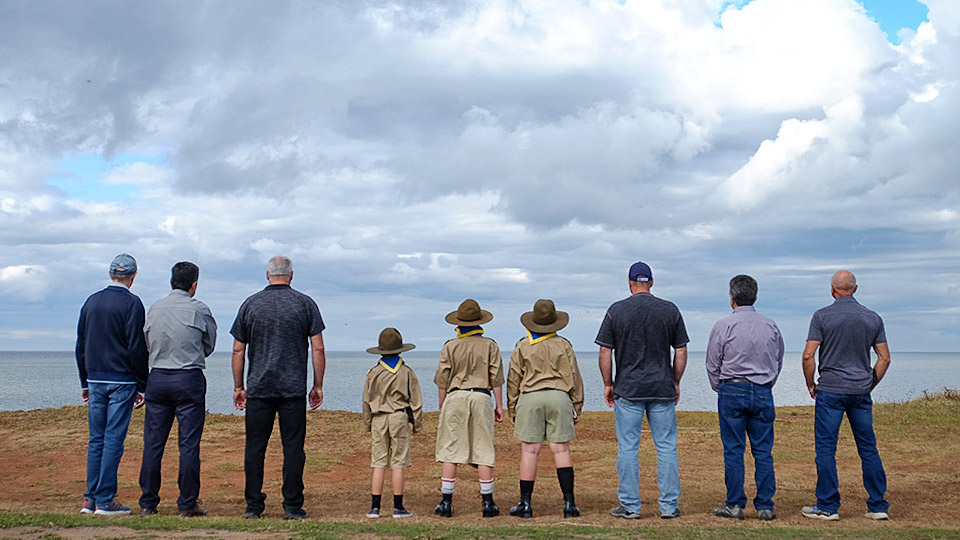 Acadian filmmaker Renée Blanchar considers the virtues and dangers of silence in a feature-length doc about the sexual abuse scandals that have convulsed the Catholic Church in recent years. When is silence necessary? When does it do terrible damage? And what happens when powerful institutions are complicit? Blanchar focuses on stories from victims of three Acadian priests who together were charged with hundreds of instances of abuse.
The first Canadian to study at the prestigious Paris film school FEMIS, Blanchar has made award-winning NFB documentaries like Raoul Léger, La vérité morcelée; On a tué l'Enfant-Jésus, and Les héritiers du club, released in English as A Place that Matters. She was both writer and director on five seasons of Belle-Baie, a TV series based on her concept, and has the distinction of being the youngest member to ever serve on the Cannes jury. Her latest work Nos hommes dans l'Ouest was programmed as the opening night slot of the 2017 edition of FICFA.
Director: Renée Blanchar | Co-producers: Ça tourne Productions (Maryse Chapdelaine) and the NFB (Christine Aubé) | Canadian Francophonie Studio – Acadie
Love, The Last Chapter (feature documentary)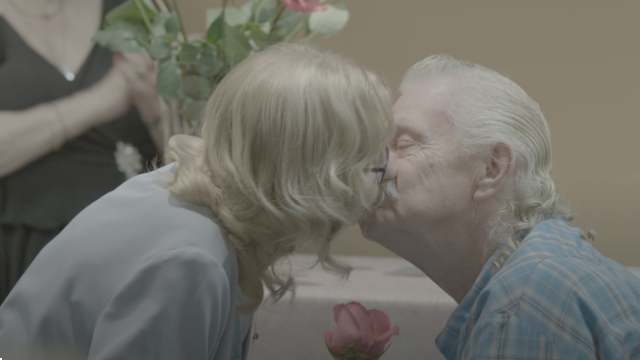 Old age can be a time of new beginnings, as Dominique Keller reveals in an illuminating film on the love that blossoms between residents at an Calgary seniors' residence. Venturing onto potentially taboo terrain, she explores the challenges that couples, families and staff encounter when elderly people form new love relationships. The proposal was one of four projects, all directed by women as it turns out, that received the 2019 Hot Docs Ted Rogers Fund, established in 2016 to support Canadian documentary filmmakers.
The Calgary-based Keller has worked in North America, Europe, Africa and Asia, and her credits include Bison Return, Grandma Learns to Drive, and Aboriginality, a NFB short she co-directed with Tom Jackson. Her work has aired on CBC, PBS, Bravo, City TV, The Food Network and APTN, has screened at over 100 festivals worldwide, and was showcased at the Beijing Olympics and Shanghai World Expo.
Director: Dominique Keller | Co-producers: Keller Media (Dominique Keller & Karen Pickles) and NFB (Coty Savard & David Christensen) | North West Studio
Someone Like Me (feature documentary)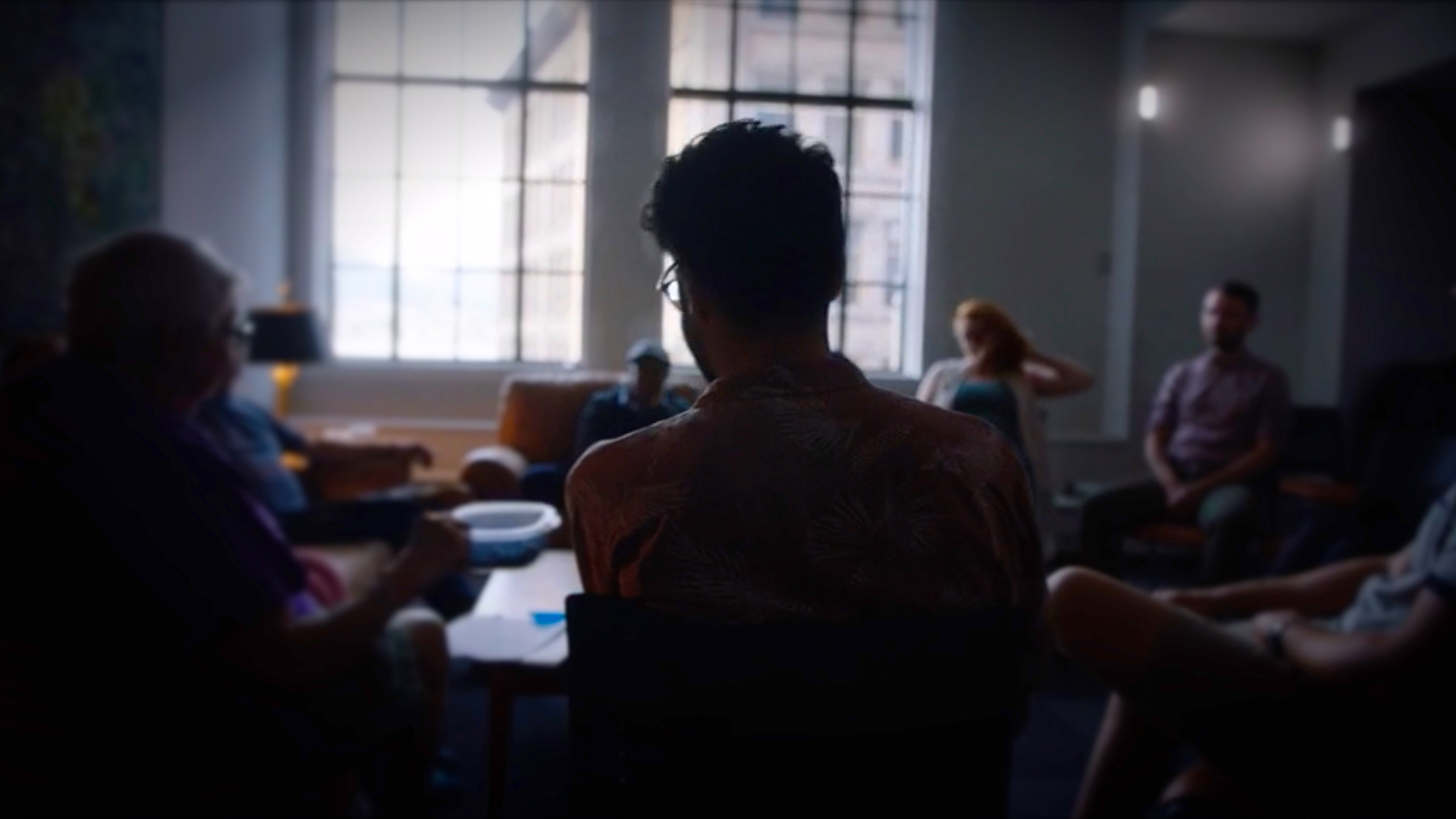 Sean Horlor and Steve J. Adams are a gay directing team from Vancouver, BC, winning acclaim for films that explore social psychology and human behaviour with a lively pop sensibility. Their credits include Hunting Giants, Brunch Queen, and The Day Don Died, which premiered at Hot Docs in 2019.
With Someone Like Me, they track the refugee sponsorship process through the stories of eleven strangers who band together to help a young gay man escape violent homophobia in Central Africa, as well as the work of Rainbow Refugee, an organization that supports queer people seeking asylum in Canada. "The queer community has a long history of tragedy and violence and loss, which will be an important part of the story we are telling," says Horlor. "Yet Someone Like Me is also a film about new beginnings and how deeply funny life can be even in its most challenging moments."
Directors: Sean Horlor and Steven J. Adams | Producers: Shirley Vercruysse & Teri Snelgrove | BC & Yukon Studio | 100% NFB
SHORT FILM SERIES
Projet 5 courts Rimouski (five short films)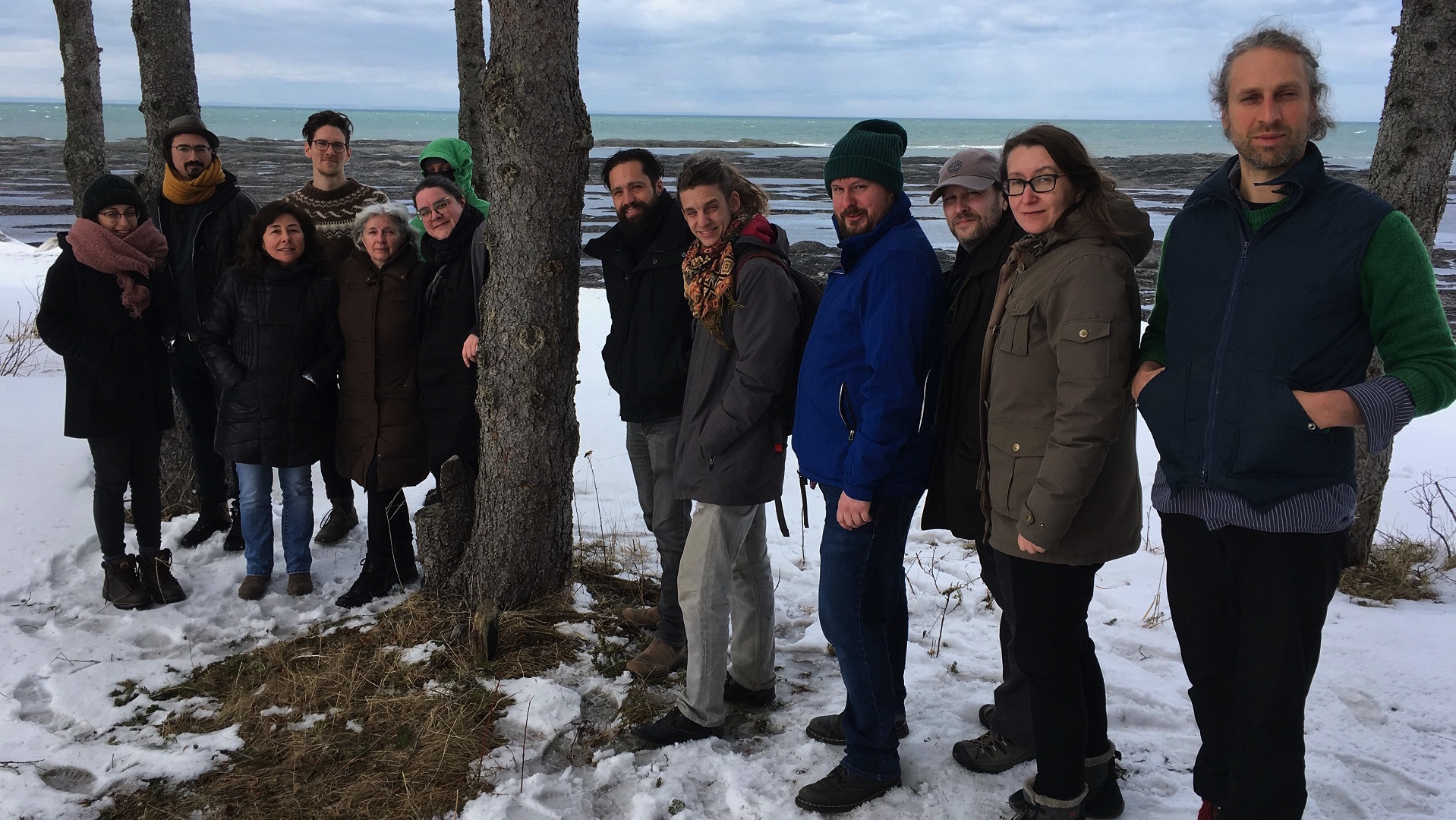 The latest incarnation of Projet des 5 courts, a program that pairs the NFB French Program with creative hubs outside Montreal, showcases the work of filmmakers working in the Bas St-Laurent region of Quebec. Mounted in partnership with Paraloeil, a production and distribution centre active in Rimouski since 1999, this fourth edition focuses on sound and its place within documentary cinema. Previous editions have featured the work of filmmakers based in Quebec City, Saguenay and Abitibi.
Directors: Tom Jacques, Cynthia Naggar, Antoine Létourneau, Guillaume Lévesque, Nicolas Paquet, Xavier Sénéchal, Sébastien Dave Tremblay, Steve Verreault | Producers: Colette Loumède and Nathalie Cloutier in partnership with Paraloeil | French Program Documentary Studio | 100% ONF
The Lake Winnipeg Project (five short films)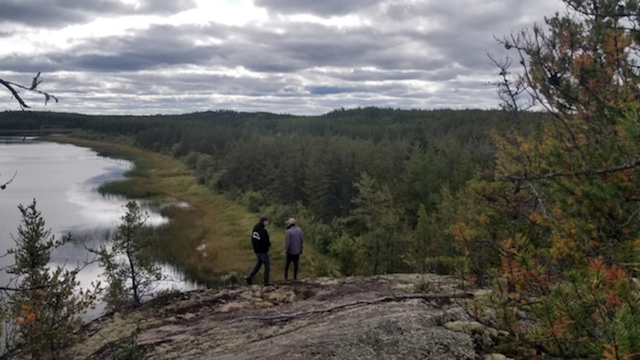 The shores of Lake Winnipeg, the world's eleventh largest body of fresh water, are home to the Anishinaabe, Omushkego, the Metis and other Indigenous communities. Many are facing new challenges — shifting climate, invasive species, toxic algae blooms caused by agricultural run-off and more — but are also demonstrating ingenuity and resilience.
"There is a natural resistance to the dynamics of life on Lake Winnipeg," says director Kevin Settee, "one that's rooted in our powerful connection to the land, and the water that gives and takes lives." An Anishinaabe community facilitator and co-founder of the Red Rising Magazine collective, Settee has strong ties to communities in the region. With The Lake Winnipeg Project, he adapts the ethos of Challenge for Change to social media, working within communities to bring their stories to the fore. Scott Parker, who employed a similar community-engaged approach on The Grasslands Project, is onboard as consultant.
Director: Kevin Settee | Producer: Alicia Smith | North West Studio | 100% NFB
ANIMATION
Caresses magiques (five short animated documentaries)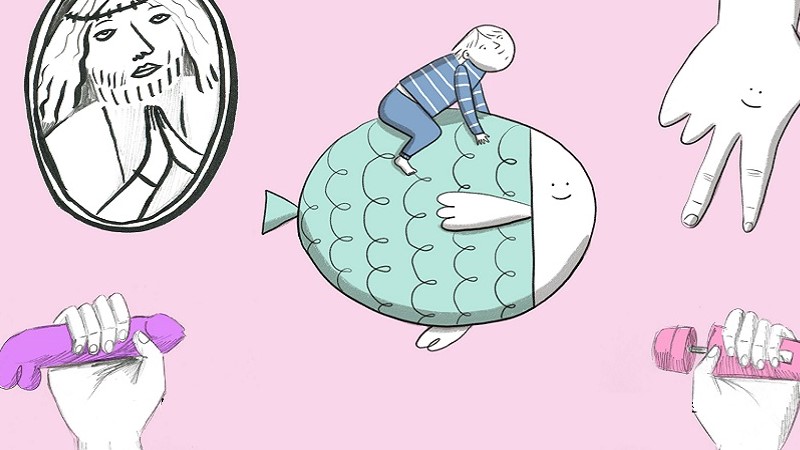 Following the international success of her short film The Clitoris, animator Lori Malépart-Traversy has expanded her canvas and is now working on Caresses magiques, a playful and informative series of short animated documentaries that explore various aspects of female sexuality.
Malépart-Traversy studied visual art and film animation at of Montreal's Concordia University, going on to create witty animation like Sparky Ketchup and Extra Mushrooms. In 2016 she was commissioned to make animated PSAs for Concordia's sexual assault awareness campaign. Check out her vimeo page.
Director: Lori Malépart-Traversy | Producer: Julie Roy | French Program Animation Studio | 100% NFB
Two Apples (short animation)
In pursuit of a better future, a young girl resolves to leave everything behind and start anew in another country — a story that resonates with particular meaning for the Iranian-Canadian filmmaker and artist Bahram Javahery.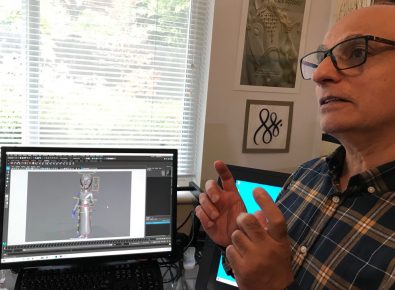 Javahery studied graphic arts and animation at the Tehran University of Art, where he later worked as a lecturer, and his many animation credits include A Dream of Flight, The Land of Safety-pins, Adventures of Mash Ghorban and his Cow, Zhina's Dream and Flower, Bird and the Sun, which screened at over 20 international festivals, winning awards at WorldFest-Houston, the International Cairo Film Festival for Children and Iran's Roshd International Film Festival. Since emigrating to Canada in 2001, he's mounted several exhibitions of his sculpture and studied 3D animation at the BC Institute of Technology. He was part of the animation team on Ann Marie Fleming's 2016 feature-length animation Window Horses. Two Apples is his first auteur film with the NFB.
Director: Bahram Javahry | Producers: Teri Snelgrove & Shirley Vercruysse | BC & Yukon Studio | 100% NFB
INTERACTIVE/IMMERSIVE
Roundup (social media story)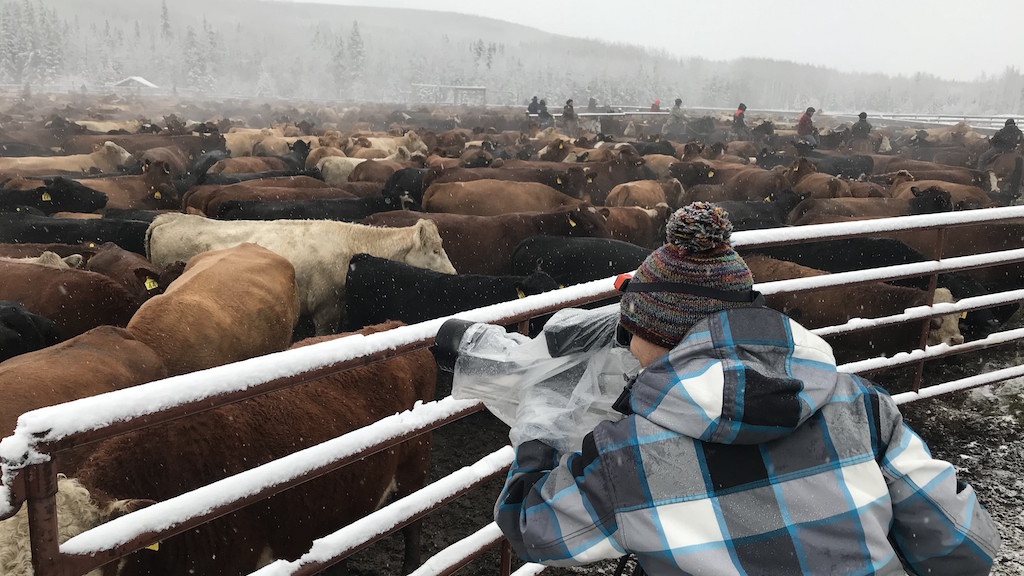 "In 2008 I rode my first round-up at the Sunset Prairie Community Pasture — 30 riders on horseback pushing 5000 cows. It's a memory that has stuck with me ever since." With Roundup, conceived for distribution on social media, Nettie Wilde contemplates the ancient and complex relationship between humans, animals and landscape through footage of a cattle roundup through footage of a cattle roundup near Dawson Creek in B.C.'s spectacular Peace River Country.
One of Canada's leading documentary filmmakers, Wild has earned international acclaim for powerful docs like KONELINE: our land beautiful, FIX: The Story of an Addicted City, A Place Called Chiapas, Blockade and A Rustling of Leaves: Inside the Philippine Revolution, and more recently has created innovative new media projects like Bevel Up, a public health resource created in partnership with Vancouver street nurses. She produces and co-produces much of her work through Canada Wild, a production company she co-founded with Betsy Carson in 1991.
Director: Nettie Wild | Producer: Nicholas Klassen | Digital Studio (Vancouver) | 100% NFB
This Is Not a Ceremony (360° VR)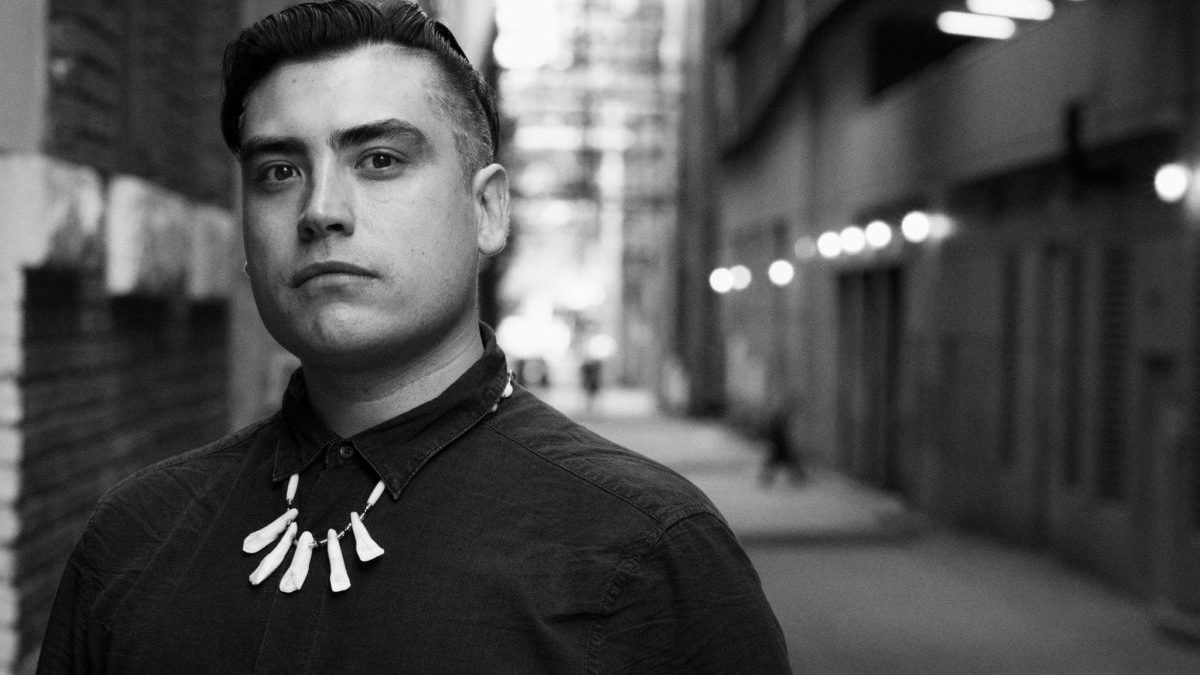 "I am a conduit for the voices of modern indigenous resistance today," says Ahnahktsipiitaa. "The world needs our medicine." With This Is Not a Ceremony, the Piikani artists seizes upon the creative potential of 360° virtual reality to bear witness to the struggles of Indigenous men in Canada. The project was the 2017 winner of NFB/imagineNATIVE Interactive Partnership, established to support new forms of Indigenous artistic expression.
Hailing from the Piikani Nation in Alberta, Ahnahktsipiitaa is a graduate of Simon Fraser's School of Contemporary Arts, has worked as an actor and director, and was AD on Alejandro González Iñárritu's feature The Revenant. He has screened his own work at the Talking Stick Film Festival and serves as director/curator with Reel Reservations: Cinematic Indigenous Sovereignty Series and the Reel IndiGenuity youth film series. As the founding producer of Blackfoot Nation Films, he has directed several music videos for The Snotty Nose Rez Kids. He lives on the unceded territories of the Musqueam, Squamish and Tsleil-Waututh peoples.
Creator:  Ahnahktsipiitaa (Colin Van Loon) |  Producer: Dana Dansereau | Digital Studio (Vancouver) | 100% NFB
Produced through the NFB/imagineNATIVE Interactive Partnership
---
For more information on these and other projects currently underway across NFB studios, visit the new NFB Production web page.
Featured photo: Call Me Ismail, photo by Wes Legge