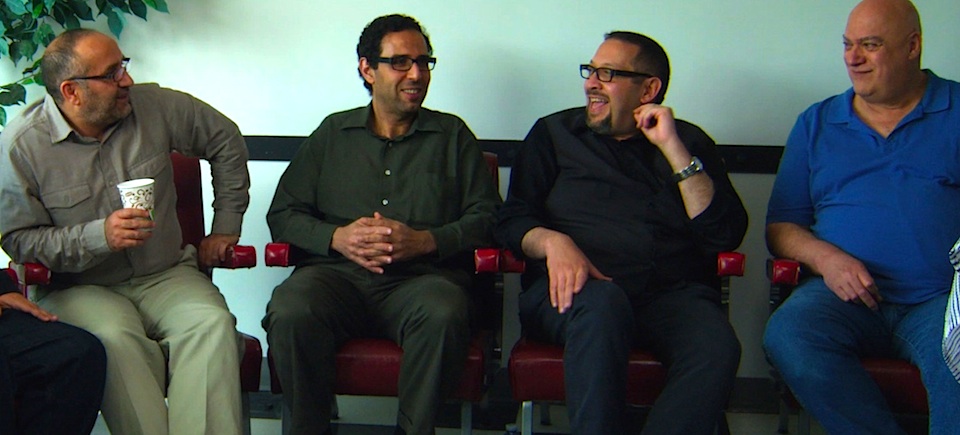 At a time when mass media often depicts Arab culture in reductive and negative terms, the Edmonton-based Egyptian-Canadian filmmaker Nisreen Baker has set out to fashion a more nuanced portrait of her own immediate immigrant community.
Her short doc Things Arab Men Say, now in editing at the NFB's North West Studio, is set at Jamal's Eden Barbershop, an establishment in St. Albert, just north of Edmonton.
"My subjects, all clients of Jamal's, are a microcosm of the Arab world," says Baker whose husband Ghassan regularly meets his buddies at the shop. "They come from different cultures, religions and social backgrounds – and yet they've developed this wonderful complicity. Simply by coming together in this way, they challenge the whole notion that Arab culture is uniform and threatening."
Baker oversaw principal photography for the film over two spring weekends, confining the action to the small yet visually rich universe of Jamal's shop, and focussing on a core group of eight men. She was working with two-man team of cinematographers, Darren Donahue and aAron Munson, and sound recordist Larry McDonald.
"Nisreen worked hard to put the men at ease, and having two cameras allowed us to capture the natural ebb and flow of conversation, as they switched back-and-forth between English and Arabic," says veteran NFB producer Bonnie Thompson. "We get to hear their thoughts on politics, family life, and the very notion of home. We listen in as they discuss the immigrant experience and what it means be an Arab Canadian – or simply joke around and shoot the breeze. By taking us into this intimate male space, she disrupts some of the negative narratives we hear about Arab men."
The film's subjects reflect the complexity of Arab identity, and the group includes Christians, Druze, Muslims, both Shia and Sunni, along with secular types. While most are recent immigrants —from Lebanon, Iraq, Sudan and Egypt — one man, Faisal, has family roots in Canada that go back over a century.
"Immigration is always an act of bravery," says Baker, who came to Canada twenty years ago. "Whether you're coming from Lebanon or Italy, Ireland or Egypt, it requires courage to leave everything you've ever known and to start again in a new land. In the post 9/11 world, Arab immigrants face a particular set of challenges, and I'd like this film to foster a new level of mutual understanding in some small way."
Baker's previous documentary credits include Women of Karaoun (2006), about Lebanese woman who immigrated to Canada in the early 20th century, and I wish… I CAN (2005), a film produced in association with the Canadian International Development Agency about refugees who benefited from the Canada Scholarship Fund.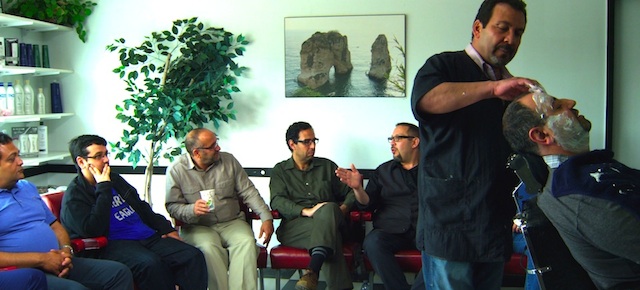 Editor Hans Olson began the edit at the NFB's Edmonton-based North West Studio in early September. One of a growing slate of signature short docs being produced at the NFB,  Things Arab Men Say is scheduled for release in 2016.