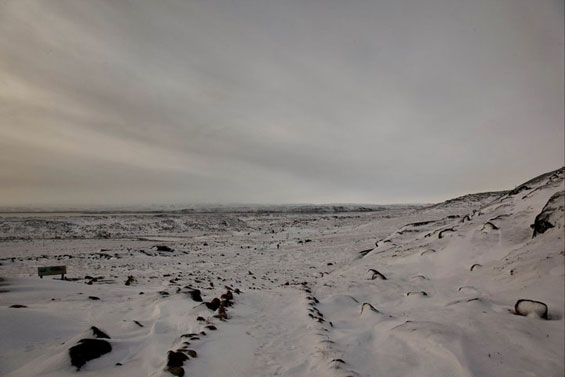 Stories From Our Land: Iqaluit Log (Part 1)
The following is a guest post by Carrie Haber.
In November, I flew from Montreal to Iqaluit as an instructor for the NFB/Nunavut Film Development Corporation's Stories From Our Land workshop. 29 participants showed up from North and South Baffin communities to plan, shoot and edit 'micro-documentaries' on subjects close to their hearts. They were also inundated with career histories, confessionals and how-to's by some of Canada's leading filmmaking figures. Here are a few notes from the adventure, wherein the first paradigmatic shift was getting used to being called, 'a Southerner'.
Day 1: It's hard to imagine walking around a Canadian city whose only access is by air or sea, and not feel terribly (or wonderfully) isolated. But there you have it: no roads lead to Nunavut, let alone to its capital, Iqaluit.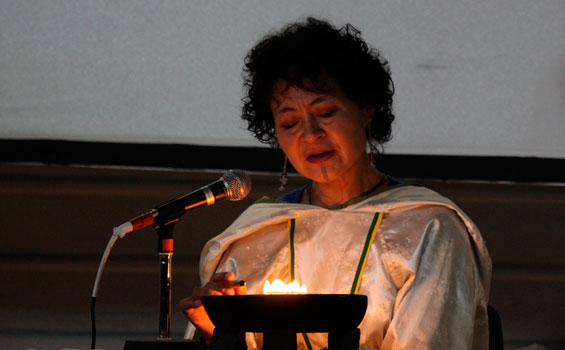 Artist, lawyer and clothing designer Aaju Peter, welcoming ceremony

We flock into town in clusters: directors, cinematographers, sound recordists, producers. We, editors, stretch our legs after a three-hour flight along the Frobisher Bay shoreline and knock on the ships, tug, and sailboats. Some of them are carcasses, looking as though they haven't sailed in decades. Giddy at the strange hues in the air, the rare sight of sealskin stretchers and mushing sleds just lying around in people's backyards, we're also aware that a gang of editors is not a naturally occurring phenomenon, and appreciate the gold in it as we plan the upcoming workshop.
We meet the emerging Inuit mediamakers, for whom an intense week of documentary story-jamming, shooting, and editing lies ahead, at the Royal Military Cadet Hall where we're based. Alan, sporting a tilted ball cap and pierced eyebrow, tells me about local and provincial government treaties and safeguards to broker and protect Nunavut's natural resources, and I'm struck by his political acuity. After meeting several others in their early twenties, I see this level of engagement is common. Coming from 'The South' where non-profits like Apathy is Boring are needed to rally this kind of responsibility from young people, I'm impressed.
At dinnertime, we're served lasagna from a fighter jet hangar by a man in a 'Catering Cowboy' T-Shirt, after which Eyesteel Film's Daniel Cross whips up massive indie spirit in a confidence-building evening talk about working with producers. More manifesto than after-dinner speech, his message is: Be honest. Take chances – they will convince others you're serious. Deliver the film you tell them you'll make. Start now. And then he advised on the importance of staying on top of the financials, funding applications and festival deadlines. He also stresses that filmmaking is an equal-opportunity endeavour; submission and funding deadlines are posted on every relevant website in the industry. 'So there's no excuse,' he quips.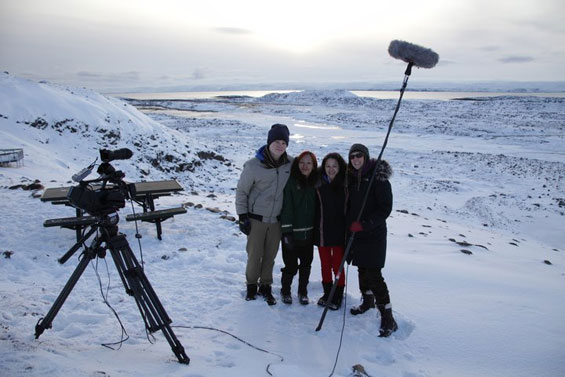 Editor Alison Burns with her students Bjorn, Bonnie and Pallulaaq

Day 2: Directors Paul Cowan and Sturla Gunnarsson open the day by discussing their careers, their personal and artistic gambles in pursuit of their craft, and even some regrets. "The film gods reward those who do their homework," says Sturla in his sincere and ominous manner, before showing us clips of his latest film, Force of Nature: The David Suzuki Movie, which brings tears to one elder's eyes. She connects with Suzuki's visit to his childhood home in an internment camp and tells the group about her lasting pain from having been taken away from her family, at age four, to a residential school in the South. I am reminded of how recent those events are, and how the recovery from them is a community-wide process.
We break mid-morning, and the sun is already coming down. I find a driver outside, and ask him to leave me on the outskirts of town. There's a lot of loud construction going on (to remedy the shortage of housing in Iqaluit), and the heavy hang of diesel in the air is oppressive. I walk for an hour through the stark, clean snow, until I'm disturbed by the approaching sound of invisible, howling canines that terrify the supreme tranquility of the expanse.
They turn out to be sled dogs in training for a winter hunt. Caribou steer clear of Iqaluit these days, making it harder for locals to hunt them. Overall, the country diet (caribou, Arctic Char and seal) is much harder to come by than in the past, and locals are largely reliant on expensive, often processed foods from the Northmart – Iqaluit's main supermarket. Caribou is not on the menu at the restaurants we visit, but one of the participants opens a blue Ziploc freezer bag at lunchtime and offers us some she's brought from home. Tough place to be a vegetarian.
We talk about how hunting skills aren't emphasized as much in childhood anymore. Gordon from Clyde River on North Baffin, says, "I'm a late bloomer, when it comes to hunting. My mother raised a schoolboy instead." Now a father of three, Gordon hunts, but only learned from his own father a decade ago. That said, there was an 11-year old girl at the library yesterday who told me about the time she brought a documentary film crew out onto the land and showed them how to carve a caribou, tip to tail. "Your parents carved the caribou?" I asked. "No, no, I did!" she grinned.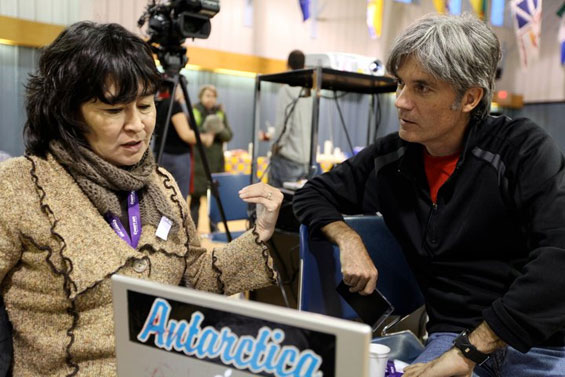 Bernadette Dean and Cordell Barker
Next up…getting out there: the shoot (and watch the 8 shorts)… Stay tuned.