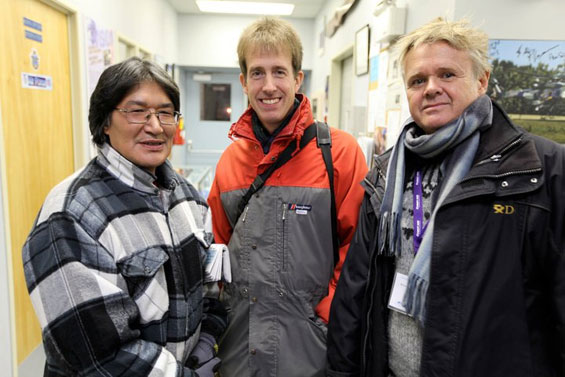 Stories From Our Land: Iqaluit Log (Part 2)
The following is a guest post by Carrie Haber.
Directors Zacharias Kunuk (L), and Sturla Gunnarsson (R) with Northwest Centre's Executive Producer David Christensen
In November, I flew from Montreal to Iqaluit as an instructor for the NFB/Nunavut Film Development Corporation's Stories From Our Land workshop. 29 participants showed up from North and South Baffin communities to plan, shoot and edit 'micro-documentaries' on subjects close to their hearts. They were also inundated with career histories, confessionals and how-to's by some of Canada's leading filmmaking figures. This is the second part of a 2-part story. Read Part 1 here.
Day 3: After a mesmerizing talk by Inuk master filmmaker Zacharias Kunut (Atanarjuat: The Fast Runner), I realize how naturally cinema is suited to an historically oral storytelling culture. His calm, sure approach inspires confidence in the room.
Our turn comes to give a day-long editing and story workshop in Final Cut Pro. My group is comprised of 3 filmmakers from 3 separate communities in Nunavut. By late afternoon, we're ready to title our first exercise: a one-minute montage about a chef. The tricky part is, how to go about this when the group offers up 3 different words for 'chef'?
There's a lot of talk about standardizing Inuktituk dialects up here – in fact, one of the micro-docs being shot tomorrow weighs the merits of preserving Inuktituk dialects (and their attached identities) against those of standardizing language across Nunavut and Greenland to promote a more unified northern culture.
It's an intense week so far, with few breaks, but I want to share one of them with you. This is a notoriously young province, in which the average age is only twenty-four. There are rappers, musicians and drum dancers among the participants, who hang out in the hall after lunch, teasing one another, talking about their projects, their friends. But today, two of them suddenly break out into this**:
http://vimeo.com/18537152
After dinner, we're treated to more throat singing, storytelling, Inuit leg games and drum dancing, including a drum dance led by Allen Auksaq, who convinces NFB Northwest Centre's Executive Producer, David Christensen to jump in.
http://vimeo.com/18800824
Day 4: The shoot. The directors, producers, camera and sound instructors have flown out, leaving one editor per film crew to accompany the teams on their shoot. Our luck, a 'balmy' and clear -5 o C. I'm told it's been unusually warm here this year; the soft mudflats at low tide in Frobisher Bay are evidence that Mother Nature is softening her winter grip on this part of the land. She's been drumming rain on us most of the week, at temperatures well above zero. Elders cannot remember the region ever being this warm, this late in the year; ever there being an unfrozen ground after Hallowe'en.
We split up into crews and head outside. It may be "warm" but we're out all day, and one of my students has no gloves. Another participant, who works at Inuit Broadcasting Corporation with him, notices his colleague's red hands, wordlessly removes his own gloves and tosses them over. One of many examples I see during the week of the strong community commitment that exists here.
The teams are off in all directions. Thematically, the docs are all important explorations of being from here. There's one about Inuit pride, and vastly differing feelings about the word, 'Eskimo'. One about youth reclaiming traditional ways. There's one about Inuit Broadcasting and the bid for a new TV station. There's a poetic exploration into a relationship between strangers through throat singing. One about traditional clothing. Ours is about Polarman, Iqaluit's Real-Life Superhero, touching on themes of acceptance, abuse, and alienation.
Day 5: Editing
"It's like a puzzle!" exclaims Nyla. She's just discovered a new story arc, picked from the raw footage.
We're sitting around our editing station, in the airy hangar/gunning range of the Cadet Hall. Nyla's mostly right – though we talk about how editing documentary is more like sorting through a heap of many different puzzles, to first pick the right one.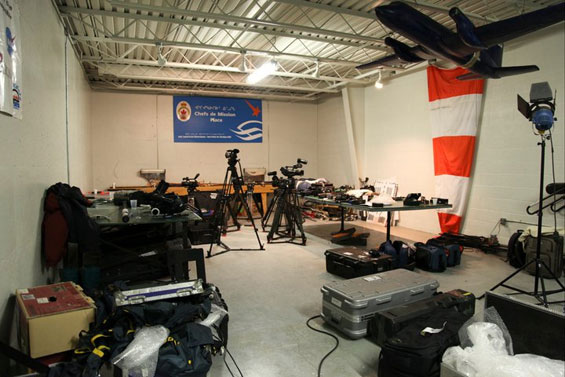 Equipment Room, also where we edited
The region may not have a film school, but there's no shortage of stories – or talented creators – from this dramatic landscape that has forged enviably strong community ties. If ever there were an argument for DIY filmmaking, this place is it. Thomas, a young community leader, makes the announcement after dinner, that: "We've decided. We're not going to wait for the world to save us. We're just going to do it. Make whatever projects we can." He and his wife Becky, with 3 year-old daughter in tow, have vowed to travel to 25 communities in a wider documentary storytelling project promoting issues important to the North's youth. They've already completed their first short.
I asked Becky what her highlights of the week were. She replies,"Taking in and chewing on the many nuggets of wisdom bestowed to us, about the technical, practical and creative aspects of filmmaking. I absorbed so much and came away feeling incredibly empowered, motivated and sincerely inspired. Thank you so much, NFB et al, for equipping me with the tools that I need to finally begin my journey of breathing life to my ideas. You've done more for me than you will ever know. This workshop has really given me a new vigour and passion for life, and indeed for filmmaking. Qujannamiik."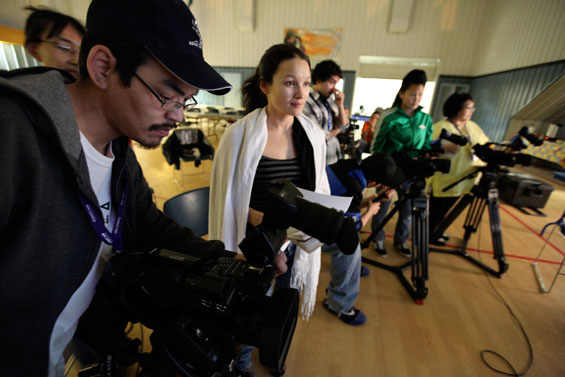 The Friday night screening is a full house; a community event. Several elders, friends, family members and politicians come to see the works. Mark Power, Production Manager at NFB in Edmonton and intrepid backbone of this workshop, has daisychained the hard drives we delivered to him in the nick of time. After speeches, gifts, and acknowledgments, the sense of accomplishment is palpable among the filmmakers. The shorts, produced in just two days, mean 29 proud auteurs. Of these, four will go on to develop larger projects with the NFB, so watch this space.
Here are the 8 'micro-docs' (available on our Facebook group):
Stories From Our Land Micro-Documentaries
Here's our communal slideshow from the week – many thanks to Qajaaq Ellsworth, instructors Alison Burns, Rosella Tursi, Alan Poon and production coordinator Mark Power for sharing their photos here.
Alan Poon's photo gallery from the workshop can be found here: http://www.dropbox.com/gallery/5704982/1/iqaluit%202010?h=7c0f6e