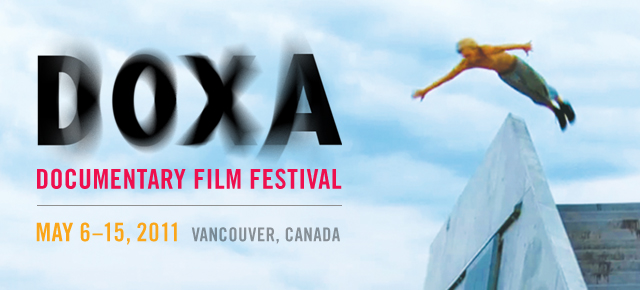 Kris Anderson DOXA Youth Connexions
DOXA and the National Film Board of Canada are proud to once again present the Kris Anderson Connexions Youth Forum, an educational program designed to foster documentary filmmaking and storytelling skills in youth between the ages of 19 and 26 who face barriers in attaining their career goals.
This is the sixth year that Connexions is being presented at DOXA. In 2011, Connexions will be a 14-day immersive workshop in the art of documentary cinema. Participants will create  digital documentary stories using NFB facilities, meet with industry professionals and attend festival screenings and forums. The short documentary films that the Connexions participants create will screen at DOXA's Special Presentation of Spotlight on Vancouver — A City's Image.
Since 2009, DOXA has been offering Connexions as a way to address gender inequality within the film industry by selecting a group of talented young women wishing to work in the documentary form.
Over the next 2 weeks the filmmakers will be blogging about their experiences during the hands-on workshop where they are creating short 90 sec docs in 6 days, as well as throughout the festival reflecting on films & meetings they will be attending, connecting with industry professionals.
Here are the 2011 DOXA Youth Connexion filmmakers you'll be hearing from:
| | | |
| --- | --- | --- |
| | | Selina Crammond is 25 years old, originally from small-town Manitoba and is a graduate of Simon Fraser University's Communication, Arts and Technology program. She has worked for CBC radio and Intersections Media Opportunities for Youth Society. Currently, Selina is working on a documentary about a local country music duo. |
| | | |
| | | Leta Cushing-Woodcock is an emerging Vancouver based filmmaker. She recently graduated from the Documentary Filmmaking program at Capilano University. Leta has made a short documentary about the effects of stereotypical notions of beauty on young women and another short documentary that followed the daily routines of a teen mother. Seeking meaning in the experience of those around her, Leta wants to engage her peers by challenging social norms and stereotypes. |
| | | |
| | | Nathalie Down, 24 years old, is in her last year of studies at UVic. She will be graduating with a Diploma in Social Justice, and a B.A. with double majors in Women's Studies and Environmental Studies. Nathalie's involvement in creating several participatory action research films has inspired her to use film as a tool for social justice. Two of these films, Tongues Untied and Quest for Social Justice, continue to be used as anti-oppressive learning tools. |
| | | |
| | | Janelle Huopalainen is currently attending Capilano University's Documentary Production program. She has worked on various shorts, a music video, and a short-form documentary while attending the Video-Production Co-op at her Secondary School. Her photographic series "The Alley" was featured at the Surrey Art Gallery.  Her creative tendencies make her prone to spontaneous outbursts of psychoanalysis, philosophical ramblings, and unabashed flailing. |
| | | |
| | | Patricia Marcoccia is currently working as an assistant producer at Agentic, a boutique web development agency in Vancouver, made possible by Canadian Media Production Association's Digital Media Production Program. A graduate of Ryerson University, Patricia worked on a short documentary about senior dating and sexuality in Toronto, and a short documentary about the deteriorating meaning of peace in Israel/Palestine. Patricia is excited about the opportunity to further develop her skills in documentary filmmaking and to share her passion for storytelling, digital innovation and social change. |
| | | |
| | | Paisley Smith is 23 years old and holds a BAH in Film and Media Studies from Queen's University. Her documentaries have focused on telling meaningful stories by weaving art with social, political and environmental issues. |