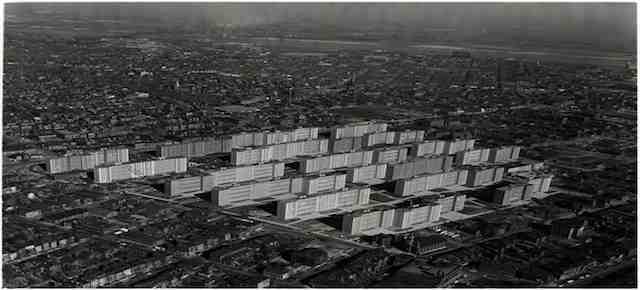 DOXA Connexions: Justice Forum at DOXA (The Pruitt-Igoe Myth: An Urban History)
This post was written by one of the young women participating in the 2011 Kris Anderson DOXA Youth Connexions Forum, as part of the DOXA Documentary Film Festival. "Connexions" is an immersive 2-week program where 6 selected emerging female filmmakers create 6 short films in 6 days, while also connecting with industry professionals & checking out all the doc films & panels
The Pruitt-Igoe Myth: An Urban History is a film a bout the infamous Pruitt-Igoe public housing project developed for low-income residents of St. Louis in the 1950s. The film is comprised mainly of interviews with previous residents as well as archival footage of the buildings and city in which it existed, until demolition of the project a mere 20 years later.
I was curious about this film as housing has long been a contentious issue in Vancouver (I'm writing this post from the National Film Board in Vancouver, which is located in the newly restored Woodwards complex, previously home of direct housing action, Woodsquat).
The film included several interviews with former Pruitt-Igoe residents as well archival images of the development and of the city of St. Louis. I especially appreciated the way the residents passionately described the sense of community and pride that they each felt when moving into the development. One woman remembers how she rolled her used record player to the doorway in order to play music for the neighbours. Another former resident recalls how proud she felt living on the 11th floor calling it her "poorman's penthouse".
After the screening, Patrick Condon, a well respected researcher in the fields of sustainable urban design and architecture, was quick to point out all of the film's contextual short falls saying that the film lacked a full historical, political social explanation for the buildings' failings. Seth Klein, BC Director of the Centre for Policy Alternatives,  provided a good context for thinking about the failure related to the socio-economic pressures citizens face in Vancouver in regards to housing, saying that our legacy of public housing has not been a priority in recent years.
Standing in line at the washroom, a couple of ladies expressed the same thoughts. They too felt that it was more important to listen to the former Pruitt-Igoe residents then an in-depth academic analysis of the project's failings.
Sure the building was designed to fail from the beginning and I suspect but  the lack of up keep and maintenance that eventually resulted in the decrepit building.  I suspect that the building has been approached by many professionals (designers, planners and politicians) in an academic and theoretical perspective.
I was drawn to the film and panel discussion to both draw parallels to the Vancouver housing crisis and learn to from a housing experiment gone wrong. Ultimately, the Pruitt-Igoe story is a reminder that people, not just politics, deserve to be remembered.  A reminder that economizing in the short-term can end up costing the city and it's citizens a lot (financially, socially and politically) in the long run.