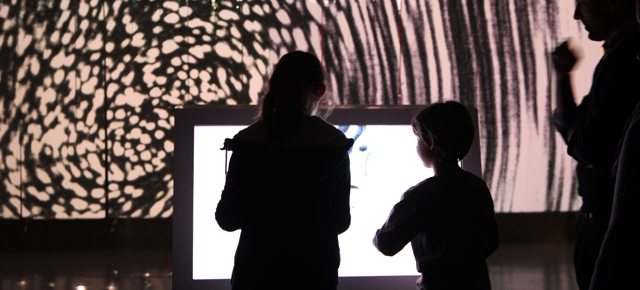 10 technologies that could revolutionize film
I have a suspicion that my friend Stéphane Jolicoeur (Senior Internet Applications Analyst at the NFB) lives in the future. Not that he time travels like Marty McFly (although I wouldn't be surprised if he had a DeLorean DMC-12 hidden away somewhere…), but he spends most of his free time surfing computing, design and future tech websites like NOTCOT, Fastcodesign and TechCrunch, and sending me links about 3D printing and HTML 5.
A few days ago, I asked him what new technology and software he thought could revolutionize the world of film. Since then, he's been sending me a few links everyday.
10 technologies to watch
1. 3D Printing
3D printing is an invention that allows designers, engineers and artists of all stripes to create the impossible. Although not a new technology, the current incarnation is a major step forward. High performance office printers, like the MakerBot, can now print colour objects out of plastic in high resolution (with fewer visible filaments). They start with 3D digital models created on a computer or scanner and print them layer-by-layer in three dimensions. Visual concepts and objects that were previously impossible to create are now within reach. For animators, applications include making marionettes, set decor and miniature models. For a glimpse at the technology's potential, have a look at this Japanese 3D printing photo booth.
In this video, Lee Unkrich, the director of Toy Story 3, demonstrates how his team at Pixar used 3D printing technology (and a printer made by Z Corporation) to create models of the film's characters.
2. Arduino Microcontroller (and Makey Makey)
Arduino is an open source electronics prototyping platform that consists of development software and computer hardware. The easy-to-program Arduino microcontroller board makes it possible to develop computers that interface with the physical world through its chips and transistors. With plans and software available online under a non-restrictive licence, Arduino is a small revolution for creative people. Designer Lara Grant quickly learned how to harness the technology to create a clothing collection that features music interfaces and sensors that produce music based on touch and movement. Very, very cool.
Filmmakers could use this type of microcontroller to develop equipment such as a remote-controlled camera dolly. Or they could use it to create electronic gadgets to control objects from a distance, à la James Bond.
Budding engineers might also be interested in the Makey Makey inventor kit, which allows anyone to turn any everyday object into an electrical controller. It's easy to use and oh-so-practical!
3. Augmented Reality
Your view of the world can now be enhanced. Augmented reality is a technology that opens an impressive new world of possibilities. It makes it possible to overlay computer-generated data – such as useful information, animation, another dimension (3D), audio, video or interactive content – on images of the real world. For example, the ARART iPhone application can breathe life into objects – animating images that would otherwise be static. With it, you can look at well-known works of art like The Girl With The Pearl Earring through your smartphone camera and watch as it is animated before your eyes.
4. D3 Data Visualization
Documentary makers and journalists will be interested by the D3.js data visualization framework. This JavaScript library is designed to easily manipulate and compile data in various ways. Using D3, statisticians and historians can track major trends (such as voting in the U.S.) over many years and visualize the data in new ways. This D3 Show Reel presents a number of graphics produced from the same data. It gives you a good idea of the various ways that trends can be visualized and interpreted.
5. Near Field Communication (NFC)
NFC technology allows two devices to communicate when in close proximity. It can dynamically reprogram a smart tag to both transmit and receive data. That means that it is now possible to transfer data between two devices (smartphones, credit cards, advertising posters, etc.) without a physical cable connection. The data transfer starts when the two devices are touched together or brought into close proximity.
http://www.youtube.com/watch?v=-5pG1lUG1D4
Apple has made major investments in NFC technology in recent years, with a particular focus on mobile payments using smartphones.
Meanwhile, a company called MOO has adopted NFC for its business cards of the future. The business cards have a tiny embedded microchip that will transmit data to an NFC-equipped smartphone when they are tapped together.
We can also expect film distributors to drop QR codes on movie posters in favour of NFC's potential for transmitting data – like trailers – to moviegoers.
6. The Make Movement
The MAKE movement is a community of researchers and inventors of all kinds who use their website and magazine to share information and collaborate on creating new technology. It brings together biologists with computer scientists and designers with mechanics. Together, they are having a great time reimagining the world we live in. After the revenge of the nerds (do the names Steve Jobs, Bill Gates and Mark Zuckerberg ring a bell?), this is the revenge of the garage inventors. There is no limit to the MAKE community's creativity. Its members have already invented a way to make biodiesel with E. coli bacteria and discovered cures for some forms of cancer. By providing a space for creation and experimentation, MAKE celebrates the power of the imagination.
In this video, MAKE community member Matt Richardson talks about his Arduino microcontroller.
7. Computer-rendered "Hand-drawn" Graphics
For anyone who loves the hand-drawn look in digital art, this is sure to be of interest no matter whether they are creating film illustrations or designing a website. For examples of the realism that can be achieved with these algorithms, have a look at this image gallery. You would swear that they were hand-drawn.
8. LEAP
LEAP is a touch-free sensor interface that allows users to interact with what is on their computer screens. This new human-computer interface has lots of potential in digital drawing and animation. LEAP is said to be more accurate than a computer mouse, more efficient than a keyboard and more sensitive than a touchscreen. Watch a demonstration here:
9. Smartpens
Stéphane has been telling me about smartpens for a long time, and he finally bought one recently. Pens like the Sky wifi Smartpen from Livescribe are fairly affordable. Built around an embedded computer and audio recorder, the Sky pen records everything you hear and write, then sends it all over a wifi connection to your mobile device. It is a great tool.
For artists, there is also the unique Wacom Inkling, a spatially-aware and pressure-sensitive tool for graphic artists. It works on any surface and quickly saves the digital image in vector or bitmap format. Watch a demonstration here:
10. Pico Projectors
I'll wrap up this trip through the future with Pico projectors. Pico, as in small. These pocket projectors are probably the most affordable on the market. With them, anyone can project a presentation, video or film on any surface. It's a great way to take the film-going experience out of traditional movie theatres for projections anywhere you can imagine.
+++
As we were preparing this article, The Creators Project website published its own list of technology that could change the film industry. You can read it here. One of their last points talks about interactive movie screens and provides as an example the one we used to present Vincent Morisset's interactive film computer BLA BLA at La Gaîté Lyrique in Paris and in the streets of Montreal last summer.
Research: Stéphane Jolicoeur
Written by: Catherine Perreault
Header photo credit: BLA BLA installation at La Gaîté Lyrique in Paris. Caroline Robert. All rights reserved.