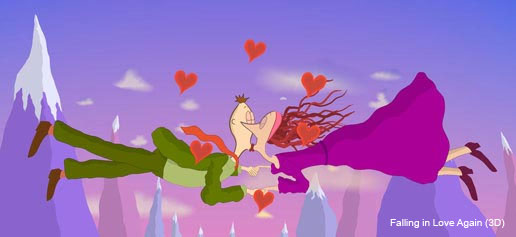 3D Stereoscopy: A Q&A with producer Marc Bertrand
This post originally appeared in French on the ONF.ca blog.
***
In my last post, I provide a summary of a master class on stereoscopy given by Marc Bertrand, producer at the NFB's Animation and Youth Studio, during the Montreal International Children's Film Festival (FIFEM).
At the end of his presentation, he was kind enough to take questions from the audience. Here is a brief recap.
Q: How can rapid camera movements be corrected?
A: By flattening the 3D image into a normal flat image. Nobody will notice. All you do is put both eyes at the same level and progressively bring back the 3D when the shot stabilizes.
Q: What percentage of stereoscopy should be used in a shot?
A: The percentage can vary. The general rule is 6% in the foreground and 10% in the background. For Private Eyes, we pushed it up to 40%. In my opinion, a 6% to 10% stereo is drab, but it's perfect for a feature film.
Q: What are the advantages/disadvantages of making a stereoscopy 3D fiction film?
A: It takes four times longer to produce a 3D fiction film than a 3D animated film. The rendering is also three times as long. At least it was in 2006. Today, with a good team, good equipment and good preparation, it might be one and a half times longer.
It's also much more expensive. 3D requires high quality resolution, so it takes more light and, again, more preparation time.
In addition, if you add special effects, you quadruple your post-production time. You're not just dealing with X and Y, you also have to deal with Z. Everything is more complex.
Another consideration is that distribution opportunities are scarcer. Unless it's a major American distributor, with theatres built especially for it, you may find it difficult to show your movie on a screen suitable for its format. Usually, the opposite happens. You have to adapt to a variety of viewing venues and their screens. Quality is lost in the adaptation process.
Basically, if 3D doesn't enhance the storyline, don't bother!
There are some advantages of course. One being that a film in 3D can't be pirated.
Q: How important is sound with 3D?
A: Stereo sound is very important. It has to be surround sound and, most importantly, it has to be located at the centre of the room to give the effect that it's in the middle of the action.
***
If you want to read further, please check out the following articles:

Cameron's Ten Rules for Good Stereo
The Ten commandments of Stereoscopy