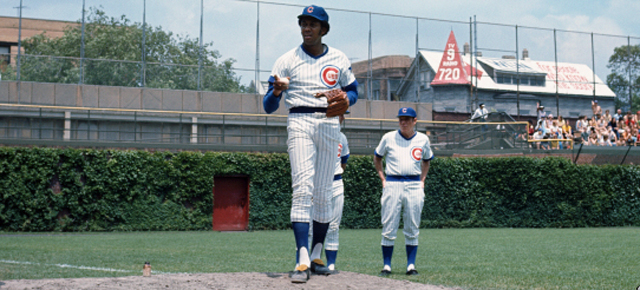 The Boys and Girls of Summer: Baseball Films at the NFB
On deck
Spring is upon us and baseball season has arrived. I thought it a perfect time to share with you our collection of baseball films, all available on NFB.ca for your viewing pleasure.
I grew up playing the game and following the Montreal Expos (even catching a few games at Jarry Park), so please excuse me if this post is somewhat sentimental in nature. Baseball has a beauty that no other sport can match. It has a mythical quality born of lazy summer days and rituals performed diligently game after game. It is as close as any sport can be to a religious experience… but enough of that; let us talk about the game as seen by the NFB's cameras.
Leadoff hitter
Eye Witness No. 54 is part of the Eye Witness series, a collection of short reportages that were shot for Canadian theatre screens in the late 1940s and '50s to be shown before the main feature. No. 54 was released to Canadian cinemas in November 1953 and includes a three-minute report on Little League baseball played in Vancouver. The action takes place at Hillcrest Stadium and features two teams playing for the championship, the Kinsmen and the Gyro. This little gem is directed by Daryl Duke, in his early film-making days, and features the narration of Fred Davis, years before he took on the hosting duties of Front Page Challenge. It shows baseball the way it should be played, by kids who give it their all on the field. No more needs to be said.
Eye Witness No. 54, Daryl Duke, Felix Lazarus & Jack Long, provided by the National Film Board of Canada
Batting second…
Have you seen A League of Their Own starring Geena Davis, Tom Hanks and Madonna? Well, we have something that is just as good. Baseball Girls is Lois Siegel's terrific feature documentary on women's baseball (you can read a more comprehensive blog post I wrote about the film here). It contains footage of the history of women's baseball, including games played in the 19th century and throughout the 20th century. You'll even see the now defunct professional Colorado Silver Bullets women's team. Siegel has packed in a ton of great moments that show us that women have been playing the game for a long time and holding their own throughout. I especially loved watching highlights of the first Canada Cup tournament featuring teams from Australia, Japan and Chinese Taipei. Don't miss the Japanese coach giving a talk to his players; it clearly shows how revered the game is in that country. "The Spaceman," Bill Lee, also appears in the film to give his two cents worth.
Baseball Girls, Lois Siegel, provided by the National Film Board of Canada
Now batting third…
Sleeping Tigers: The Asahi Baseball Story is a fascinating film about a Japanese baseball team that played in Vancouver before World War Two. When many of its members were sent to internment camps during the war, their love of baseball kept them going and allowed them to survive. They even played games against members of the RCMP. This uplifting film proves that sport and friendship can triumph over even the most difficult of obstacles. I was especially touched when players on the Asahi team were recognized by the Toronto Blue Jays. A film not to be missed.
Sleeping Tigers: The Asahi Baseball Story, Jari Osborne, provided by the National Film Board of Canada
Batting cleanup…
King of the Hill is Donald Brittain's brilliant homage to baseball. It takes a look at Canadian great (and Cy Young winner) Ferguson Jenkins and his time with the Chicago Cubs, offering an inside perspective on a major league baseball team from the early days of spring training, where all hopes are permitted, to the dog days of summer, when the season is not going so well. The film contains some colourful characters of the game—some not as friendly as we would expect (the Cubs' first baseman has some politically incorrect words for the umpire), but all fascinating to watch. There are so many wonderful moments in King of the Hill that I can't possibly name them all, but I will point out a couple: The maintenance crew at the Astrodome wearing space helmets as they prepare the field; players discussing strategies during the national anthem; opening day at Wrigley Field; and the Cubs practising at Jarry Park before facing the Expos.
You should know that Brittain shot this film over two seasons (1972 and 1973) and merged them to tell his story. Jenkins loved King of the Hill, as did the president of the Cubs and the commissioner of Major League Baseball at the time. A 16mm print of the film was even deposited at the Baseball Hall of Fame in Cooperstown, New York.
King of the Hill , William Canning & Donald Brittain, provided by the National Film Board of Canada
Extra innings
These films were all lovingly made by people who adore baseball. Their passion for the game and its rituals shines through. I will leave the last word to Donald Brittain, speaking about baseball rituals that should never be changed (in this case, the length of spring training): "There are some things that only God should monkey with." Amen brother.
Enjoy the films.