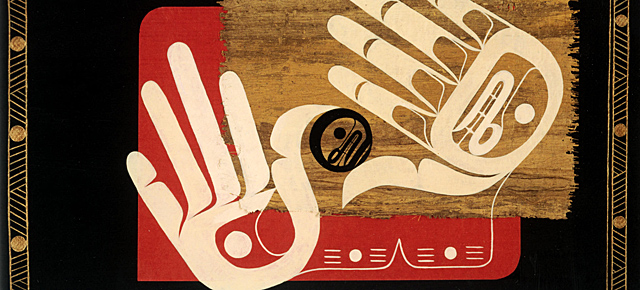 Hand in Hand: Watch 2 Films about Our Quintessential Tool
The human hand is a spectacular thing. Featuring the opposable thumb, that top-of-the-line evolutionary attribute, the hand is our quintessential tool. With it, we can make, break, heal or even kill. Indeed, our entire society is built around things we do with our hands, from typing to shopping to driving cars. Anyone who's ever had a badly damaged paw knows this: there is precious little in this world you can easily do without fully functional hands.
Knowing what an eclectic treasure trove NFB.ca is, it should only come as a mild surprise to learn that it contains not one but two short docs exclusively dedicated to the human hand. Although slightly different in focus and made 20 years apart, the 2 films share a few major similarities. Both are "around the world" type docs with minimal narrative structure. Both docs also make scant use of narration, relying instead on the "show don't tell" method: lavish visuals are presented without much context or explanation, leaving you to weave your own story and draw your own conclusions. Kind of relaxing, in a way, not to mention very easy on the eyes.
Check them out below.
Faces of the Hand (1996)
Faces of the Hand, Tamas Wormser, provided by the National Film Board of Canada
Faces of the Hand is a 28-minute film directed by Tamás Wormser, a Hungarian-Canadian filmmaker noted for finding and celebrating the beauty lurking behind the ordinary. Whether studying hands, or our close bond to water, Wormser seems happy taking a simple subject and examining it cross-culturally, probing it with an open mind.
Here, the filmmaker offers a multifaceted exploration of hands and the many things we do with them. Like a bee gathering pollen here and there, the camera roams from one vignette to the next, never lingering long. We encounter babies "eating" with their hands, a palmistry session, a potter at his wheel, a violin maker crafting instruments by hand, a near-unwatchable hand operation, a Reiki practitioner, and a man with an prosthetic hand, among many more segments.
If you tend to prefer traditional, linear docs, this film might strike you as a little disjointed, or confusing. Seen for what it is, however, the film, which was nominated for Best Documentary at Hot Docs, is a lush and pleasing half-hour meditation on this "precious servant of the mind and soul."
In Praise of Hands (1974)
In Praise of Hands, Donald Winkler, provided by the National Film Board of Canada
"Where the spirit does not work with the hand, there is no art." This Leonardo da Vinci quote is a fitting introduction to In Praise of Hands, a doc that zooms in on the rich and ancient relationship between hand and craft.
Directed by prolific filmmaker and literary translator Donald Winkler, the film portrays craftspeople from around the world and the lovely things they make by hand. Hopping back and forth between Japan, Nigeria, Finland, Mexico, Poland, India and Canada, the film is a succession of visually arresting, narration-free vignettes.
If at times Winkler's approach feels a bit scatterbrain (some segments appear unduly long, while others could genuinely have used subtitles), the film, which hails from the mid-1970s, is a precious record of ancestral skills that have since fallen into oblivion or are threatening to.
Among these is adire, an intricately patterned indigo-dyed cloth made by the Yoruba of Nigeria. Today, this time-honoured skill is barely surviving, as reported by Reuters. We also catch glimpses of the fascinating Ocumicho clay figurines of Michoacán, the beadwork of the Huichol Indians, and the Indian puppet shows from the sub-continent, all traditional crafts that have struggled to maintain currency in our modern, mechanized age.
The film, despite its few shortcomings, is a timely ode to artisans and the unique beauty of the handmade product. In a society where machines have taken work out of our very hands, and where everything we buy and use has been mass-produced and mass-marketed, there are signs pointing towards the dawn of a new, if timid, "handmade economy."
From radical homemakers to hipsters and beyond, more and more people seem interested in supporting those who make things by hand. Be it cheese, chairs, soap, jam, jewellery, charcuterie or knitted pieces, conscious consumers are leading a pendulum swing towards a more diversified marketplace.
Cynics may call this the "Etsy-fication" of consumer culture, but anyone who's ever held a beautifully handcrafted object in their palm knows trends have nothing to do with it. Sometimes, nothing else will do.