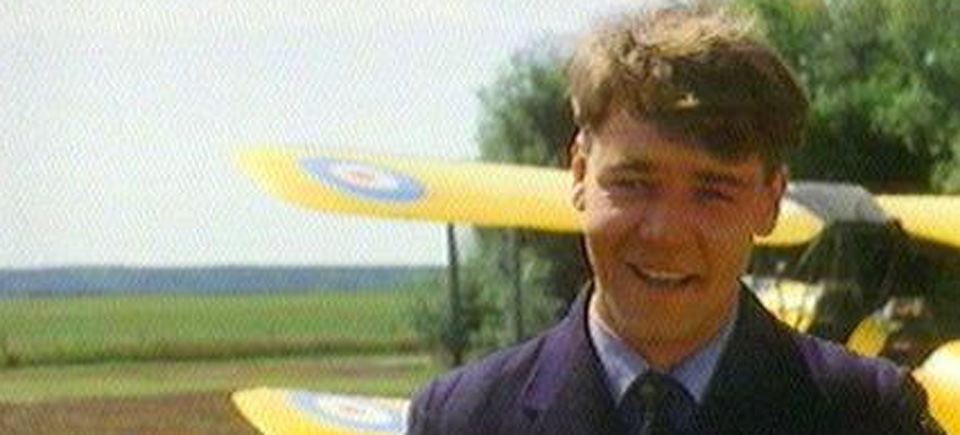 How did the NFB snag a young Russell Crowe?
If you listen carefully to the Robert Service poems in the narration of Rita Roy's 1993 documentary The Spell of the Yukon, you might begin to feel like the voice is familiar. Iconic, even. Then again, could you guess with your eyes closed who it is?
In 1993, New Zealand-born Hollywood actor Russell Crowe, then 29 years old, starred in an NFB-John Aaron co-production called For the Moment. (Unfortunately, we don't have the rights to be able to stream this film on NFB.ca). While shooting the film in Manitoba, Crowe became acquainted with NFB producer/director Rita Roy. As Roy remembers it, she and Crowe bonded over a mutual appreciation for Robert Service's poetry. In fact, Roy was, at the time, focused on making a biopic about the great Scottish-Canadian poet. "I think he [Crowe] would have been the perfect subject for a re-enactment!" says Roy.

That project never came to be, but instead, Roy set out to make The Spell of the Yukon (titled after one of Service's best-known poems). In this short 43-minute documentary, Roy sets out to follow in the footsteps of the daring gold-seekers who crossed the Yukon's treacherous geography in search of untold wealth. It was a famously deadly endeavour, and Roy's own ancestors set out to conquer the hostile landscape generations ago. Roy wanted to pepper the film with Service's poetry, and immediately thought of her old pal Russell Crowe.

"He had the perfect voice!" exclaims Roy, describing Crowe's deep, methodical tone as "incredibly rich." She asked Crowe if he would agree to record the poems, and he said yes. "What kind of accent do you want?", she remembers him asking. To give life to Service's poems, Crowe hid his New Zealand accent in favour of a Scottish one, and the effect is mesmerizing. Skip to the 0:51 mark to take a listen:
The Spell of the Yukon, Rita Roy, provided by the National Film Board of Canada
At the time, Crowe was certainly not a household name like he is today, but he was actively working in relatively high-profile projects like L.A. Confidential, slowly making a name for himself as a critically-admired performer. Roy sent Crowe the poems to be recorded, and had to send the script to him in three different locations (Los Angeles, New York, and finally Sydney, Australia) to eventually nail down the recording. Busy guy!
Before Crowe was cast as narrator/Service, the film's script called for a particularly powerful voice to read the narration. The script begins: "Opening shot: stunning wide-angle view of the blue-purple mountains of the Yukon… very slow pan across… the music lowering a touch, we hear a golden voice over this magnificent scenery."
This golden voice was set to read aloud such harmonious and hypnotic phrases from Service's poetry as: "It's the great, big, broad land 'way up yonder / It's the forests where silence has lease / It's the beauty that thrills me with wonder / It's the stillness that fills me with peace."
What do you think? Do Mr. Crowe's unique vocal talents adequately represent Mr. Service's iconic Canadian poetry? Only one way to find out: watch the film!
The Spell of the Yukon, Rita Roy, provided by the National Film Board of Canada