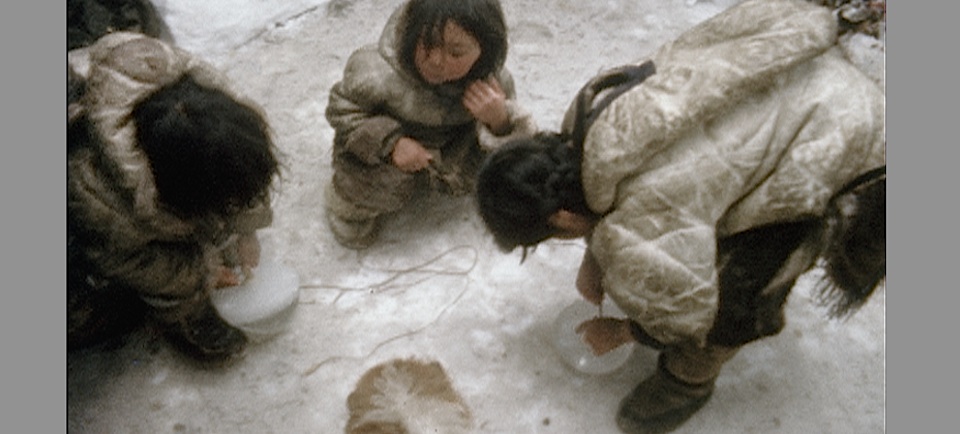 Isabella Weetaluktuk Shines Light on NFB ARCHIVES
It's little more than a fragment, a few seconds of footage shot in the Canadian Arctic over 50 years ago, but it's pure visual gold. Four Inuit kids, oblivious to the camera, are absorbed in play. Their game involves a homemade spinning top, ingeniously crafted from ice and sinew. A husky puppy observes with interest.
An out-take from a 1964 documentary shoot, the clip is among the archival nuggets that filmmaker Isabella Weetaluktuk has mined from the NFB stock-shot library — historic images of Inuit experience that find new life in her short film Three Thousand, a live-action/animation hybrid currently in production at the Quebec-Atlantic Studio.
"I'm approaching the NFB archives from a specific perspective," says 23-year-old Weetaluktuk, pictured below. "My father was born in an igloo in the Arctic, and then sent to residential school, while my mother is white, a specialist in childhood education. I myself am an urban Inuk, raised in Montreal, at several degrees of separation from traditional Inuit culture. I'm reframing historic images in light of this background. I'm interested in looking forward. I want to make a film that's poetic and hopeful as well as educational."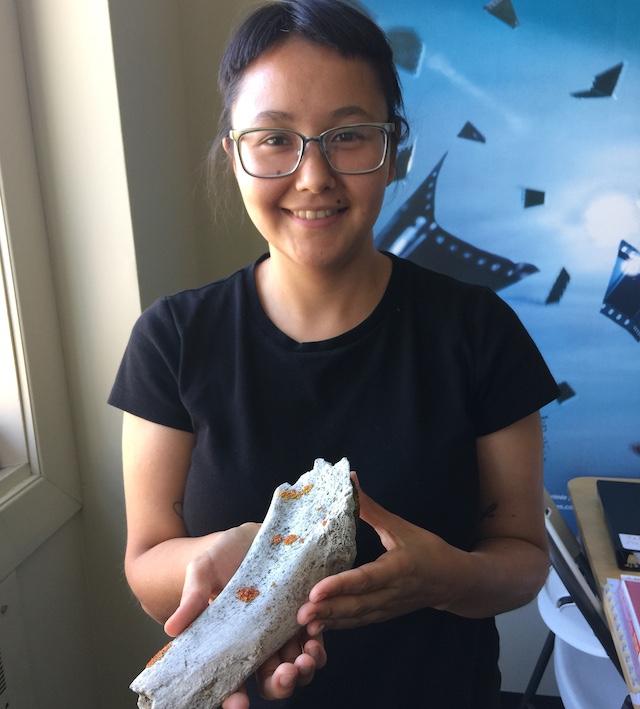 A recent graduate from the Nova Scotia School of Art & Design, where she completed a BFA in Film, Weetaluktuk spent the best part of two summers combing through the NFB stock-shot library, a vast image bank that features one of the world's most important collections of Indigenous-related material.
"I love working with archival imagery," says Weetaluktuk.  "Our understanding of the past is always evolving, and the representation of Indigenous Peoples has changed dramatically over the decades. You get these government-sponsored films from the 50s, subtly or not so subtly racist, that promote residential schooling. And then you'll find recent footage by Inuit filmmakers that presents a completely different perspective. It's a fantastic resource for an artist."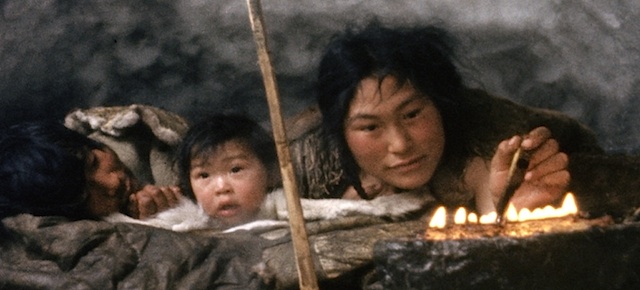 With Three Thousand, a title that evokes three millennia of Inuit life, Weetaluktuk is weaving selected archival imagery into original animation by Patrick Doan – positioning historic footage within a contemporary narrative and reframing an ancestral past within a lively personal vision of the future.
"I began by tracing a historic timeline, looking for interesting portraiture or shots of traditional activities," says Weetaluktuk, "but then I'd make these magic discoveries, footage that had some indefinable poetic quality. That spinning top shot was a real find. All this archival work has got me thinking about traditional Inuit design — it's so functional, so simple and smart. At a time when we need to develop more sustainable ways of living, we can learn a lot from Indigenous cultures."
Weetaluktuk began developing the project in 2014, when NFB producer Kat Baulu first came onboard with development support. "I was intrigued from the start," says Baulu. "Isabella is shining a strong light on the past. She has a distinctive voice which brings a sense of momentum and optimism to the project. This is a short film with big ambitions."
Patrick Doan, a Canadian animator currently based in Berlin, is Weetaluktuk's key collaborator on the project. His credits include the remarkable Constellation, an animated homage to classical pianist Janini Fialkowska, produced by the NFB in partnership with the National Arts Centre on the occasion of her receiving a 2012 Governor General's Performing Arts Award.
The editor is Annie Jean whose numerous credits include the 2007 NFB release Baghdad Twist, a short documentary crafted primarily from the personal homemovie archive of director Joe Balass. Three Thousand is being produced by Kat Baulu at the NFB's Quebec-Atlantic Studio, and is due to complete in late 2016.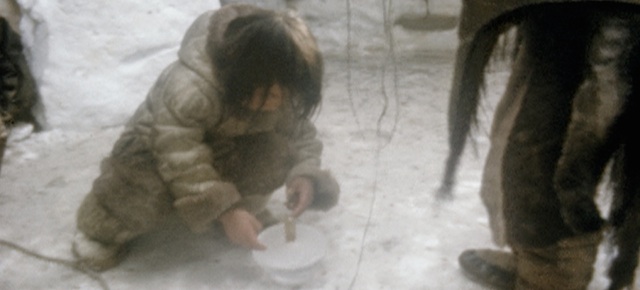 Weetaluktuk is one of several Inuk filmmakers currently working at the NFB. The Igloolik-based filmmaker Bonnie Amaaq recently completed Nowhereland, a short autobiographical film produced through Stories from Our Land, a mentorship program established by the NFB North West Studio in partnership with the Nunavut Film Development Corporation. Meanwhile Alethea Arnaqaaq-Baril will be premiering her new film Angry Inuk at the 2016 edition of Hot Docs. A feature doc that presents an Inuit perspective on the anti-seal hunt campaign, Angry Inuk is co-produced by Unikkaat Studios and the NFB in association with Montreal's EyeSteelFilm.
Archival images reproduced courtesy of NFB ARCHIVES.