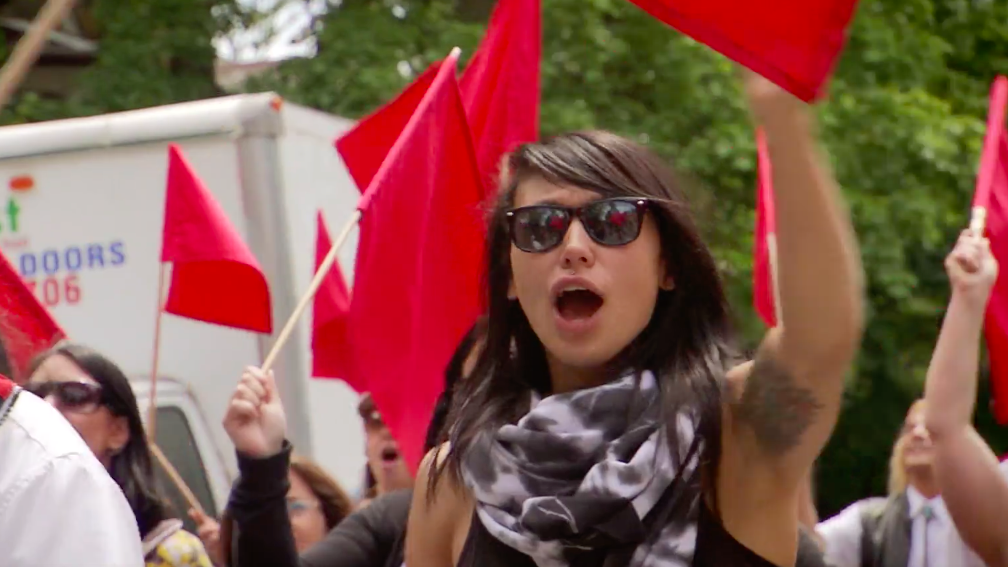 Mobilize! NFB Puts Truth & Reconciliation Onscreen
"Stories are wondrous things. And they are dangerous,"  says Thomas King.
King knows a thing or two about storytelling and its cultural clout. Born to a Cherokee father and Greek/German mother, he has shed sharp new light on Indigenous experience with novels like Truth and Bright Water and Green Grass, Running Water and groundbreaking radio like The Dead Dog Café Comedy Hour.
With The Inconvenient Indian: A Curious Account of Native People in North America, published in 2012, he delivers an impassioned counter-narrative to official history, a lively work of non-fiction that the late Ojibwe novelist Richard Wagamese compared to the writings of Mark Twain, calling it "essential reading for everyone who cares about Canada and who seeks to understand Native people, their issues and their dreams."
A film adaptation of The Inconvenient Indian — currently in the works at the Ontario Studio — is one of over 30 Indigenous-driven projects that are either in development, production or current release across the NFB's various studios. Ranging from futuristic VR to a personal reflection on the shooting death of Colten Boushie, they form the linchpin of the NFB's three-year Indigenous Action Plan launched in June 2017.
When the Truth and Reconciliation Commission (TRC) released its final report in 2015, Judge Murray Sinclair and his fellow commissioners made it clear that any genuine reckoning with the legacy of residential schooling, and the broader history of Canada's internal colonialism, required a long-term commitment on the part of Canadians and Canadian institutions, and their report included a sweeping call to action — 94 specific recommendations addressing a wide range of social and political players.
The commissioners identified a critical role for artists and for institutions concerned with cultural production and public memory: "Creative expression can play a vital role in this national reconciliation, providing alternative voices, vehicles, and venues for expressing historical truths and present hopes." As a public producer and distributor, founded with a mandate to reflect Canada in all its complexity to Canadians and the world, the NFB heard the call and is now one year into a comprehensive plan towards institutional transformation, aimed at achieving equity for Indigenous creators, employees, partners and audiences.
The NFB's Indigenous Action Plan covers all areas of operations – from hiring and distribution to library information systems, where an effort is underway to revise outdated colonial terminology and concepts. Highlights include a commitment to achieving representational parity in staffing by 2025, the development of new protocols for working with Indigenous partners and subjects, and a formal commitment to allocating no less than 15 percent of all production to Indigenous filmmakers and storytellers. Here are some Indigenous-directed stories and projects currently in the works.
In Release:
Anishinaabe filmmaker Lisa Jackson is at ease in a range of genres and with Biidaaban: First Light, a VR project that premiered at the 2018 Tribeca Festival in April, she collaborated with artist Mathew Borrett to conjure up a futuristic Toronto, recast in light of its original Indigenous languages and knowledge. A mentoring director with the NSI's IndigiDocs Program, Jackson won the Alanis Obomsawin Best Documentary award at imagineNATIVE 2017 with Indictment: The Crimes of Shelly Chartier, co-directed with Shane Belcourt. Produced by Rob McLaughlin and Dana Dansereau at the Digital Studio.
In Production:
Addiction has a long and painful legacy in many Indigenous communities, a legacy rooted in Canada's colonial history.  Elle-Máijá Tailfeathers' feature doc Kiimaapiipitsin is an honest and unconditional love letter to her people, the Kanai First Nation in Alberta, past, present, and future.  Opiates and alcohol have had a devastating impact on the community and Kiimaapiipitsin presents a portrait of a people who are actively seeking radically new solutions to an old problem. What would happen if Indigenous communities were to implement harm reduction models? As Elle-Máijá's mother, Dr. Esther Tailfeathers says, "Kiimaapiipitsin means 'to take care of each other'. This is our harm reduction." In production at the North West Studio. David Christensen is producing.

When the Winnipeg Aqueduct was completed it 1919, it allowed water to be carried from Shoal Lake to the growing city. But its construction has lead to decades of hardship for the people of the Shoal Lake 40 First Nation, culminating in their isolation on an artificial island, where inhabitants have been under a boil-water advisory for nearly 20 years. Having lobbied long and hard for a road, the people of SL40 are now preparing for big changes. With Freedom Road

, a series of shorts currently in production at the North West Studio, hometown filmmaker and activist Angelina McLeod is documenting the process from the inside. Alicia Smith is producing.
A co-production between Toronto's 90th

Parallel Productions and the NFB Ontario Studio,

The Inconvenient Indian

is being directed by Métis/Algonquin filmmaker and activist Michelle Latimer, whose many credits include

Nuuca

, which she co-produced through own company Streel Film and Field of Vision, with Laura Poitras and Charlotte Cook as fellow executive producers; and

Nimmikaage (She Dances for People)

, an inventive mashup crafted from NFB archival footage. "Michelle was coming off

Rise

, a groundbreaking series on Indigenous activism around the world," says NFB producer Justine Pimlott, "and we all agreed she'd be perfect for this project." Jesse Wente, recently appointed director of Canada's newly established Indigenous Screen Office, is creative producer. Stuart Henderson is producing for 90th Parallel, with Gordon Henderson as executive producer.
Nimmikaage (She Dances for People), Michelle Latimer, provided by the National Film Board of Canada
The all too brief life of Jordan River Anderson has inspired new work from Alanis Obomsawin, the 52nd

film in an extraordinary career that has paved the way for Indigenous filmmakers in Canada and around the world. Born with a genetic disorder, Anderson was forced to spend his entire life inside a hospital, denied the right to live at home in the Norway House Cree Nation because of jurisdictional bickering between federal and provincial authorities over the costs of the specialized equipment needed for him to live at home. His life and legacy sparked a movement called Jordan's Principle and child-first legislation aimed at ensuring equitable access to treatment and support for First Nations children and their families. With this film Obomsawin continues her cycle on children's' rights, a series that includes

We Can't Make the Same Mistake Twice

(2016) and

Our People Will Be Healed

(2017). Obomsawin is directing and producing.
Délia Gunn and Évelyne Papatie, two young Anishnabe directors who've made award-winning films through the Wapikoni mobile studio,

are creating short work for web distribution as part of

Le projet des 5 courts

. A partnership between the Val-d'Or-based 08 Cinéma indépendant (Serge Bordeleau, producer) and the NFB (Colette Loumède and Nathalie Cloutier, producers).
Born and raised in La Ronge, Saskatchewan, Janine Windolph grew up eating food from the land but her move to the city introduced a southern diet of processed food. With After the Thaw

, the Atikemak-Woodland Cree/German artist and educator brings her two sons north to learn traditional life-sustaining skills — hunting, fishing and foraging — from their grandmother who has herself recently returned to the land. Jon Montes is producing.
Only recently rediscovered in the NFB vaults, the short film Loon Lake

was produced by the historic Indian Film Crew, the NFB's first all-Indigenous production unit, formed in 1968 within the framework of

Challenge for Change

. With

Loon River

, in production at the North West Studio, the Cree/Lakota filmmaker/producer Cory Generoux returns to the community to give the film its first public screening in fifty years. David Christensen is producing.
Cree filmmaker/academic Tasha Hubbard turns her gaze on the death of Colten Boushie and subsequent acquittal of Gerald Stanley, and the history of Treaty 6 Territory in Life and Death of the Prairies

, currently in production at the North West Studio.

Birth of a Family

, her remarkable reparative film on the Sixties Scoop, made in collaboration with journalist Betty Ann Adam, premiered at Hot Docs in 2017 and won a Special Jury Prize at imagineNative. Jon Montes is producing in co-production with Downstream Documentary Productions. Photo by Red Works Photography.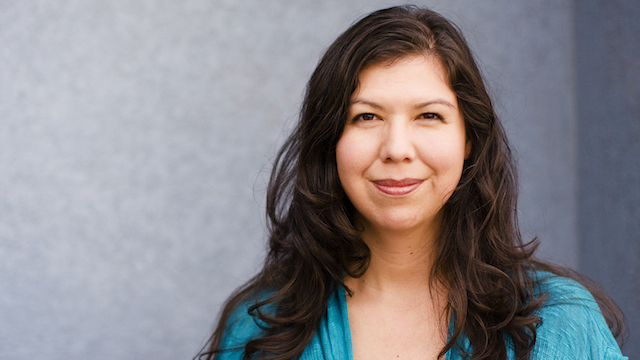 In Development:
With My Brother's Story

, in development at the BC & Yukon Studio, veteran Cree/Métis filmmaker Loretta Todd is tracing the trajectory of a fractured sibling bond against the backdrop of modern Indigenous history. The winner of several Lifetime Achievement Awards, Todd has created distinctive documentary work like

Hands of History

(1994) and

Kainayssini Imanistaisiwa: The People Go On

(2003). Selwyn Jacob is producing.
With Nin, auass/ Moi, L'enfant

, a feature doc in development in the French Documentary Studio, Abenaki director Kim Obomsawin is charting twelve months in the lives of four young people from different Indigenous community. Key inspiration is Nicolas Philibert's 2012 feature doc

Être et avoir

, a beautifully observed film of life in a rural French school. Colette Loumède is producing. 

Obomsawin's credits include

Ce silence qui tue

, a 2018 release from the Indigenous-run Wabanok Productions that challenges official indifference to the issue of missing and murdered Indigenous women. 

Also at the BC & Yukon Studio, Chris Auchter is revisiting a pivotal event in his community's history, retrieving footage shot for a 1969 documentary entitled This Was the Time

in order to retell the story from a Haida perspective. The film centres on a watershed moment in Haida Masset where for the first time after more than half a century of colonial suppression, a totem pole was carved and raised in the context of a potlatch ceremony. The carver featured in the film is a young Robert Davidson, today a globally renowned artist. "There's so much positive change that can be credited to that event," says the Haida Gwaii-born Auchter, whose most recent work

The Mountain of SGaana

was named Best Film for Young Audiences at the 2017 Ottawa International Animation Festival. Selwyn Jacob is producing. 

A multidisciplinary creation lab initiated by Michèle Bélanger and housed in French Program, Déranger

invites Indigenous artists to create work that both disrupts and enhances public space. The Montreal incarnation, mounted in collaboration with the

Oboro Centre

and

Wapikoni

, gave birth to the immersive installation

Kushapetshekan/Kosapitcikan

, exhibited earlier this year at the Montreal Museum of Fine Arts.

Déranger

now moves to Winnipeg where the NFB is partnering with On Screen Manitoba and Video Pool.
At a time when Indigenous women were arguably the most disenfranchised members of Canadian society, Mary Two-Axe Earley, pictured below,

 fearlessly took on the nation's most powerful political figures, determined to secure basic rights for Indigenous women and children. Kanien'kehá:ka (Mohawk) filmmaker Courtney Montour, who also hails from Kahnawake — the town where Mary had to fight for the right to be buried — is currently in development in the Quebec & Atlantic Studio on a documentary investigation of Two-Axe's life and legacy.

Kat Baulu is producing. Photo courtesy of Courtney Montour.

"As Inuit we're not frightened to mix things up," says Elisapie Isaac, a musician and filmmaker whose credits include the lyrical NFB release If the Weather Permits

. "We have a very eclectic culture; not one that holds us back but rather a culture in transition." For her latest project

Runaway Girl,

in development at the French-language animation studio, she has teamed up with renowned visual artist Marc Séguin. Marc Bertrand is producing.
Also in the works in French Animation Studio is Symphonie d'une attaque nordique,

a futuristic short in which Caroline Monnet imagines the Indigenous Peoples of the North uniting against a supernatural invading army. A visual artist of Algonquin ancestry who has exhibited around the globe, Monet made the exhilarating archive-based short

Mobilize

for the NFB Souvenir Series. "I want to speak about a people moving forward, a people who are mobilizing themselves," she says of that film. Julie Roy is producing.
Mobilize, Caroline Monnet, provided by the National Film Board of Canada
Métis filmmaker Cara Mumford harnesses the narrative potential of interactive technologies with Red Card

, a futurist web-based game in development in the NFB Digital Studio. Continuing an exploration she began with the short film

Red Card World: The Tree

, she evokes the collapse of western society, a scenario where Indigenous communities offer survival with life-saving 'supertrees.'

Red Card

was the winner of the NFB/imagineNATIVE's 2016 interactive partnership program. Produced by Dana Dansereau.
With Meneath (Island)

, an AR project in development in the Animation Studio, Métis artist Terril Calder is exploring the seven deadly sins of Christianity alongside the seven sacred lessons of Indigenous knowledge. Calder's work has received Honorable Mentions at Sundance and the Berlinale, and her animated short

Choke

, co-created with Michelle Latimer, made TIFF's top ten list in 2011. She was the recipient of the 2016 Ontario Arts Council's K.M Hunter Media Arts Award. Produced by Jelena Popović.
Amanda Strong's inventive animation has drawn comparisons to Tim Burton, and when Alanis Obomsawin was given the Toronto Film Critics' 2016 Clyde Gilmour Technicolor Award, she was so impressed by Strong's extraordinary short Four Faces of the Moon

that she bequeathed the cash prize to the Vancouver-based filmmaker, acknowledging Strong's vital contribution to contemporary Indigenous cinema. Strong is currently developing

Wheetago War

, based on a cannibal story by Tłı̨chǫ writer Richard Van Camp, in the English Animation Studio. Produced by Maral Mohammadian. Below: Amanda Strong with Alanis Obomsawin and Jesse Wente, Director of the Indigenous Screen Office, at 2017 Toronto Film Critics gala, photo courtesy of 

anishinabeknews.ca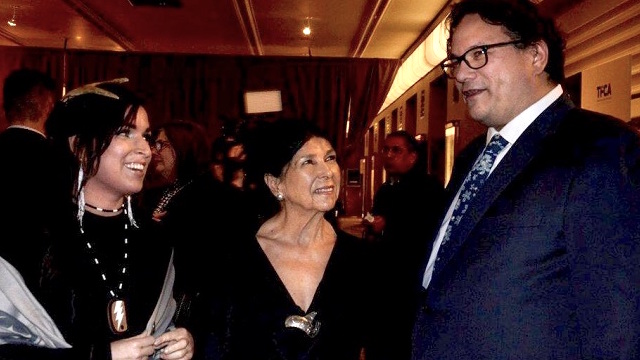 Indigenous Cinema: Free streaming of over 200 titles
Since 1968 the NFB has produced close to 300 titles by First Nations, Métis and Inuit directors from across Canada. Over 200 of these titles are available on Indigenous Cinema, an online platform launched earlier this year. The curated collection includes trailblazing historic films like Willie Dunn's The Ballad of Crowfoot, the first film made by the Indian Film Crew, alongside landmark docs like Alanis Obomsawin's Kanehsatake: 270 Years of Resistance and a host of new titles.
In honour of June 21, National Indigenous Peoples Day, the new platform is showcasing Kanehsatake as well as a quartet of recent releases: Tasha Hubbard's Birth of a Family, Louise BigEagle's To Wake Up the Nakota Language along with Marie Clements' stirring musical doc The Road Forward and Chris Auchter's animation hit.
The Mountain of SGaana, Christopher Auchter, provided by the National Film Board of Canada
Visit Beyond 94, a site created by the Indigenous Unit at the CBC, to get a sense of the progress Canadians have made – and the work we still need to do – in meeting the TRC's 94 calls to action.
Banner image: Wave a Red Flag, directed by Adam Garnet Jones.